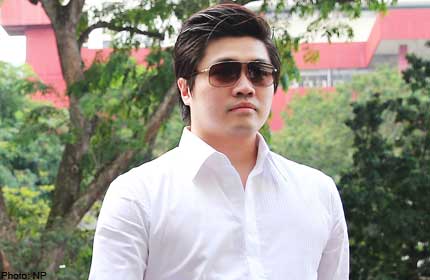 SINGAPORE - New statements supposedly contradicting the recorded statements of two deported Lebanese match officials were brought up in court on Friday.
Mr Abdallah Taleb and Mr Ali Eid, both assistant referees, had given their statements to the Corrupt Practices Investigation Bureau (CPIB) in April.
They were later found guilty of accepting bribes in a sex-for-match-fixing case.
Businessman Eric Ding Si Yang, 31, is on trial for allegedly bribing three Lebanese match officials with prostitutes to fix matches.
The new statements came from a Lebanese lawyer representing Mr Taleb and Mr Eid, Ding's lawyer, Mr Hamidul Haq, told the court on Friday.
Deputy Public Prosecutor Alan Loh objected to the admissibility of these statements and to Ding's lawyers using them to cross-examine CPIB recording officer Chan Jian Yun.
District Judge Toh Yung Cheong, however, said the defence lawyers should be "given latitude" to use the documents to put their case across.
Credibility
Throughout the hearing, Ding's lawyer, Mr Yusfiyanto Yatiman contested the credibility of Mr Taleb's CPIB statement when cross-examining Mr Chan.
He argued that "nuances and expressions" were "lost in translation" as the statement was recorded through an interpreter whom Mr Chan was "entirely dependent on".
Mr Yusfiyanto said: "In fact, you (would) have no idea if the interpreter had interpreted wrongly."
Mr Chan disagreed, saying: "If Abdallah Taleb did not understand the question (the interpreter) was asking, he would not have given the (relevant) answers to the questions."
Mr Yusfiyanto then asked: "But if there are differences in nuances and expressions, you wouldn't know because you don't speak Arabic, right?" Mr Chan agreed.
Mr Yusfiyanto also asserted that claims pertaining to his client's charge were "assumptions" on Mr Taleb's part.
Mr Chan is expected to take the stand again when the trial resumes on Monday.
About the case
Businessman Eric Ding Si Yang allegedly bribed three Lebanese officials with sex with prostitutes when they were in Singapore to officiate an Asian Football Confederation match on April 3.
Assistant referees Abdallah Taleb and Ali Eid received three-month jail terms on June 10, but were released that day as their sentences were backdated to their remand on April 4.
Referee Ali Sabbagh, 34, who was sentenced to six months' jail for corruption in June and was released on Aug 3 for good behaviour, testified against Ding previously.
If convicted, Ding can be fined up to $100,000, jailed up to five years, or both.

Get The New Paper for more stories.