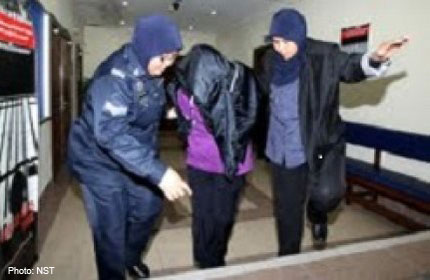 GEORGE TOWN: A woman police officer with a rank of Assistant Superintendant was today remanded for three days to assist in the investigation into the handcuffed "Casanova doctor" who escaped while under police custody at the Penang Court complex Court here. K. Prabaharan, 45, who is allegedly involved in cheating at least five women cases, escaped while he was left alone in the officer's room at the court complex at 2pm yesterday.
Penang police chief Datuk Abdul Rahim Hanafi said Prabaharan, who is facing charges under Section 420 of the Penal Code, was supposed to have been sent back to the Penang remand prison after his case was last mentioned in Cameron Highlands.
En route to the prison, Abdul Rahim said the female officer had called for escort police and asked for Prabaharan to be sent to her office.
"But as soon as he was left alone in the office, he made his getaway.
"Prabaharan was wearing a purple collarless shirt and red shorts."
"The 55-year-old officer is being investigated under Sections 223 and 224 of the Penal Code for negligence in allowing the suspect to escape, and Section 225A of the same code," he told reporters in a press conference here today.