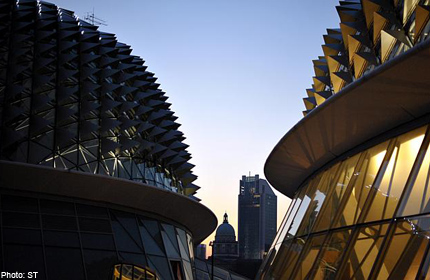 The Esplanade took $4.35 million in box office earnings in its last financial year, a decline from $7.45 million the year before, said its latest annual report.
Its total income also fell from $31.27 million to $28.98 million.
The drop in total income was offset by grants from the Government and takings from the Esplanade's other associate companies and venues, such as ticketing group Sistic and the Drama Centre at the National Library.
This led the Esplanade to close the last financial year with a net balance of $137,000, compared to about $2 million the year before.
Singapore's premier arts centre, which counts sponsorships, venue hire and rentals from its mall as other revenue streams, is a non-profit organisation that relies on grants and sponsorship; its earned income is never enough to cover its operating costs. It received about $46 million in grants last year from the Government and the National Arts Council in the last financial year.
The drop in ticketing income was attributed by The Esplanade to its 10th anniversary celebrations last year, where ticket prices for its birthday bash were deliberately kept low.
The report also said that the Esplanade has reached a "steady state" in a year that was "marked by an uncertain economic climate and high inflation".
Get The New Paper for more stories.