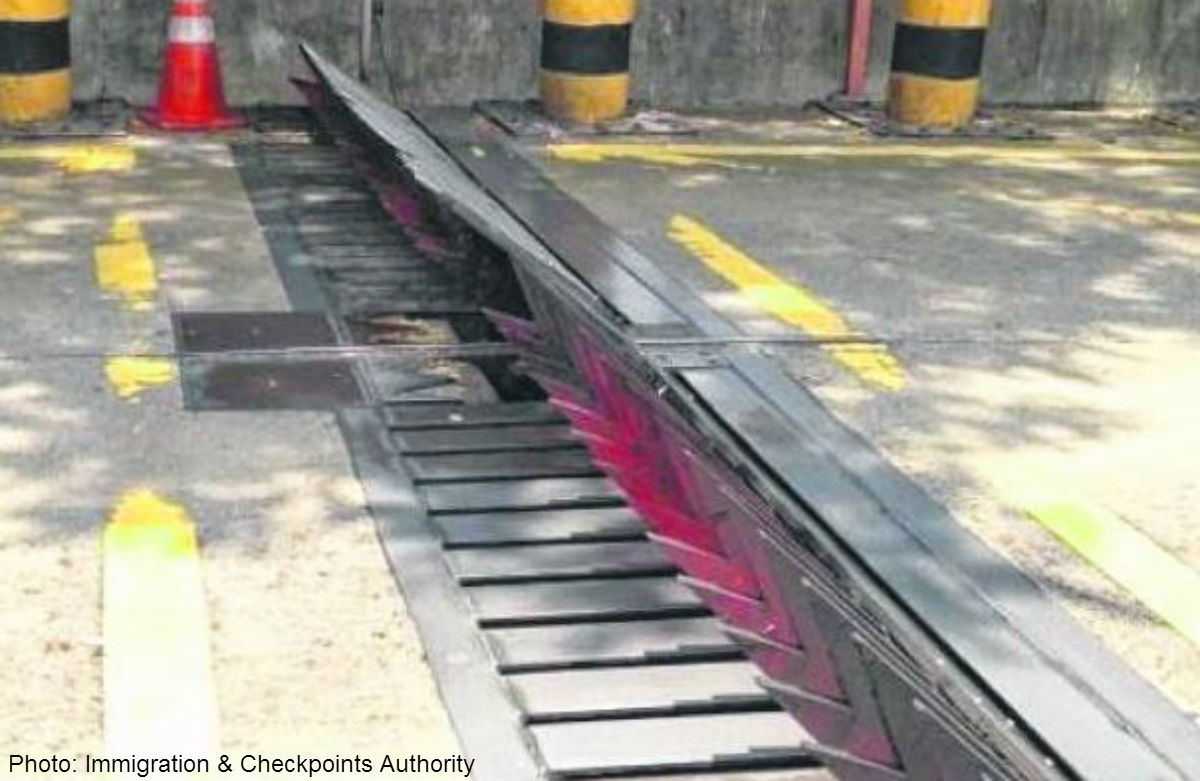 SINGAPORE - The unprecedented failure of a crash barrier - meant as the authorities' last line of defence - allowed a 64-year-old Malaysian to flee the Woodlands Checkpoint on Saturday.
The lane-wide crash barrier - a long sheet of metal that flips up from the ground with spikes underneath - aims to block and puncture a vehicle's tyres. It's called a cat's claw.
But at 4.05pm on Saturday, a Chinese Malaysian man, who is a Singapore permanent resident, managed to plough through. He was arrested five hours later and may face drug-related charges today.
His gold Mercedes-Benz initially came to a stop against the barrier, which appeared to buckle upon impact.
As officers surrounded the car, the driver backed up slightly before charging forward, mounting the barrier and speeding off.
Twelve minutes earlier, at 3.53pm, the man had cleared immigration on the Singapore side of the Causeway.
He then went for a secondary inspection, where he was asked to remove the cover of his spare tyre compartment inside his boot.
Claiming he had difficulties opening this area, he jumped back into his car and drove off.
The car weaved past another car by going up the kerb. It was then halted briefly by the crash barrier, before driving off. Its front tyres were punctured.
The man was arrested later. Four other men are assisting with investigations (see Page A6).
The barrier was installed in 2006 and is tested twice daily. It undergoes maintenance once every quarter, said the authorities yesterday.
They are looking into ways to beef up security. One is to install more barriers. Another is to funnel traffic exiting the checkpoint through one lane only, when there is light traffic. Usually two out of three lanes are used.
The incident comes just weeks after a Malaysian woman entered Singapore illegally in January by tailgating another car at the same checkpoint.
Since then, the Immigration and Checkpoints Authority (ICA) has reminded officers to raise the alarm early, which was done in Saturday's case, said ICA's deputy commissioner of operations Mr Aw Kum Cheong.
"From our initial assessment, it seems all our processes worked, except for the part of the barrier," he said.
He acknowledged that if "a terrorist is determined enough (to get through the checkpoint), there're not many things we can do to stop him". But what the authorities could do is to "provide enough deterrence and to slow people down, so that proper reinforcements and investigations can take place".
Deputy Prime Minister and Home Affairs Minister Teo Chee Hean said the incident "reinforces the findings of the review after the January dash-through: the alarm and barrier systems at the checkpoints are inadequate, and they need to be improved and strengthened considerably".
Response protocols and officers' training also need to be "improved sharply".
twong@sph.com.sg
Get MyPaper for more stories.