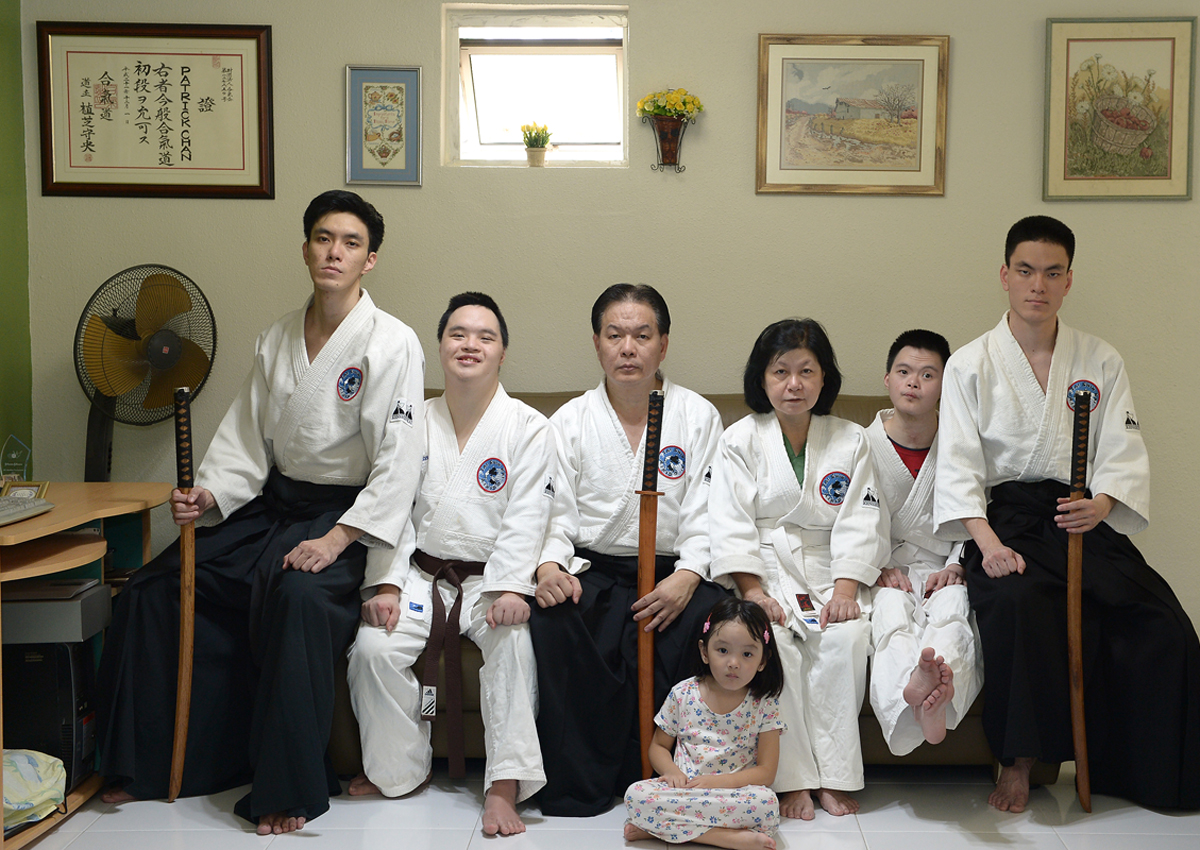 The Big Boss changed his life.
When Mr Patrick Chan first saw the late Bruce Lee in his first major film in 1971, he was enthralled.
The action icon's raucous battle cry, lightning kicks and lethal punches sent the then teenager into a tizzy, awakening a deep love for martial arts. It led him to take up taekwondo, Northern Shaolin gongfu and other forms of contact combat.
"Martial arts taught me perseverance and trained me to never surrender," says Mr Chan, now 56.
It also kept him strong and saw him through the many peaks and troughs of his life, including 14 eventful years as a gun-toting detective, and massive medical complications that plagued three of his four sons.
Only Shamus, his eldest son, was born healthy.
Sean and Enoch, his second and fourth, have Down Syndrome while Jonah weighed only 916g at birth and had to spend nearly five months in intensive care.
Their hefty medical bills threw the family into a financial pit.
But Mr Chan fought valiantly and subdued the odds.
His children are now well-adjusted and healthy individuals who have inherited his love for martial arts, especially aikido, known as the Japanese art of harmony.
Shamus has a third dan black belt, Jonah a first dan and Sean, a brown belt in this Japanese martial art, which protects both practitioners and their attackers from injury,
They all help to conduct classes at the Aikido Tai Shin Kai, a club co-founded by Mr Chan - a second- dan black belt holder - and Shamus last year.
The family is so enthusiastic that even their home - a five-room Housing Board flat in Upper Serangoon Road - has been turned into a dojo where they practise their moves.
The second youngest of 12 children, Mr Chan grew up in a village in Punggol. His late father was a taxi driver; his mother had her hands full minding her big brood.
"There was not a lot to eat and there were some very difficult times but we lived happily because we were a very close-knit family," says the former student of Montfort Primary and Secondary.
At 12, he became enthralled by martial arts after watching The Big Boss, the movie which turned Bruce Lee into a huge gongfu star.
Mr Chan's first master was a friend, a taekwondo black belter who conducted lessons in the backyard of his family home in Punggol.
"About half a dozen of us would train three times a week for about a year. It was more like street fighting," he says.
This came to a stop when the Singapore authorities passed a law allowing only licensed practitioners to teach martial arts.
So Mr Chan signed up for Northern Shaolin gongfu at his school instead.
"The classes were conducted by a Chinese teacher who was also a highly skilled wushu master," he says.
He trained under the master for six years, picking up different styles including the xing yi quan (form intention fist), characterised by aggressive and powerful movements.
After finishing his O levels, Mr Chan decided to sign up with the police force.
"I guess I watched too many episodes of Starsky And Hutch," he says, referring to the 1970s American detective series. "I really wanted to experience the life of a detective."
If it was adrenaline he was looking for, he certainly got it as a policeman.
Assigned to the anti-riot unit during his national service, Mr Chan's martial arts background stood him in good stead when he found himself fielded during gang clashes and public riots.
"I was very skinny but when I took the baton and charged at the crowds, I could see them parting like the Red Sea. It was very satisfying," he says with a chortle.
One incident indelibly etched in his memory is the Spyros disaster in 1978, when a Greek tanker exploded in Jurong Shipyard, killing 76 people. Mr Chan had to help remove the charred and bloated remains of the victims.
"It was horrible. The smell got into your boots and on your clothes and you had to throw them away because you won't be able to get rid of it," he says.
After national service, he was posted to the Toa Payoh police station before being assigned to the Criminal Investigation Department (CID) two years later.
He spent 12 years as a detective, first in the anti-theft unit and later, in gambling suppression.
"I was very chiong," he says, using the Hokkien word for aggressive.
Raids and ambushes were regular occurrences.
There were, he says, temptations aplenty.
Operators of illegal gambling dens - some of which were highly organised outfits run by professionals in swanky districts - and other unsavoury businesses would offer bribes and women.
"I thank God I have a great dislike for corruption. The moment they offered me anything, I would make sure I raided their place even more. My team knew that. I told them I would personally arrest them if I found out that they were corrupt," he says.
In 1985 when he was 27, he married Ms Lily Cheok, a draughtsman in a shipping firm. Their first son - now a marketing manager - came along the next year.
Life was good. He loved his job, and enjoyed being a husband and a father.
But his world turned topsy-turvy with the arrival of Sean four years later in 1990.
"My wife and I were devastated. The doctor told us that he might have a hole in his heart and other defects Down syndrome babies are known to have," he says. Down Syndrome babies are at higher risk of congenital heart diseases.
Fortunately, that was not the case.
"Except for a speech impairment, he is a high-functioning Down syndrome child."
But barely had they come to terms with his condition, heartbreak knocked on their doors again.
A year later, Jonah came along, nearly three months premature, weighing just 916g and besieged with a host of medical complications including a set of underdeveloped lungs.
"The doctor said he had more than 20 problems including PDA," he says, referring to patent ductus arteriosus, a heart defect. "He said we should switch off the life support machine because at best he would be a vegetable."
Shaking his head at the memory, Mr Chan adds: "I told him if he switched it off, I would handcuff him and charge him for murder."
Jonah spent five months in the hospital's intensive care unit. Many a time, doctors thought he would not make it but the infant clung tenaciously to life.
For two years, he needed oxygen therapy at home.
"His health stabilised only after he turned four. He's okay now except for a weak lung," he says, adding that Jonah now works in a bank.
Amazingly, the Chans went on to have another child the following year.
Mr Chan explains: "We were then in a church which believed that children were gifts from God. Also, my wife really wanted a daughter."
Her wish was not to be. Instead, Enoch came along. Besides Down syndrome, he also had ventricular septal defect, a congenital heart abnormality.
An operation to correct this condition led to further complications, resulting in doctors having to perform a tracheotomy.
Enoch often had difficulty breathing; he literally "died" twice as an infant before being resuscitated. There were several other operations and although now a smiley 23-year-old, he is unable to speak till this day.
The trials flung at him made it impossible for Mr Chan to continue working as a detective.
Shortly after Jonah's birth, he quit. A friend recommended pharmaceutical sales.
The transition was far from easy.
With a mock grimace, he says: "I was not the most courteous guy. When you had to handle crooks every day, you had to speak their language.
Suddenly I was dealing with doctors and nurses and I had to kowtow to them."
He adds: "In the first couple of years, I was really miserable. I didn't know what I was doing, I was a fish out of water. Fortunately, martial arts had helped me build a 'never say die' character."
He willed himself to succeed, beefing up his professional knowledge by reading literature on drugs and their uses even in the toilet.
"In three years, I was the top salesman," he says proudly.
The incentives and commissions helped to pay off their children's hefty medical bills. He also signed an overdraft for Medisave which took him more than 10 years to pay off.
Sadly, juggling a career and looking after children with special needs forced him to give up his passion for martial arts.
It did not help that his former church - which he does not want named - frowned on physical pursuits including swimming and football. The last straw came when Shamus wanted to opt out of the church and the elders told Mr Chan to throw him out of the house.
"I told my wife: 'This is too extreme. We need to get out.' We wasted 10 years of our lives there, 10 years of martial arts training. When people ask me what church I belong to now, I say the church of aikido," he says with a laugh.
Free to pursue his first love again, he and Shamus started looking around for places to train in 2004. They ended up in the Police Club and chanced upon a dojo offering aikido instruction.
There was no turning back. Father and son trained religiously.
"I guess it was to release all our pent-up frustrations," says Mr Chan who got his first dan in five years. Shamus - who has a four- year-old daughter named Cassiel - did even better, and became a full- time aikido instructor for a few years after completing his national service.
Last year, father and son decided to strike out on their own to form Aikido Tai Shin Kai. By then, Sean and Jonah had also become practitioners.
"This is something I really enjoy and I missed teaching," Mr Chan says.
They started offering classes in community clubs, first in Nee Soon followed quickly by Braddell Heights and Nanyang in Jurong. They now have more than 70 students all over the island.
It is a family affair. He, Shamus and Jonah teach the adults and teens while Sean helps to instruct the juniors and children.
"My wife helps with the administration. I couldn't have gone through what I did without her. She really was my pillar of strength," he says.
The family, and a few of their friends, also train in their own dojo at home.
"I train Enoch to help him with his motor skills," he says.
"I want to share my love for aikido with as many people as I can and for as long as I can."
kimhoh@sph.com.sg

This article was first published on October 18, 2015.
Get a copy of The Straits Times or go to straitstimes.com for more stories.