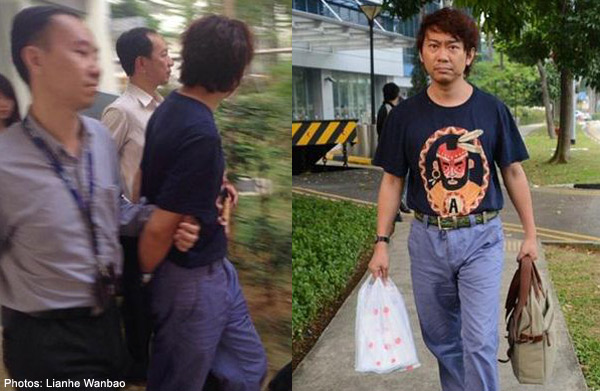 SINGAPORE - The former China tour guide embroiled in a tussle over the assets of a rich widow was yesterday hit with 320 new charges for falsifying receipts to his company.
Yang Yin, 40, had "admitted to creating the false receipts so that he can stay in Singapore", Deputy Chief Prosecutor Tan Ken Hwee said in court yesterday.
Yang had made up "totally fictitious transactions" to present his firm, Young Music and Dance Studio, "as a thriving business when it is anything but that", he added.
Amounting to more than $420,000 in total, the 320 fake receipts made between 2009 and this year were mostly for payments of between $500 and $2,000 for piano and music lessons. Yang even made up exotic names such as Beryl and Misher for his students.
Nine receipts were for amounts between $3,000 and $6,500 for the sale of paintings.
Mr Tan also accused Yang of having "subverted the system" as these receipts and his firm helped him obtain permanent residency and long-term visit passes for his wife and children.
Yang, wearing the same "Survivor Singapore" T-shirt that he wore in court last week, was emotionless as the charges were read.
Yesterday's development is the latest twist in the saga between Yang and Chung Khin Chun, 87, over her estimated $40 million worth of assets.
Last week, he faced 11 similar charges for falsifying receipts amounting to $28,000.
During the court session yesterday, the prosecution and Yang's lawyer crossed swords over the issue of granting him bail.
Yang's lawyer, Wee Pan Lee, told the court that Yang's parents had arranged for a $150,000 sum to be remitted to Singapore to pay for bail. This was all they could raise and Yang is unlikely to "make them destitute by running away", said Mr Wee.
Disagreeing, Mr Tan argued that this meant only that his bailors, who had to be Singaporeans, would be "proxies" and thus unable to guarantee that he would not be a flight risk. He added that Yang remains a flight risk because he faces further charges.
Madam Chung's niece, Hedy Mok, and her neighbour Linda Tan were in court yesterday.
The court will decide today whether to grant Yang bail.
kcarolyn@sph.com.sg
tohyc@sph.com.sg

Get MyPaper for more stories.