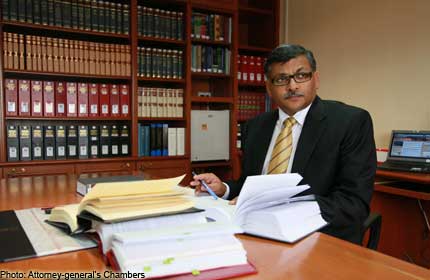 SINGAPORE - Chief Justice Sundaresh Menon (above) on Monday raised the question of whether disbarred lawyers seeking to be reinstated should be made to take an examination.
He made the remark at a Court of Three Judges hearing into 57-year-old Dhanwant Singh's bid to be reinstated.
Neither the Law Society nor the Attorney-General's Chambers (AGC) opposed Mr Singh's application.
The court approved it subject to several conditions raised by the AGC and that he promises to continue his legal education.
Chief Justice Menon noted that the same conditions had been raised in the recent case of another lawyer Narindar Singh Kang, who had sought to be reinstated.
Flagging the issue to the Law Society and the AGC, the CJ said that in future cases, the court would like to hear their views on whether the time had come for the profession to move towards a formal requalification process for lawyers seeking reinstatement.
He wondered whether a disbarred lawyer, even after convincing the court that he was suitable to practise again, should be made to go through a formal assessment, such as an oral exam.
"We'd like to hear from Law Society and AGC on whether the time has come for us to move towards some formal requalification," he said. "This is something that we would like to be addressed in future cases."
An AGC spokesman said: "The (AGC) has noted the directions provided by the court and will now liaise with the Law Society to consider the measures to give effect to those directions."
A Law Society spokesman said it "will discuss the issue of reinstatement in stages, in the light of the Chief Justice's direction".
In the current case, Mr Singh was struck off in 1995 following his conviction a year earlier for aiding three individuals in obtaining fake medical certificates excusing them from attending court.
His counsel Lim Seng Siew noted that a long enough period had lapsed since disbarment, during which he has shown he has been fully rehabilitated.

Get a copy of The Straits Times or go to straitstimes.com for more stories.