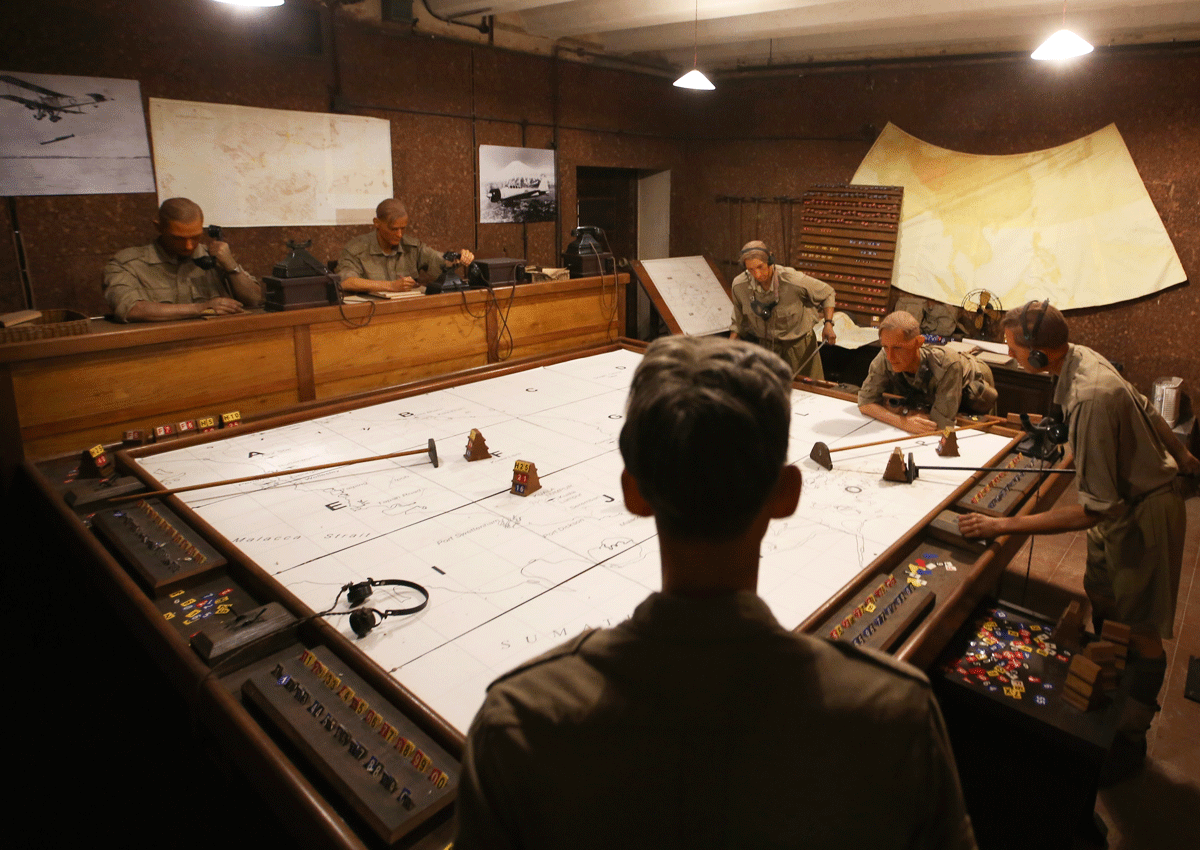 THE British delegation on Feb 15, 1942, was a picture of dejection. The team, including interpreter Major Cyril Wild, had been sent to surrender to the invading Japanese forces at the Ford Factory in Bukit Timah.
Spotting the media filming the event, Major Wild, looking distressed and ashamed, chucked aside the white flag he had carried to the meeting.
This fleeting but poignant moment is on show at the Battlebox museum at Fort Canning.
The footage is part of a new tour rolled out by the Singapore History Consultants aimed at giving visitors a deeper understanding of the frame of mind the defending forces were in, and the events that led to the largest military defeat of British and Commonwealth forces in Britain's military history.
The 1936 Battlebox bunker itself, which has undergone a year-long $300,000 makeover, was the site where the British commanders had gathered at 9.30 that morning to weigh their options. The group included Lieutenant-General Arthur Percival.
It took all of 15 minutes to decide to surrender since they had been cornered by the Japanese across land, air and sea.
The Battlebox's guided tours, priced at $18 for adults and $9 for children, will take visitors through facts and figures such as the strength of the Japanese infantry, as well as the effort and money poured into the defence of Singapore.
The 9m-deep underground labyrinth was the nerve centre for military operations during World War II. The attraction at Fort Canning Park, which is managed by the National Parks Board (NParks), is slated to officially reopen on March 28.
The first round of works have addressed issues such as leaks. New generators and an air-conditioning system have been installed too.
The Singapore History Consultant's director Jeya Ayadurai said the firm is hoping for "government support" in rolling out further improvements.
This includes an additional $100,000 in funding to provide multimedia guides, and another $350,000 to install 3D and ambient technologies over the next two years.
For now, visitors can sign up for sneak previews of its tours till March 20.
The effort to breathe new life into the bunker ties in with NParks' move to rejuvenate and draw more visitors to Fort Canning Park.
Traces of an ancient Malay kingdom, the British empire's bunkers and gravestones of Singaporean pioneers lie there.
Mr Jeya hopes the authorities will look into protecting the area as well as awarding the historic bunker national monument status.
He expects the bunker to draw between 40,000 and 44,000 visitors in the first year.
Briton Peter Stubbs, 71, an amateur historian who went on a tour on Tuesday, hopes the operator will add more depth to the experience and stories about key characters such as Lieutenant-General Percival.
"He was always seen as someone useless but he was quite a brave soldier," he said.
melodyz@sph.com.sg

Get MyPaper for more stories.