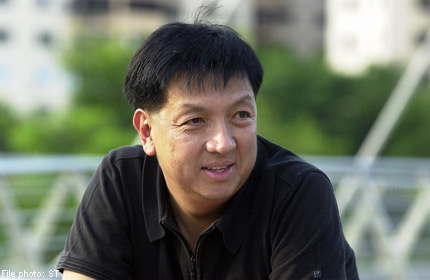 SINGAPORE - Singapore tycoon Peter Lim's planned race circuit in Iskandar is revving up to be more than just a playground for the fast and furious. It could potentially rival Singapore and Sepang as a Formula One venue.
FASTrack Autosports, a venture between Mr Lim and the Johor royal family, which is undertaking the project, has decided to build an F1T-grade facility. F1T stands for Formula One Test.
It was slated as a Grade 2 track - for all races except F1 - when the project was first announced last year.
FASTrack chief executive Barry Kan said the company decided to upgrade to F1T when it found that it cost only about 10 per cent more to do so.
At a cost of just under $100 million, the track is part of a $1.4 billion motorsports hub project undertaken by FASTrack and Malaysian state-owned real estate company UEM Land.
On whether it will compete with Singapore and Sepang as a future F1 venue, Mr Kan said the circuit will have all the technical requirements necessary for Formula One races.
"F1 teams can test their cars here, but whether a circuit is an F1 track depends on one man," he said, referring to F1 czar Bernie Ecclestone.
Compared to a Grade 2 track, the 4.5km F1T circuit will have gentler gradients, wider run-off areas, stronger barriers, and a long straight stretching over 1km that will allow cars to breach 300kmh.
"It'll be faster than Sepang, Monza and Singapore," Mr Kan added, referring to three F1 circuits.
Sepang in Kuala Lumpur is a permanent F1 Grand Prix track. Its F1 contract ends in 2015. As for Singapore's street circuit, with its latest race just concluded on Sunday, its contract ends in 2017.
The Iskandar circuit, which is designed by renowned German racetrack designer Hermann Tilke, is due to be completed in 2016. It is part of the Mo-torsports City project within Gerbang Nusajaya in the fast-developing Iskandar region.
Gerbang Nusajaya is a mixed development township just a 10-minute drive from Tuas' Second Link. It could eventually have an MRT link to Singapore.
Besides F1 cars, the FASTrack facility with its two paddocks will be able to host superbike events. There are also an off-road circuit for sports utility vehicles and two go-kart circuits - one indoor, for electric karts. Mr Kan said construction is slated to start in the middle of next year.
Observers said the recent cancellation of plans for a $380 million racetrack in Changi will be an extra boon to the Johor circuit. Already, Mr Kan said he has received calls from well-heeled individuals to reserve garage space.
Venture capitalist Tommie Goh said he will consider putting "a couple of track cars up there".
The facility offers a "bonded area", a tax-free zone for collectors to keep their cars - including left-hand-drive models - and use them on the track.
Mr Goh was surprised by the track's upgraded status. "It'll give Singapore a run for the money," he said.
But others do not think it will pose an immediate threat. Mr Colin Syn, deputy chairman of Grand Prix organiser Singapore GP, said it will get its chance only if Singapore and Sepang do not renew their contracts.
"And like everybody else, they'd have to pay a lot of money to host the race," he said.
Earlier this year, Sepang International Circuit chief executive Razlan Razali described the Johor project "more as a playground for the wealthy", rather than a competitive racetrack.
christan@sph.com.sg

Get a copy of The Straits Times or go to straitstimes.com for more stories.