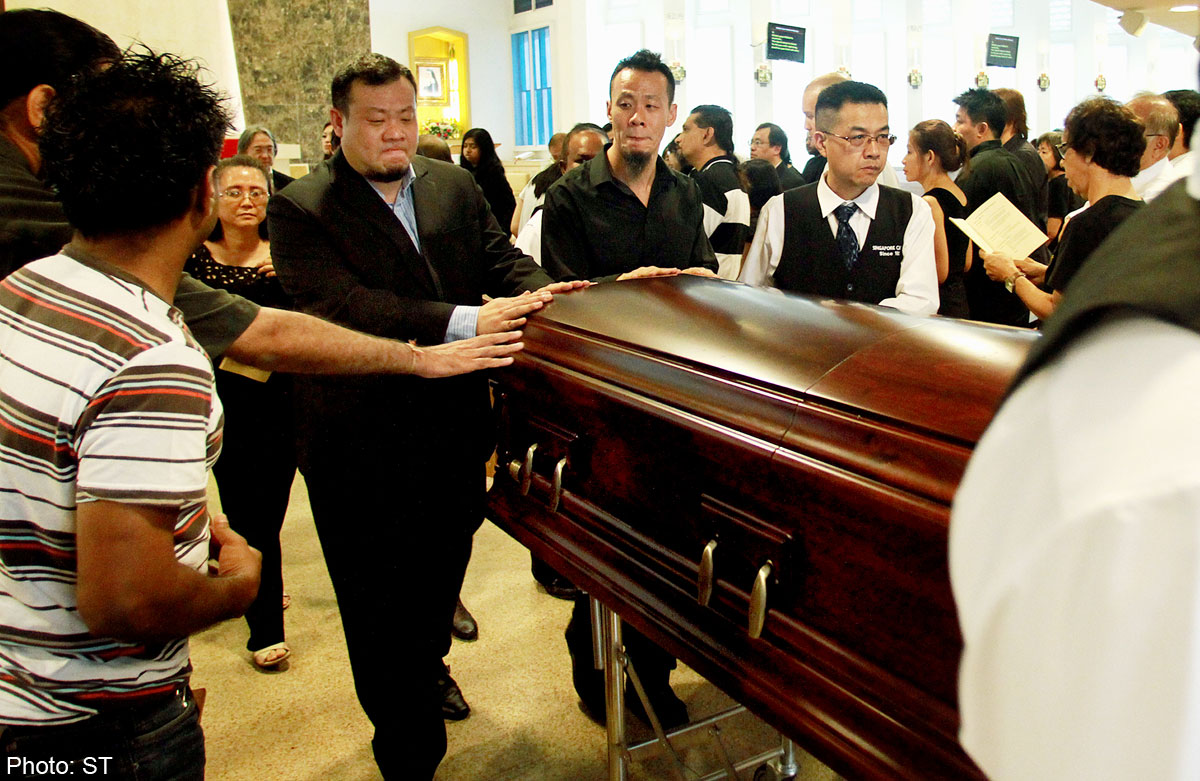 More than 100 family members, friends and former colleagues of late entertainment icon Victor Khoo attended his funeral mass at the Church of St Bernadette yesterday afternoon.
A multi-talented entertainer who made his name as a ventriloquist, emcee, radio presenter and magician, he died of cancer at the age of 63 last Friday.
In his eulogy, his son Brandon said: "He was not just an icon in the entertainment industry, he was also a caring boss, a great friend to many, and most importantly, a loving husband and father."
The 34-year-old and twin Barry are Khoo's sons from his first marriage to Hong Kong singer Lam May Yee. Khoo ran his own entertainment company, Victor Khoo Productions.
While Brandon did not specify what type of cancer ailed his late father, he spoke about how his father had fought the disease valiantly until his last breath.
His mother also suffered from cancer and his father had taken care of her until she died in 1995. Khoo went on to actively support several cancer charities after that.
Said his son in the eulogy: "Some say he fought cancer for his six years. No, he fought cancer for 34 years. I don't know of anybody who can fight cancer for 34 years since 1980, from my mom, to Breast Cancer Foundation, to himself."
To loud applause, he added: "He did not lose to cancer, cancer lost to him."
Also present at the mass were his wife, Shellen, and their daughter, Vanessa, 17. The couple have another daughter, Victoria, 18, who is overseas.
Khoo's six surviving siblings, including older brother, Senior Counsel Michael Khoo, were also present. He was the eighth of 11 siblings.
The entertainer is best known for voicing and animating wooden puppet Charlee. Besides live shows, the pair hosted radio show Happy Talk for seven years in the 1970s and 1980s.
He learnt ventriloquism from his late father, a rent collector and part-time magician, who also bequeathed him Charlee.
Jazz musician Jeremy Monteiro, who attended yesterday's mass, said Khoo was a "multi-faceted entertainer" who had "made several generations of Singaporeans laugh and be happy".
On Saturday, Prime Minister Lee Hsien Loong paid tribute to Khoo in a Facebook post and called him "more than an entertainer" who "contributed to society in many ways".
Khoo had taken his act overseas, including to glitzy Caesars Palace in Las Vegas. A movie buff, he directed local flick Tiger's Whip, released in 1998.
His body was cremated yesterday at the Mandai Crematorium and Columbarium Complex.
dinohadi@sph.com.sg

This article was first published on June 10, 2014.
Get a copy of The Straits Times or go to straitstimes.com for more stories.