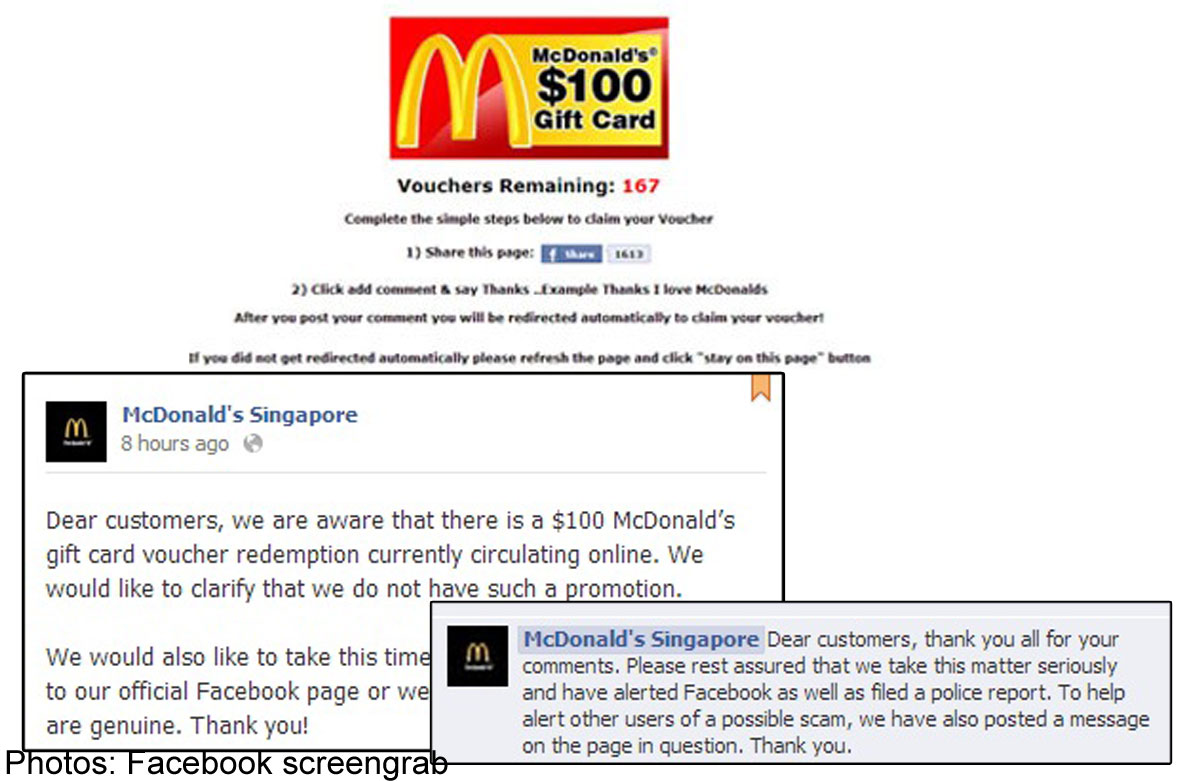 SINGAPORE - Fans of McDonald's were certainly not loving it when they found that the $100 vouchers they were promised for clicking on a Facebook ad were part of a scam.
The burger giant confirmed on Friday that it is not behind the "limited offer" promotion on the social networking website.
In a Facebook post at around noon, it alerted customers to the scam, urging them to visit its official Facebook page or website to verify any online offer.
McDonald's Singapore spokesman Kevin Lim said the company has filed a police report.
The fake Facebook page contained instructions to post a comment - such as "Thanks I love McDonalds" - before it redirected them to claim their voucher. More than 28,400 comments were posted by users, mostly in Singapore and Malaysia.
One victim, Madam Susan Ang, 40, gave away her mobile number as well as e-mail and home addresses while filling out "survey form after survey form" after clicking on the promotion.
"I realised it was a scam halfway and gave up," said the housewife. "I did not claim any prize."
Other Facebook users admitted to falling for the scam. One user, "Patricia Ng", posted: "After going thru till the last step, realise it is a hoax. Shld have known better." A similar McDonald's scam appeared in February last year.
Social media expert Edvarcl Heng, a partner at public relations firm Sg Story, said that based on previous campaigns the scammer seemed to be driving users to fill out survey forms, for which he would collect a fee for each one completed.
Early last year, there were similar "limited" $100 Shell and $100 KFC cards circulating online for survey participants.
Security experts said scammers employ such tricks to harvest personal information for telemarketing or to populate databases which are sold to telemarketing firms.
Such tactics are also known as "bait and switch", said Mr Paul Ducklin, a consultant at the security software firm Sophos. Scammers benefit by getting unsuspecting users to click on links to generate traffic to the websites of unrelated products. Such Web traffic generates revenue for companies like online advertising agencies.
By responding to fake promotions, users may unwittingly give away control of their Facebook accounts to hackers, who could then send malicious links to friends in the hacked account's network.
These links may contain malware for stealing personal details and passwords from computers, said Mr Terrence Tang, senior director of consumer business at security software firm Trend Micro in Asia-Pacific.
Social media scams usually involve offers that are too good to be true, or are not hosted on a merchant's official website or fan page, he noted.
A Facebook spokesman said protecting its users from spam, phishing and malicious content is a "top priority", adding that the company has spent several years on developing such technology. She also advised users not to click on links in messages, even those sent or posted by friends.
itham@sph.com.sg

Get a copy of The Straits Times or go to straitstimes.com for more stories.