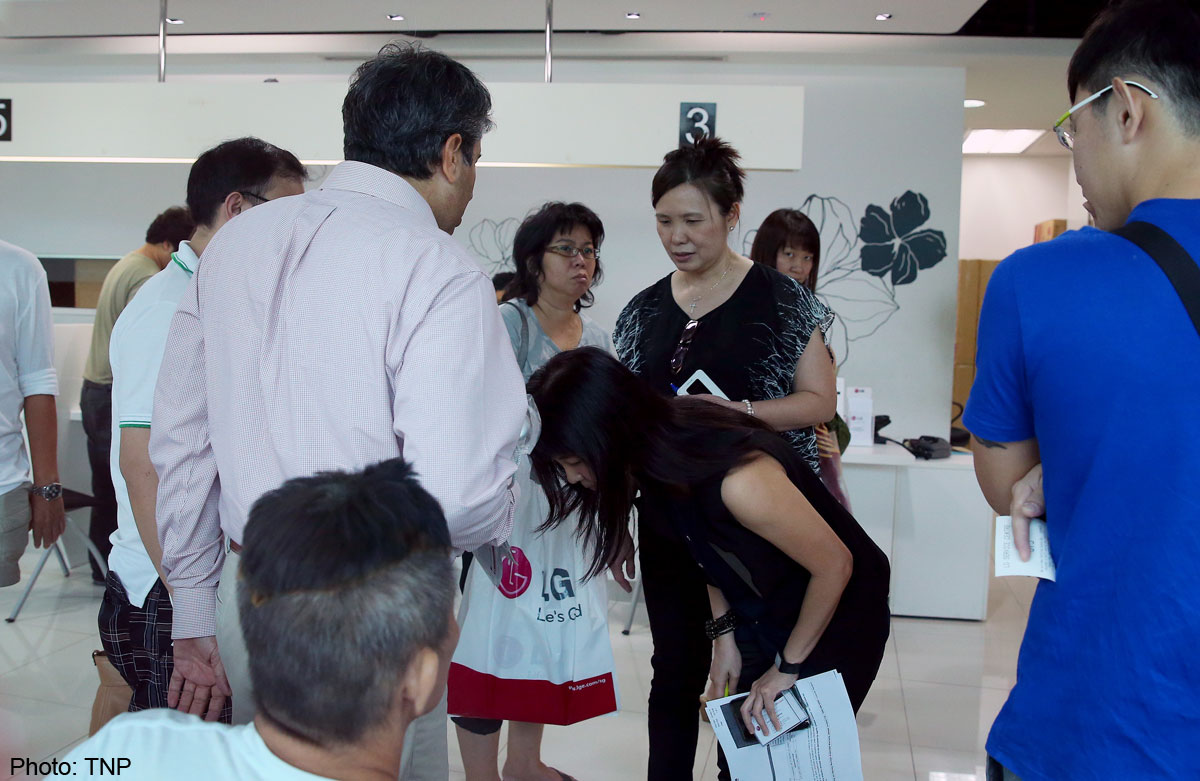 There were raised voices as customers grew impatient and angry.
Their grouse was that they were not able to redeem a gift that came with the TV they had bought.
Mr Tevin Teo said he was at LG Service Centre at Alexandra Road yesterday to redeem his gift.
He had bought an LG TV on promotion and was entitled to several gifts.
Redemption began yesterday and will last until June 16, while stocks last.
Customers turned up as early as 8.20am yesterday, but were angered when told there was no stock for the LG G Tablet 8.3.
"Being one of the first customers there, we were confused why there was no stock at all," said Mr Teo, 32, an operations technician.
A customer service employee told him that the tablet was not ready for redemption due to a manufacturing issue.
The tablet is worth $499.
Mr Teo sat down to wait for his other gifts, which included a Skylanders Battlegrounds game worth $126 and CapitaLand vouchers worth $100.
"Suddenly, a commotion started and a customer raised his voice," said Mr Teo.
About four customers were involved in the argument, said Mr Teo. They were angry that they were not able to get their tablet.
Some had taken leave from work just to collect it.
Customers were offered different gifts on top of the tablet, which will be delivered to their homes next week, but still, some of the customers were not happy.
The New Paper saw an employee bowing in apology to a customer. She was one of those who handled the requests of the customers.
REASONABLE
But not all customers were so demanding. A customer, Mr Keith Ghwee, 55, cut off another complaining customer because he felt that what LG had offered was reasonable.
"They met us halfway and I can still get my tablet. Anything else is just a bonus," said Mr Ghwee, who is self-employed.
"Not many companies will do this so quickly, but there are some customers who just want to take full advantage," he added.
Mr Ghwee left with the game, vouchers and a photo printer.
"Sometimes, it pays to be the ugly Singaporean," said Mr Ghwee with a chuckle.
An LG Electronics spokesman said 18 customers were affected due to miscommunication between their call centre and service centre.
The spokesman said: "This incident has revealed some issues in our customer service processes and we will be conducting an investigation to resolve these issues as quickly as possible.
"We apologise deeply to our affected customers. Stock of the LG G Tablet 8.3 will arrive on May 27 and redemptions will resume then."
This article was published on May 17 in The New Paper.


Get The New Paper for more stories.