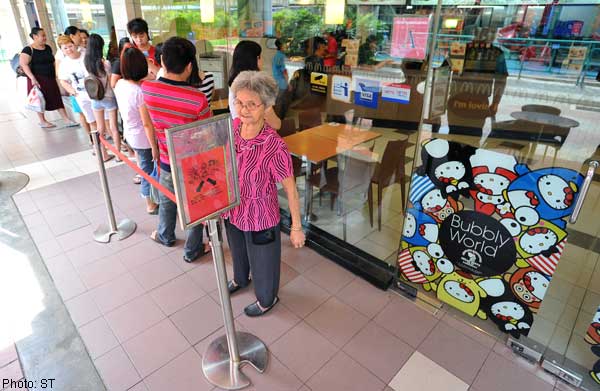 After heavy Web traffic temporarily paralysed online Hello Kitty orders last week, the quiet launch of in-store sales at McDonald's outlets yesterday surprised many.
The first of the six- week in-store sales for individual toy characters began at 11am, but customers islandwide observed a lack of the usual snaking lines of eager buyers.
According to feedback posted on McDonald's Facebook page and patrons who spoke to The Straits Times, short queues began forming at about 10am, and had mostly dissipated by lunchtime - a far cry from the eager crowds witnessed in 2000.
Housewife Kim Yeo said she waited less than 10 minutes to get four sets at a Serangoon Central outlet and was surprised by how quick it was.
She and other buyers lauded the crowd control measures introduced by the fast-food chain this year which appear to be managing the craze.
McDonald's raised the total quantity of Hello Kitty plush toys available this year by about 50 per cent and, for the first time, made the collector's set of all six characters available for online purchase, said a spokesman. Close to 30 per cent of the total number of toys available had already been snapped up through online purchases, which began last Wednesday.
McDonald's has also engaged third-party security guards "who will be stationed at 31 of the most popular and high-traffic stores, to help manage queues and as a precaution against any crowd control issues".
All participating restaurants have "queue management plans" in place and will, where appropriate, be using queue poles and "queue tickets" - slips of paper that enable holders to purchase one toy each, up to four toys per customer, and emphasise the importance of "order at the store".
"McDonald's really did it right this time," said homemaker Isadora Eng, who takes part in all of the chain's Hello Kitty promotions and bought a set online for her daughter last week.
"Yes it's more expensive than in- store but it's much more convenient. I don't have to queue for hours and they deliver to my doorstep."
hpeishan@sph.com.sg
This article was published on April 29 in The Straits Times.
Get a copy of The Straits Times or go to straitstimes.com for more stories.