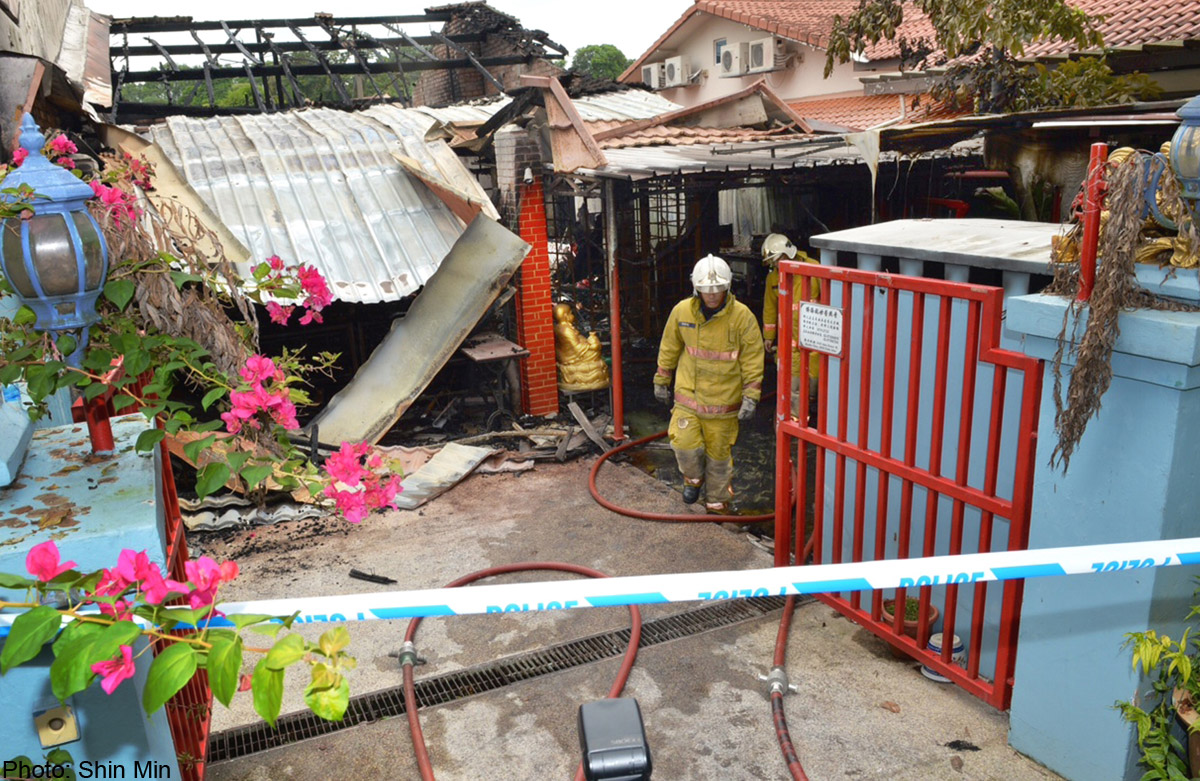 It was an accidental fire, most likely because of a short circuit in the wiring around a Chinese prayer altar, that claimed the lives of two men in a Bukit Timah house last year, a coroner's inquiry found yesterday.
The court said tenant Tan Boon Chong and his son Spencer Tan Chee Phang died from smoke inhalation in the early hours of Nov 17 last year.
Seven others in the single-storey semi-detached house in Jalan Gaharu escaped through the back of the house. One of them, Madam Ng Moi Yong, 63, had gone around telling everyone to get out when the fire began.
Though the elder Mr Tan, 53, had come to the door when she knocked, the men's bodies were later found one on top of the other in the bedroom. The older man was at the bottom, holding a small black torch and a grey cloth. The coroner concluded that Mr Tan Boon Chong tried to save his 22-year-old son, even though he had had "ample notice" of the danger and could have escaped with the others.
The court heard that the placement of the bodies suggested that he could have been holding on to his son when they died.
"Ultimately, Mr Tan's death is a truly unfortunate and tragic outcome from his noble and selfless gesture," said State Coroner Marvin Bay.
He added that no foul play was suspected in their deaths.
Taking the stand yesterday, Singapore Civil Defence Force investigation officer Yazeed Abdul Rahman said burn marks and a photograph of the altar suggested an electrical fire had begun there.
The house is owned by Madam Ng's god-daughter, who had moved out after she got married, but allowed Madam Ng to live there from 2000.
Madam Ng, who is a nun, owned a Chinese temple in Malaysia. She set up the altar here for her personal use, but it was also visited by worshippers who had been to her temple back home.
Mr Tan Boon Chong had lived in the property for about four years and occupied the room closest to the altar, which held urns and a collection of religious objects.
His son, an infantry section commander, would also sleep there when he was home from camp. The younger man had plans to study engineering at a local university after completing his national service, and leaves a mother and an elder brother.
This article was published on May 9 in The Straits Times.


Get a copy of The Straits Times or go to straitstimes.com for more stories.