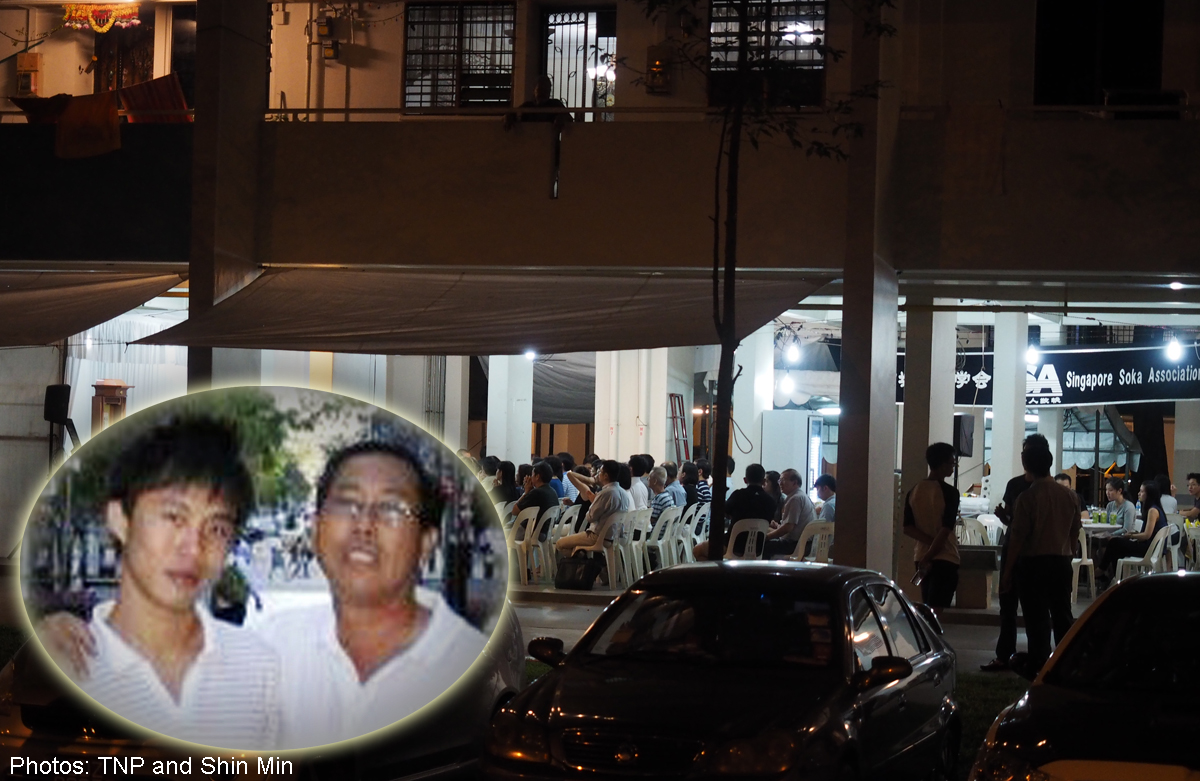 He was described as a cheerful and easy-going person who always had a smile while at work.
So Mr Desmond Soong's death on Monday afternoon came as a huge shock to many of his former colleagues.
Mr Soong, 30, and his father, Mr Soong Ya Cai, 66, had fallen to their deaths at Block 605, Clementi West Street 1.
Said Mr Chen, 30, who worked with the IT specialist at the same company for about four years: "He never shared with us any of his problems, so we did not know what could have happened at home which led to this."
A family member told Shin Min Daily News that the two men shared a close relationship, contrary to previous reports.
When the older Mr Soong was in a nursing home after developing some health problems, his son visited him regularly.
The father joined West Coast Residents' Committee (RC) a few years ago and was in charge of events planning. He left a year ago due to health problems.
Mr Samy, an RC member, told Lianhe Wanbao that the older Mr Soong had a very bad temper and tended to make things difficult during meetings. He also often quarrelled with other RC members.
LOVED EXERCISE
Mr Samy added that the older Mr Soong used to plan walkathons and other sporting events because he loved to exercise.
Other RC members described him as a healthy man just a few years ago when he joined the RC. He went for walks in the park and even took part in marathons.
But his health suddenly deteriorated half a year ago and he lost a lot of weight and had to be confined to a wheelchair.
A family friend had told The New Paper earlier that he suffered from dementia and had problems controlling his bladder and bowel movements.
Mr Samy also said that before the older Mr Soong retired, he had worked as a technician for a company in Jurong, reported Shin Min. Several years ago, he received a payout of $4,000 and left the company.
Neighbours whom Wanbao spoke to on Monday evening said that the younger Mr Soong was well-mannered and kind.
Last weekend, he was seen smiling and talking with his sister while returning home from a shopping trip.
Residents of Block 605 told The New Paper on Tuesday that their block was usually quiet.
Neighbours said they had not heard anything amiss before the two men's deaths.
The wake was held on Tuesday evening at the void deck of Block 607 and was attended by about 100 people.
BROKE DOWN
After evening rituals, Madam Eileen, who had been in despair when she returned home on Monday to find her husband and second son dead, broke down and was taken back to the family's home on the seventh storey by the remaining family members - her elder son and daughter.
The family declined to be interviewed.
HELPLINES
Samaritans of Singapore (SOS):
1800-2214444
Singapore Association for Mental Health:
1800-2837019
Sage Counselling Centre:
1800-5555555
Care Corner Mandarin Counselling:
1800-3535800

Get The New Paper for more stories.