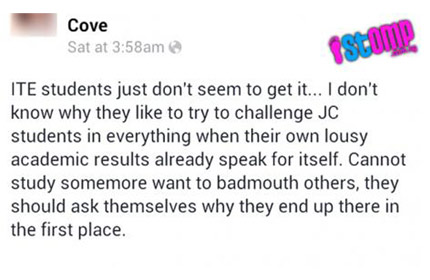 Local citizen journalism site, Stomp, were alerted by readers Koh and Kai Siang, to her Facebook postings.
The student's Facebook account, carried posts that claim that ITE students 'cannot study' and hence, should not 'challenge JC students in everything'.
She also compared certificates from both schools and pointed out that an 'A' Level certificate would provide more options when it comes to the choice of university courses to study. Her list includes law, medicine and pathology, she said.
The woman then wrote that she found it amusing that people often used the argument that successful entrepreneurs such as Bill Gates and Mark Zuckerburg were college dropouts.
According to her, this should not be used to refute criticism of ITE students being less capable than others, as there are varying education systems in different countries and it is akin to 'failures' comparing themselves to 'elites'.
In another Facebook posting, the woman also shared that she had debated with a law student on how the local university she attended was better than his overseas one.
Both postings have since been removed. However, according to the Stomp contributor known as Koh, the thread about ITE students reached more than 900 comments.
Maintaining her stance, she responded to those who disagreed with her statements.