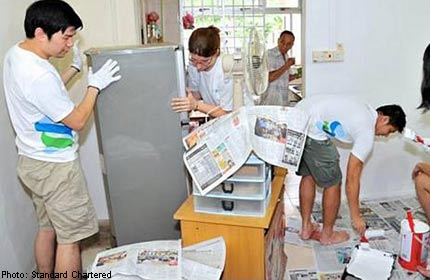 SINGAPORE - Paid leave for volunteer work schemes are getting more common at companies, but very few employees seem to be taking them up. And that could require a rethink by firms looking to encourage staff volunteerism.
"It's very good that more companies are offering volunteer leave as they are making corporate giving a business priority," said Mr Eugene Lim, deputy director of corporate community investment at the National Volunteer & Philanthropy Centre (NVPC). "But some employees fear their supervisors may not support them or co-workers will not be happy taking on extra work."
Another issue is that some prefer to volunteer on weekends, which does not entitle them to the perk at some companies.
At Citi Singapore, about 100 of its 7,000 permanent staff, or less than 2 per cent, use up their one day of paid volunteer leave. Last year, when OCBC Bank started its volunteer leave scheme, the take-up rate was 4 per cent.
This year, one out of six employees at Singapore Pools have so far claimed the two days of volunteer leave available. But even this 17 per cent falls short of national volunteer rates.
According to an NVPC survey last year, 32.3 per cent of people in Singapore - one in three - volunteer for a good cause. The Straits Times contacted 10 companies which offered such leave but several, including DBS Bank and Microsoft Singapore, declined to reveal take-up rates.
Companies believe the low take-up of volunteer leave - which typically ranges from one to five days every year - is not a true reflection of their staff's volunteerism. Citi Singapore said some of its employees volunteer over the weekend, so they have no need to apply for the leave.
Singapore Pools said most of its staff do not use the special leave as they "give their time willingly without expecting anything in return". OCBC Bank shared a similar sentiment, saying: "Our employees do not see the time off as an entitlement, as the spirit of volunteerism will be lost."
Still, the NVPC believes firms can make it easier for employees to better utilise these schemes.
"Staff need to be reassured that applying for it will not affect their working relationship with their colleagues, who may have to cover for them," said Mr Lim.
Also, those wanting to volunteer may not know how to. So, firms can collate a list of opportunities for their staff, he added.
Several companies have already come up with ways to nudge their employees to do more. Since last month, Singapore Pools has allowed the leave to be used the next day if staff volunteered during weekends.
At CapitaLand, staff who use up all three days of volunteer leave "earn" $500 for a charity of their choice.
Standard Chartered Bank has has seen the number of volunteer leave days being used grow from 3 per cent in 2007 to 28 per cent last year.
A spokesman said: "We have noticed that if you can get people to volunteer once, they find the experience so rewarding, they will do it again."
How some firms' volunteer leave schemes work
The Straits Times asked 10 companies which offered volunteer leave how it works:
- Several firms restrict the use of the leave to charity activities sponsored or supported by them.
Others are more flexible.
Microsoft Singapore allows dog lovers to help at animal shelters.
- Some companies require employees who have their own social projects to submit evidence of their volunteer work.
- In some cases, the supervisors' approval is needed to apply for leave.
Other companies trust employees not to abuse the privilege and use the leave for other purposes.
- Some companies go the extra mile to support employees.
CapitaLand, for instance, provides staff with $200 for travel expenses if they volunteer overseas.
jantai@sph.com.sg

Get a copy of The Straits Times or go to straitstimes.com for more stories.