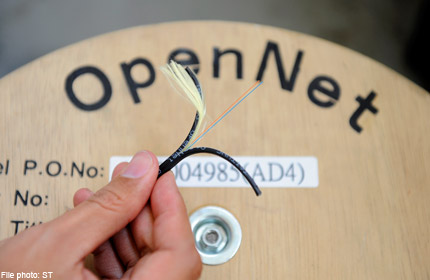 SINGAPORE - Broadband services have been fully restored, OpenNet said on Friday, more than a week after last Wednesday's blaze at a key SingTel Internet exchange that crippled telecommunications links throughout Singapore.
Even so, a handful of customers were still complaining about little or no connection on Friday.
Two-thirds of the 149 burnt fibre-optic cables at Bukit Panjang belong to OpenNet, builder of Singapore's ultra-fast fibre broadband network. The services of operators like StarHub and M1 were disrupted since they buy fibre links wholesale from OpenNet.
The remaining one-third belong to SingTel.
In a statement on Friday afternoon, OpenNet announced that all affected fibre broadband services were restored.
This came a week after the burnt cables were repaired, and four days after SingTel restored the affected services of all its customers.
Service restoration took "longer than expected due to unforeseen complications", said an OpenNet spokesman. For instance, fibre links had to be tested to ensure that they carry signals.
OpenNet also quelled rumours that SingTel's services were prioritised over those of other Internet service providers (ISPs).
"At no time were the services of one (ISP) prioritised over another," the spokesman said, noting that the restoration process was "intensive" as 23,000 hair-like fibre strands housed within the cables had to be repaired individually.
Should any new cases arise, they would be dealt with "on an urgent case-by-case basis", she added.
Noting OpenNet's announcement, the Infocomm Development Authority (IDA) said it has started assessing whether service providers did what was necessary to restore services speedily and effectively.
A review by IDA of the resiliency of Singapore's fixed-line infrastructure is under way, while SingTel announced on Wednesday that it had formed a Committee of Inquiry to look into the causes of the fire and propose remedial measures.
The fire at SingTel's Bukit Panjang Internet Exchange building also affected banks, Singapore Pools, ATMs, AXS machines and even retrieval of polyclinic patient records. All disrupted services were restored last Friday.
Connection problems that continued into this week were confined to residential customers. Hundreds of them were still cut off from the Internet through the Hari Raya Haji holiday on Tuesday.
Most of these problems were fixed on Friday although M1 was still reporting "a small number" of affected customers.
Engineering vice-president Eddy Lim, 49, said: "It has been 10 days and my home broadband is still down." He said his three children aged nine, 11 and 13 complained about being inconvenienced as they could not submit homework and work on projects with classmates online.
IT manager Gordon Ng, 43, said that Web pages still could not load. "A SingTel technician came two days ago and said there is high signal loss, which requires OpenNet to fix," he said.
itham@sph.com.sg

Get a copy of The Straits Times or go to straitstimes.com for more stories.