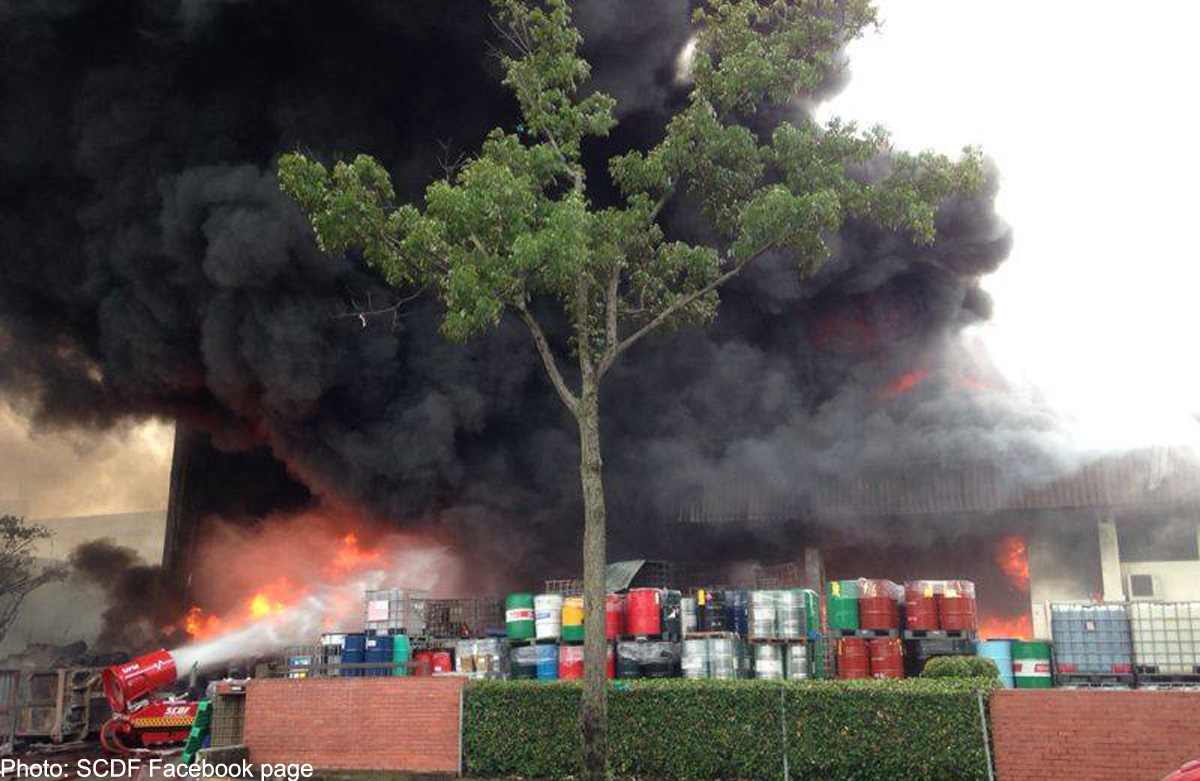 Update from SCDF at 6.10pm:
The fire at Tuas Avenue 11 involved petroleum based products at a warehouse. The fire was extinguished by SCDF within two and half hours. External foam jets were used to surround the warehouse to contain the fire and to prevent it from spreading to the neighbouring units, while the unmanned firefighting machine (UFM) was deployed inside the warehouse, to effectively apply foam blanket into the seat of the raging fire, over an area of about 50m by 50m.
SCDF is currently carrying out damping down operations. The cause of the fire is under investigation.
COL Ling Young Ern, Commander 4th SCDF Division said: "We used external foam jets to surround the area and deployed the UFM to effectively extinguish the fire. The UFM gives strategic advantage in fire mitigation as it can be deployed remotely for fire fighting and penetration directly into the seat of the raging fire."
There were no reported injuries.
Fire at Tuas warehouse: 80 SCDF personnel battling blaze
A fire broke out at a warehouse on Tuas Avenue 11 in Singapore on Sunday afternoon, involving waste products, and affecting an area of 40m by 40m.

Get the full story from The Straits Times.
Here is the statement from SCDF:
SCDF was alerted to a case of fire at the above mentioned location at 3.38pm.
8 fire engines, 2 Red Rhinos, 4 supporting vehicles, 1 ambulance, 1 unmanned firefighting machine were dispatched.
Upon SCDF arrival, the fire was well alight at a warehouse and involved waste products. The size of the fire affected area is approximately 40m x 40m.
SCDF is currently fighting the fire with a total of 14 water jets, including the application of foam at selected areas. The jets deployed include two aerial platform monitors which were used for aerial firefighting, and an unmanned firefighting machine for firefighting and penetration into the risk area.
Firefighting operations are still ongoing.
There are no reported injuries at the time of this news release.
About 80 SCDF personnel are involved in the ongoing firefighting operation.