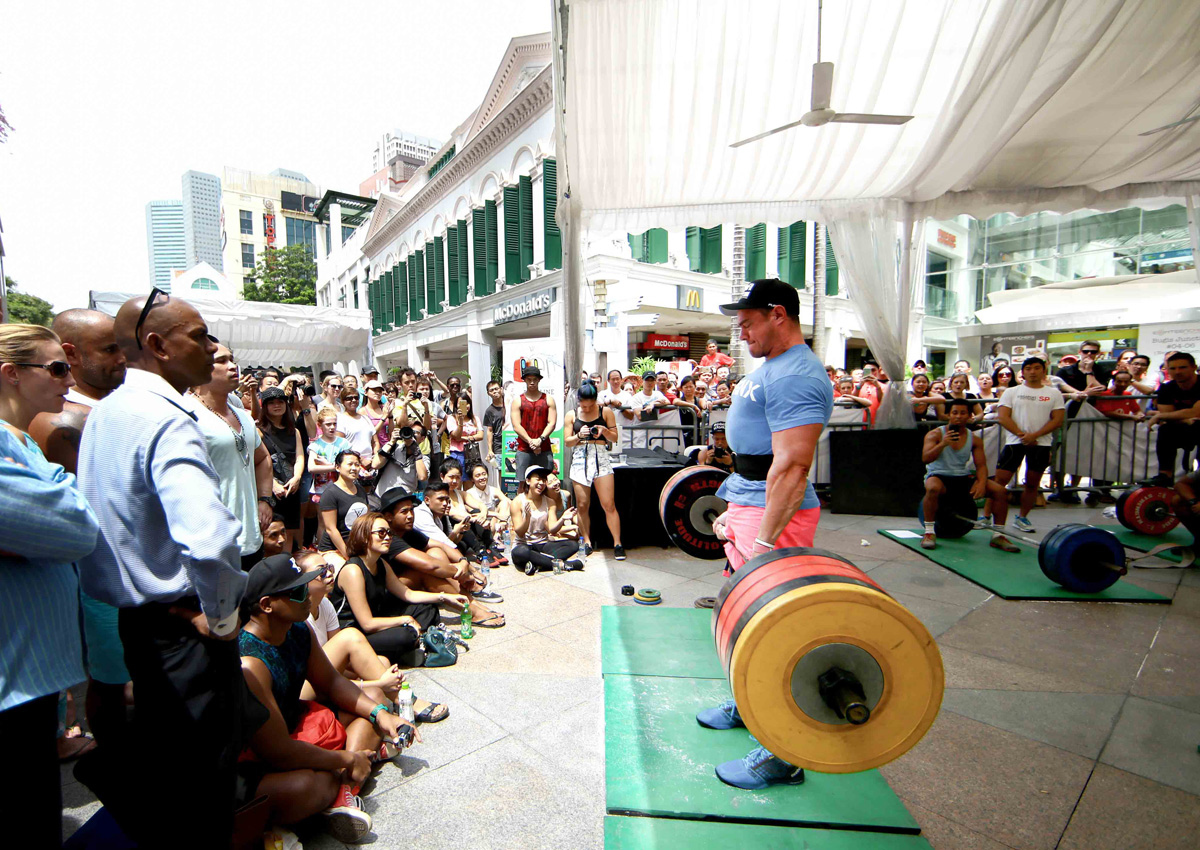 SINGAPORE - Whether working up a sweat in the gym, going for a run or a swim, or signing up for classes like yoga or pilates, more and more people are taking steps to make sure that they stay fit.
And now, some are taking their exercise to the next level by finding ways to further motivate themselves, whether it is participating in endurance contests like marathons, or taking up more difficult workouts.
ELITE 2015 is one such avenue. The new multi-round fitness competition, seeks to find the "fittest man and the fittest woman in Singapore".
10 men and six women have qualified for the grand finals of the challenging competition, which covers various aspects of fitness including functional fitness, cardiovascular tenacity, endurance, pure strength, gymnastics and movement.
Four of the finalists shared their thoughts with AsiaOne on why staying fit is important, their own training regimes, and tips and recommendations on the best ways to stay in shape.
Get moving
Trainer Farreez Rosman, one of the 10 male finalists in the competition, trains twice a day, six days a week (except Sunday), with a strength workout in the morning and cardio training during evenings.
While it may sound intense, his advice when it comes to starting out on an exercise regime is just to get into the groove of a regular workout routine and mastering simple exercises.
"It is very important to get the basics right first, starting with some normal running and body weight exercises such as squats and push ups. It's very easy, and it can be done in an hour or less so it does not take up too much time," he said, adding that this had been his usual routine before he started working in a gym.
The 25-year-old stressed that there was no point in starting on an advanced workout routine without getting the basics right first. "I've seen some people trying to go for crazy training regimes even though they don't even know how to do a simple push up properly."
When it comes to food, he advocates following an "80-20" rule - avoiding unhealthy cooking such as fried and oily foods at least 80 per cent of the time.
"If you're not a fitness fanatic and just want to stay fit and healthy, then there is really no need to try to have a totally clean diet," he said, adding with a laugh that it would be difficult to achieve such a diet in Singapore anyway.
But Farreez, who is taking part in his first ever fitness competition, reiterates that just getting into a regular routine is the most important step.
"We need to take care of our bodies because they are made to be on the move, rather than just sitting behind a desk or idle the whole day. The only thing that is needed is that little bit of motivation and dedication."
Find a workout you love
19-year-old Cheryl Ho says that it is very important to follow an exercise regime that one loves and enjoys.
She trains four times a week in both CrossFit and capoeira dance, and says that she enjoys doing both disciplines as it keeps things from becoming boring.
"For me, the two complement each other as well. CrossFit is a functional fitness programme that helps build strength and stamina, whereas capoeira dance is more about body movement," she elaborated, adding that doing both makes her more flexible as she is not only specialised in a single workout routine.
The student, who will be starting in drama school, also divulged that she only started lifting weights in the gym last June, when a senior in school recommended her to sign up for CrossFit.
She acknowledges, however, that negative perceptions of women lifting weights remain fairly common, but believes it is largely a misconception.
"Yes, I did get certain questions from even my family and friends, who were worried that I might end up looking bulky. But the truth is that to develop a physique like a bodybuilder, you have to eat in a certain way.
"When it comes to lifting weights, it is really all under your control. So, if you don't plan to get bulky, you won't," she said.
Instead, Cheryl points out that she has found quite a few positives. She reveals that she had started out with PVC pipes when first starting to lift, before gradually moving to proper weights.
"A lot of girls think they are not strong enough, when really all that is needed is a bit of training. Lifting weights really helps in building body awareness and I am sometimes amazed when I realise how much our bodies are capable of. That improves self-esteem as well," she shared.
Don't neglect building strength
Dylan Goddard, another finalist, says that for people who are starting to get more serious about their fitness, a good cardiovascular regime is important, but they should also not neglect strength training.
"Building strength is important because it will increase a person's lean body mass, and also helps to reduce fat," the 29-year-old explains.
He observed : "Many people go to the gym, but they only run on the treadmill or use the bicycle, and I don't think you will get the best results just by following such a workout."
Dylan, who has 10 years of experience in the fitness industry, is a CrossFit head coach, and he also spoke about the strength and conditioning programme that consists of a mix of aerobic exercises, body weight exercises and weightlifting.
He explained: "It is completely scalable, making it suitable for everyone from beginners to professionals. Newcomers will first be trained in CrossFit's nine fundamental movements, which include squats, pulls, pressing movements and deadlifts, and they can then move on to more advanced exercises if they choose to continue."
But ultimately, he feels that fitness is about being able to enjoy life to the absolute fullest.
"A healthy body and healthy mind go together. You feel good after exercising, and starting early will also ensure that you will be able to stay fit and keep active later in life as well."
Patience and dedication
Tricia Tan's training philosophy is that "any progress is better than no progress".
The assistant business development manager is another finalist who practices CrossFit, doing it four to five times a week.
The 27-year-old decided to be a part of ELITE because the competition gives her something to train towards throughout the year.
But when it comes to fitness, she says the key is to be patient and dedicated.
"It's 90 per cent hard work and 10 per cent talent," she said.
The grand finals of ELITE 2015 will be held on Sunday, Oct 18 at Bugis Junction