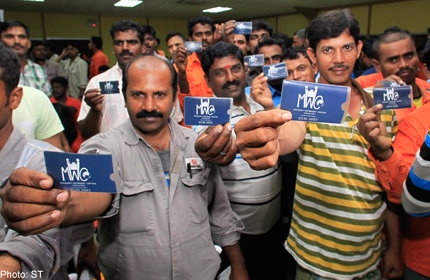 SINGAPORE - Foreign workers in all of Singapore's 38 purpose-built dormitories will be asked to volunteer as representatives for their colleagues so they can report any problems before they escalate.
Under a new initiative called the Dormitory Buddies Network, these spokesmen will report to non-governmental organisation, the Migrant Workers' Centre, so that its staff can provide help.
The centre's chairman Yeo Guat Kwang said there have been several recent cases of disgruntled foreign workers taking matters into their own hands - not least last year's strike by SMRT bus drivers.
He said this showed that more must be done to educate workers of the proper channels available to them to air their grouses.
"It is important for us to handle the matter when it is still small," Mr Yeo said last night. "We can prevent more damage or undesirable outcomes."
Early on-the-ground updates will give the centre's 10-strong team more time to intervene and make arrangements to help workers. For example, staff can reserve dormitory bed spaces for them if their company goes bust.
The centre is piloting the drive at Soon Lee Lodge in Jurong West where 10 representatives from India, Myanmar and Bangladesh have already been appointed.
By next September, the centre aims to have five to 10 "buddies" in each of the 38 purpose-built dorms - which house about 160,000 foreign workers in total.
Dorm operators will be asked to identify workers willing to volunteer. Representatives will be selected based on their leadership skills, their time spent working in Singapore and their familiarity with employment laws here.
Mr David Tow, general manager of Vobis Enterprise which runs Soon Lee Lodge, said his company is supporting the effort "to help foreign workers in times of need".
A centre staff member will be assigned to each team of representatives. They will meet several times a year and workers can also call the centre staff if a problem crops up.
Mr Yeo, who is also MP for Ang Mo Kio GRC, added that workers who act as representatives asked that their bosses not be told of their voluntary roles so they are not seen as troublemakers.He urged employers to look at the scheme as a means to learn about workers' grouses so they can address them constructively.
A shipyard worker and buddy who asked to be known only as Anthavan, 23, said: "Sometimes workers do not dare to tell their bosses or the Ministry of Manpower their problems. But they will tell me because they trust me."
The centre will distribute permit card sleeves bearing its helpline number which operates during office hours - 6536-2692 - to the 950,000-plus work permit holders here.It will also launch a 24-hour helpline next March.
The centre was set up in 2009 by the National Trades Union Congress and Singapore National Employers Federation.
ameltan@sph.com.sg

Get a copy of The Straits Times or go to straitstimes.com for more stories.