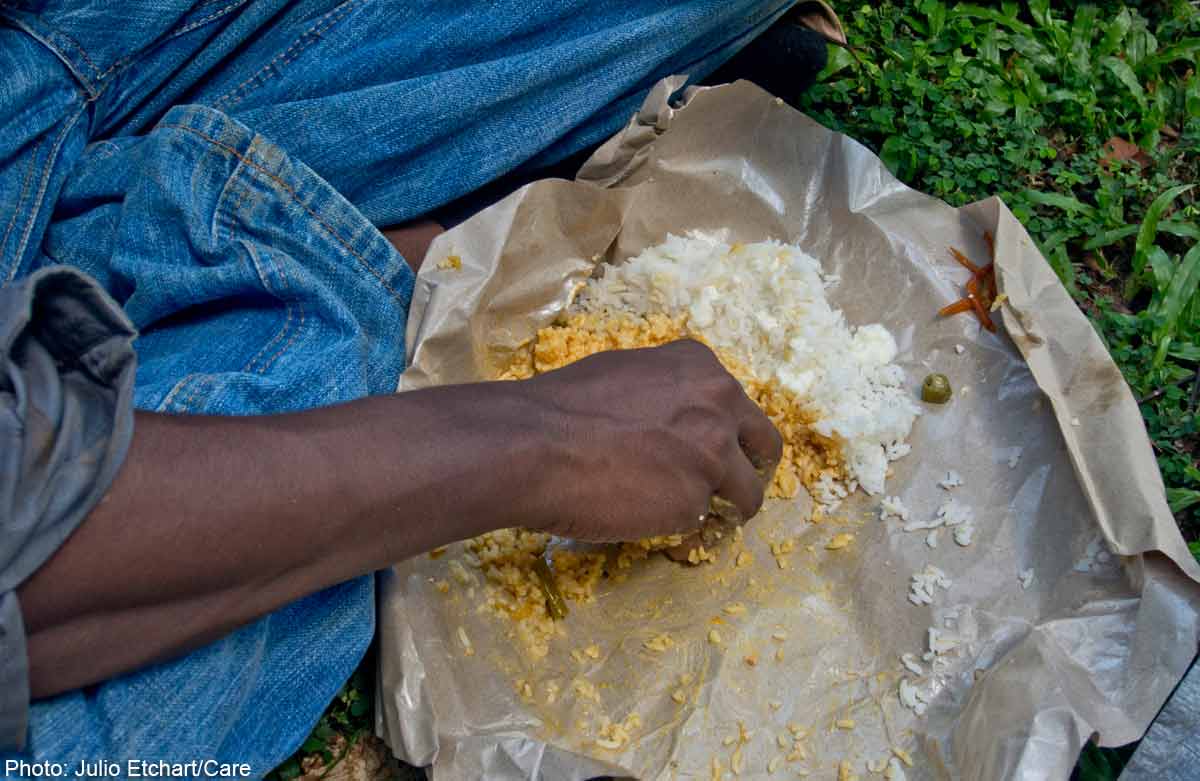 Over nine in 10 Bangladeshi migrant workers in Singapore are given unhygienic food to eat.
Most also complain that they do not get enough food, according to a survey of 500 workers conducted by a National University of Singapore (NUS) research centre. The survey is part of a two-year research project funded by an NUS grant.
"They came to Singapore with the idea that governance is strong, so they couldn't comprehend how you could have catering companies serving really stale food that would go bad by the time they eat," said Professor Mohan J. Dutta, director of the Centre for Culture-Centred Approach to Research and Evaluation (Care).
As part of the project, a month-long awareness campaign was launched yesterday to highlight the food issues. This includes a television commercial, bus and MRT ads and a 10-minute documentary.
Prof Dutta said the group worked with an advisory board of around 12 migrant workers, who highlighted food as a key problem affecting their well-being and crafted the script and message of the commercial and ads.
One issue he and his team found was that despite clear regulations on how long food can be stored and how it should be labelled, many packets of food did not have labels.
"Workers mentioned falling sick from eating the food," he said, adding that many workers reported food meant for lunch being prepared by companies 12 hours earlier.
Workers proposed some solutions:
Provide more cooking facilities and refrigerators in dormitories;
Have better monitoring of catering companies, especially those that are unlicensed;
Remove the middlemen who take a cut of the monthly payments for food; and
Have employers liaise directly with the catering companies.
The survey was conducted with workers at MRT stations, in Little India, at grocery stores and dormitories and through migrant worker group HealthServe, which partnered Care in the project.
HealthServe director Wei-Leong Goh said the situation has improved in the past couple of years, with more purpose-built dormitories providing cooking facilities.
For food to be delivered to workers in a more timely manner, it would have to be dropped off at individual worksites, and that would be costlier. "If we want better conditions for workers, someone has to foot the bill," he said. "If we as a society can stomach that, then there's hope."
Migrant Workers' Centre (MWC) executive director Bernard Menon said the research findings were quite consistent with what MWC has urged employers to do - ensure the care and protection of workers, which include their meals. "The food must be held to the same standards of safety and hygiene as food for Singaporeans," he said.
Separately, a survey of 195 maids by workers' rights group, Transient Workers Count Too (TWC2), found that four in 10 of those who did not get a weekly day off did not receive payment in lieu. Some 20 respondents reported having no days off at all.
The survey was conducted from July 2013 to October last year, after it became mandatory at the start of 2013 for employers to give maids one rest day a week or payment in lieu.
In its report, TWC2 made several recommendations to the Government, including stepping up random checks on employers to enforce the weekly day off legislation.
It also asked for maids to be given the same provisions as workers under the Employment Act so that maids are entitled to a full 24-hour rest period every week and to double their daily wage as compensation for working on their days off.
The survey found that the average compensation maids received, if they did receive any, was $17.50, or around one day's pay.
joseow@sph.com.sg

This article was first published on June 12, 2015.
Get a copy of The Straits Times or go to straitstimes.com for more stories.