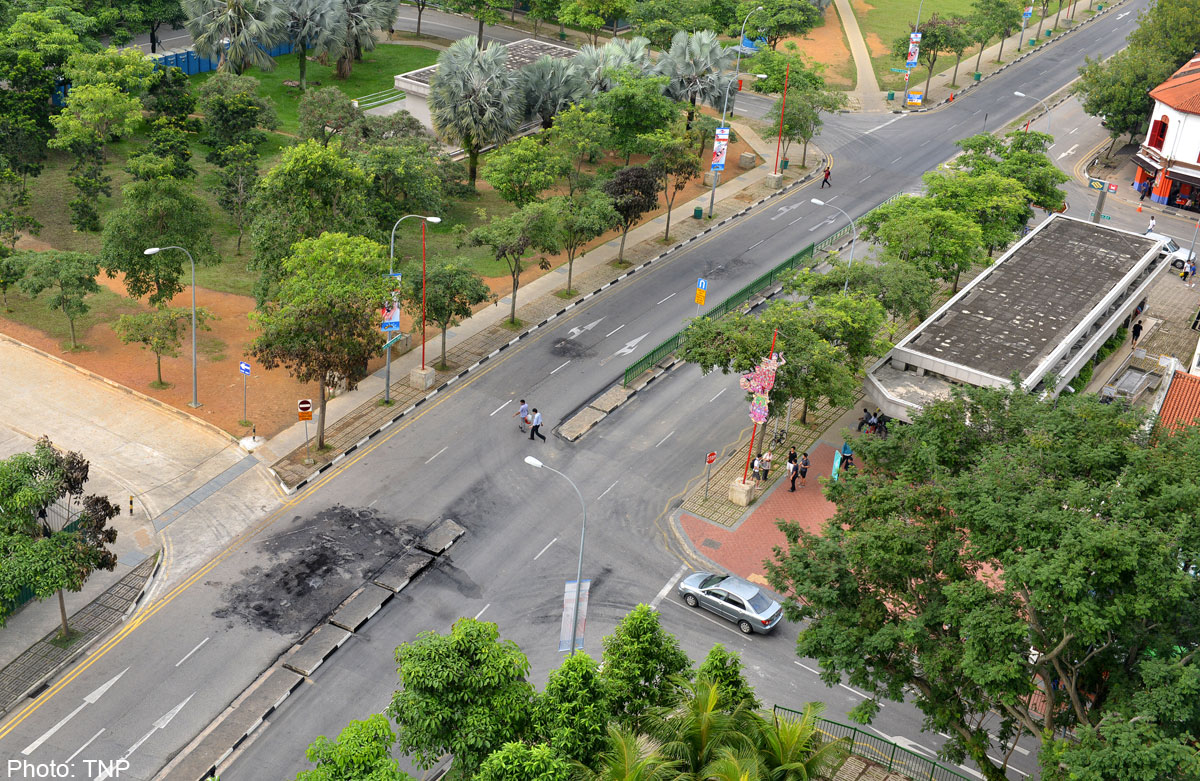 When Mr Choo Jia Leh came out after his 30-minute bath, he was shocked to see 20 missed calls and more than 10 messages registered on his mobile phone.
The 62-year-old provision shop assistant recalls the panic in his daughter's voice when he finally returned her call.
"She was literally screaming and I could barely make out that she was asking, 'Where are you? Are you still at your workplace? Are you okay?'," says Mr Choo.
It turns out that Madam June Choo had heard about the riot at Little India and was worried for her father, who helps out at his friend's shop every weekend.
Madam Choo, 35, a housewife, recalls: "I know my father usually leaves the place (on Serangoon Road) at around 9pm or 10pm. I was worried when news of the riot started to stream in online."
Mr Choo, a widower, is comforted by his daughter's concern but he adds: "Aiyoh, what a pity I missed out on all the action."
He had left for home earlier on Dec 8 because he wanted to catch the Fulham versus Aston Villa match.
Tell Mr Choo that it was not an adventure and he says: "I know lah but basically, there is nothing to fear."
He insists that many of the foreign workers who walk into the shop are friendly.
"Once in a while, you get a few who have had too much to drink, but they leave when you shoo them away."
Things were relatively normal last Friday at different pockets of Little India.
Mrs Mary Chew, 68, who lives at Block 661, Buffalo Road, says that the past few days were "like any other day before the riot".
Her neighbour, who wants to be known only as Madam Lee, adds with a smile: "So far, the only 'unusual' scene here is seeing so many reporters every day."
Mrs Chew, a part-time cleaner, says: "Over here, it's only on Sundays that it gets noisy and messy.
"It's also common for fights to break out, but we just walk further away."
That's why she and her husband prefer to spend Sundays at their son's home in Ang Mo Kio - they were there when the riot happened.
Mrs Chew adds: "Maybe this time (the incident) is a good wake-up call, it's about time that the authorities are looking at security issues and the safety of Little India."
While she supports the alcohol ban this weekend, she wonders if the temporary move is effective.
"I think we cannot blame the incident on drinking."
Madam Chang Wanping, 44, who runs a spicy mala steamboat stall in Chinatown, applauds the swift action taken to contain the situation and the subsequent measures put in place.
But she adds that it's not just Little India that sees trouble brewing.
The Singapore permanent resident claims that she sometimes see punches fly and trading of insults among foreign Chinese workers too.
Madam Chang says in Mandarin: "Most times, it's nothing too serious and they will just stop when you threaten to call the police.
"We don't shun or turn them away because it is still business for us, but sometimes, you wonder, will the situation get out of hand one day?"
Forty-three out of 50 people randomly approached by this columnist say we should move on, but let this incident be a learning point.
Mr Keith Loh, 46, who works in a construction firm, says it's not fair to tar all foreign workers with the same brush.
Says the accounts executive: "What happened there (in Little India) involved a group of people who were caught up in the furore of the mob... for every man that was involved (and not arrested or charged), I can easily offer 10 good workers.
"It is really disgusting when I come across the online vitriol targeted at the foreign workers in general because it's very unfair."
Mr Loh and 33 others polled recommend that more social activities be introduced for those who have come to Singapore to seek a better life.
Miss Debbie Tan, 21, an undergraduate, says: "It's just like us - whether we are studying or working - there's bound to be stress. Sometimes, we just need to get together with our own friends or colleagues, have a drink and let out our frustrations.
"The 'cooling-off' measures announced may work for now, but what happens next?"
As the authorities try to work out solutions to this problem, this Heartland Aunty agrees with her assistant editor, Mr Ben Nadarajan, who wrote in a commentary on Tuesday: "... long-term solutions are needed for Singaporeans to live in harmony with foreign workers. For too long, some Singaporeans have harboured the sentiment of 'need their labour, but despise their presence' while foreign workers have their own hang-ups about locals.
"All this has to change if we are to bridge the gap between 'us' and 'them'."
You just need to get online to see how wide that gap is.

Get The New Paper for more stories.