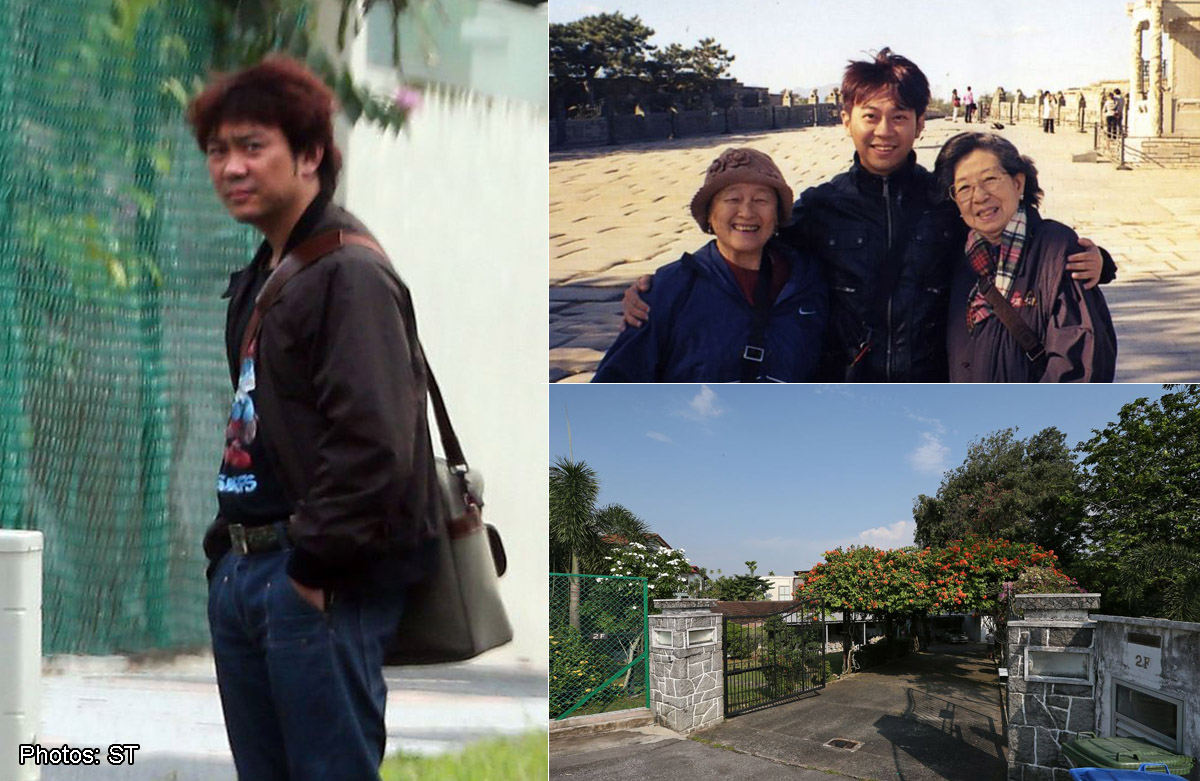 SINGAPORE - Former China tour guide Yang Yin has been arrested for suspected criminal breach of trust. A police spokesman told The Straits Times on Wednesday night that Mr Yang's arrest followed "police reports lodged against him".

Get the full story from The Straits Times.
'She asked me to be her grandson' by Toh Yong Chuan and Carolyn Khew, published in the Straits Times on Sep 12
SINGAPORE - She called him grandson, and asked him to live with her, as well as take care of her and her finances.
This is Mr Yang Yin's response to allegations that the former tour guide from China took advantage of 87-year-old widow Chung Khin Chun to seize control of her $40 million assets.
In an affidavit filed on Wednesday, Mr Yang accused her relatives of not being there for the elderly woman, instead leaving her care to a "driver and maids". The 40-year-old also alleged that the widow's friend, 84-year-old Chang Phie Chin, "shared an extremely close relationship" with the widow's husband before he died in 2007.
Last month, the widow's 60-year-old niece, Madam Hedy Mok, filed a court application to revoke the Lasting Power of Attorney (LPA) given to Mr Yang by Madam Chung in 2012.
Madam Mok alleged that Mr Yang had manipulated Madam Chung to seize control of her money and assets. Madam Chang, who lived with the widow in her $30 million Gerald Crescent bungalow from 2004 to 2011, also provided a court statement alleging that Mr Yang controlled the widow's movements.
Through his affidavit, Mr Yang has finally given his side of the saga.
He said he was hired as their personal tour guide when Madam Chung and Madam Chang visited Beijing in 2008. During the 20-day trip, Madam Chung, who has no children, took a liking to him and asked him to be her grandson, said Mr Yang in court papers.
"Madam Chung also asked me to come to Singapore to stay with her... Since I had grown quite fond of Madam Chung, I decided that I would like (to act) as her grandson."
He revealed that Madam Chung gave him $4,000 when he accepted her proposal. After returning home, she sent him $40,000 to learn how to drive and buy a car in China, he said. This was to prepare him for his move to Singapore - he arrived in 2009. He moved in with Madam Chung, and they set up a company, Young Music and Dance Studio.
"The company was incorporated so that I could run a business and obtain my Singapore permanent residency," said Mr Yang, who became a permanent resident some time after 2011.
Last year, his wife and two children moved into the bungalow. "If I had to go back and forth to visit my family in China, this would have hampered my ability to take care of Madam Chung," he said.
In 2010, the widow drew up a will which left her assets to Mr Yang. Two years later, she gave him full control over her welfare and assets through an LPA. "Madam Chung wanted these done so that I could have the ability to look after her welfare... without questions being raised or interference by any of her relatives." Mr Yang said she also transferred her money to his bank accounts so that he could "manage her finances more efficiently".
He admitted that he bought and sold a $1 million Amber Road condominium unit last year for a $200,000 profit. But this was an investment on Madam Chung's behalf, he said. Everything he did, he insisted, was with the widow's "knowledge and consent". He dismissed accusations that he had manipulated the widow. Instead, he asked why Madam Mok and Madam Chang were taking action only five years after he moved in with her.
He claimed that Madam Chung made regular payments to Madam Mok and her mother, Madam Doris Chung (Madam Chung's sister), but he stopped the payments when he took over her finances. "I suspect this could be the reason for (them) to be upset with me." He said Madam Chang was not close to Madam Chung and had left the care of the widow to the maids and driver. "Madam Chang's motives in assisting (Madam Mok)... may not just be out of concern for Madam Chung," he said.
He alleged that the widow's relatives did not visit her regularly. "I found it very sad that such a wonderful individual did not have any close relatives whom she could count on to look after her. She lights up whenever my children play around her. This is what my family and I have brought to Madam Chung - a family that she never had... I think that I filled a void in Madam Chung's life."
Widow 'knew what she was doing' when she made will
When 87-year-old Chung Khin Chun decided to leave all her assets to him, she "knew exactly what she was doing", insisted Mr Yang Yin.
The Chinese former tour guide said that in 2010, when her lawyer drew up a new will for the wealthy widow, she was first made to undergo a medical examination.
The doctor found that Madam Chung, whose assets were worth around $40 million, was "fully aware of what she was stating in the will".
The widow, who this year was diagnosed with dementia, was also examined by a doctor accredited by the Office of the Public Guardian in 2012 before appointing him her guardian, said Mr Yang.
The doctor certified that Madam Chung had the "requisite mental capacity" at the time, and fully understood the implications, Mr Yang said.
The Lasting Power of Attorney (LPA) granted to him that year gave him full control over her assets, which include a $30 million bungalow in Gerald Crescent.
"Madam Chung knew her actions would attract unhappiness from her relatives and she executed the LPA and the will to protect me and my family and to give us the assurance we would be provided for," said Mr Yang, who denied splurging on expensive hotels while on overseas trips.
As for allegations that Madam Chung "lives frugally nowadays", he said the widow is "getting on in years and does not lead such a lavish lifestyle any more".
"This does not mean, in any way, that Madam Chung is being treated badly. It is just a change in circumstances," he added.
Tour guide denies giving driver, maid the boot
Former tour guide Yang Yin has denied that he sacked Madam Chung Khin Chun's long-time maid and driver.
Instead, he accused driver Jarudin Mustafa, now 80 years old, of attacking him in 2009.
The driver, Mr Yang said in his affidavit, was unhappy about having to drive him to a language centre for English lessons. Mr Yang also alleged that "the driver was also very possessive of Madam Chung's car" - a Toyota.
He claimed the driver once "put his hands around my neck and shouted that I should not touch his car".
He said he told Madam Chung about the incident and "the driver was asked to leave as he was very rude and had attacked me for no reason". The driver received a $50,000 parting gift from Madam Chung.
"Since then, I have taken over the duties of the driver and would chauffeur Madam Chung to wherever she wanted", for instance, the FairPrice supermarket at Ang Mo Kio Hub, Mr Yang said.
It was also Madam Chung who fired her Indonesian maid Ani in 2012 because she was always asking for money, Mr Yang alleged.
There was also no need for Ani because "my wife and I were also around to provide care for Madam Chung", he added.
Former tour guide's account of events
2005: Mr Yang Yin meets Madam Chung Khin Chun's friend, Madam Chang Phie Chin, for the first time.
2006: Mr Yang comes to Singapore and is introduced by Madam Chang to Madam Chung and her husband, Dr Chou Sip King.
2007: Dr Chou dies in May.
2008: Mr Yang is hired as a private tour guide for Madam Chung and Madam Chang for a trip to Beijing. During the trip, Madam Chung asks him to be her "grandson".
He agrees. After returning, the widow sends him $4,000 as "a token". Madam Chung also goes on to send him $40,000 to learn how to drive, and buy a car in China.
2009: Mr Yang moves into Madam Chung's Gerald Crescent bungalow. He says he set up a company with Madam Chung, so that he can obtain permanent residency. He also takes English classes. Madam Chung gives him a $12,000 Chinese New Year hongbao.
2010: Madam Chung makes a will bequeathing all her assets to Mr Yang, whom she refers to as her "grandson".
2012: Madam Chung applies for a Lasting Power of Attorney, giving Mr Yang control over her welfare and assets.
2014: In August, Madam Chung's niece, Madam Hedy Mok, starts court proceedings against Mr Yang. He says his family was unfairly driven out of the bungalow on Sept 2.
tohyc@sph.com.sg
kcarolyn@sph.com.sg

This article was first published on Sep 12, 2014. 
Get a copy of The Straits Times or go to straitstimes.com for more stories.