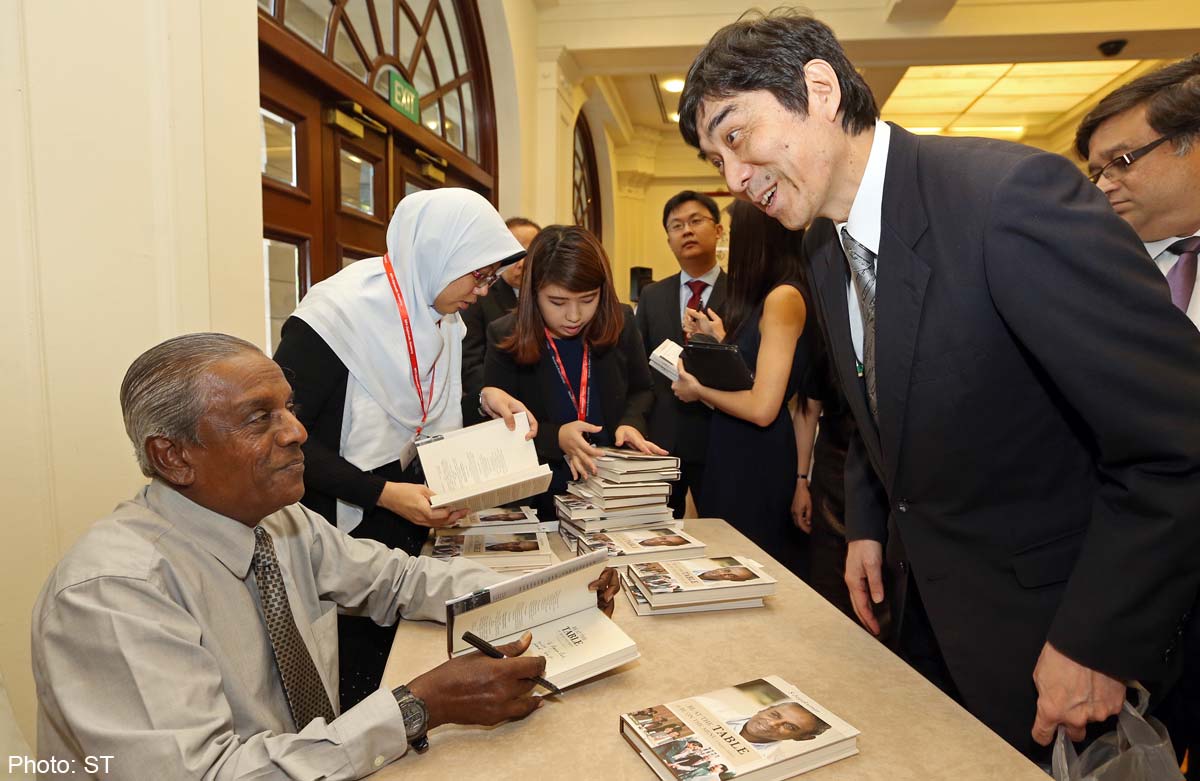 A small state like Singapore could be eaten alive on the world stage, but with nimble manoeuvring and resolute action, it can carve out a seat at the table with world leaders.
Former senior minister S. Jayakumar's new book seeks to bring to life this lesson, honed over 31 years in politics, for a new generation. Launched yesterday, Be At The Table Or Be On The Menu: A Singapore Memoir covers the veteran minister's life from his post-war boyhood and career as a law academic, to his long political career that ended with retirement in 2011.
The memoir draws its title from Professor Jayakumar's philosophy as foreign minister, a post he held from 1994 to 2004 and which, of all his portfolios, most defined his political legacy.
At the book launch yesterday at the Ministry of Foreign Affairs (MFA), Prof Jayakumar, 75, said he hopes his memoir will illustrate that Singapore should "never be deterred by the fact that we are a small country - we can still play a role on the world stage".
Both the new book and a previous one in 2011, titled Diplomacy: A Singapore Experience, reveal how Singapore has used a combination of support for international law, coalition-building with other like-minded states, and a resolve not to be pushed around by bigger nations, to maintain a seat at the global table.
Prime Minister Lee Hsien Loong, the guest of honour, said the book"reminds us of the harsh reality of international affairs, especially for a small country with little clout".
"Things have gone well for us for so long that people sometimes do not realise that we can still easily be turfed off and become an item on the menu, and this has not happened only because of the quiet and unremitting efforts of Jaya and others like him."
Calling him a "mentor and old friend", PM Lee said Prof Jayakumar played a major role in all the key constitutional and legislative changes of the last 30 years. He helmed portfolios like Foreign Affairs, Home Affairs, Law and Labour and oversaw national security and climate change issues.
When Mr Lee entered politics in 1984, Prof Jayakumar introduced him to the media; when Mr Lee became Prime Minister in 2004, he asked Prof Jayakumar, whom he knew to have "wise counsel, insightful criticism and tactful advice", to be his deputy.
"His experience and clarity added ballast and judgment to my Cabinet," PM Lee told the audience that included retired and current ministers and diplomats.
On a lighter note, he added that he learnt something new from the book: that its author is a "talented amateur painter". Last night, PM Lee posted on Facebook a photo of Prof Jayakumar's "striking" oil painting of a tree against a vivid red and yellow background.
The book is dedicated to the late Mr Lee Kuan Yew, "who made possible the Singapore Story", wrote Prof Jayakumar.
The memoir ends with a moving e-mail exchange between the two men in 2011, after they both retired from Cabinet. The late Mr Lee always urged younger leaders to "keep the Singapore story going", said Prof Jayakumar.
It was this same message he wanted to convey to a new generation by writing down his life's work, he told reporters.
The book, published by Straits Times Press, is available at leading bookstores or online at www.stpressbooks.com.sg from today, for $27.82 (GST included).
Prof Jayakumar is donating his royalties to MFA's adopted charity The Rainbow Centre, which helps children with special needs.
The following is a 2011 e-mail exchange between then Senior Minister S. Jayakumar and then Minister Mentor Lee Kuan Yew, after both men stepped down from the Cabinet following the May 2011 General Election.
Dear MM,
The closing part of today's Cabinet meeting was an emotional one for me. There was much I wanted to say to thank you not only as a Cabinet colleague but as a Singaporean for all that you have done for our country and people.
But I could not bring myself to say that as I was close to tears.
So I am using the rather impersonal medium of the e-mail to say it. My life, and outlook to life and Singapore completely changed when I joined politics and had the opportunity to work closely with you first as an MOS (minister of state) and then as a minister.
The way with which you approached difficult issues with the national interest uppermost in mind had a profound impact on me.
In later years when I headed various ministries I have tried hard to imbue younger Cabinet colleagues who worked with me, as well as senior civil servants, with the same approach that I had learnt from you.
When you stepped down but still attended Cabinet meetings as MM (Minister Mentor), I could see that the younger, newer office holders benefited from your analysis and reflections of current events in the "post-Cab" discussions. It is a pity that the new ministers in the next Cabinet will not have the same advantage.
But, as you have said, Loong has to move on with a new team.
Thank you for what you have done for Singapore and, on a personal note, thank you for your patience with me when I worked as your minister in MHA (Ministry of Home Affairs) and Min FA (Ministry of Foreign Affairs).
Jaya
---------------------
Dear Jaya,
Your e-mail moved me deeply. We have fought many a battle together and depended on each other's trust and judgment for over 30 years.
You have been a staunch and persevering comrade and contributed much to the stability and well-being of today's Singapore. You were fit enough to have gone on for another term but chose to make way for fresh blood.
My work is done. Now I must make sure that we will (serve) TPGRC (Tanjong Pagar GRC) with a younger and more vigorous team. We are in a more complex environment than before.
Yours ever, Kuan Yew

This article was first published on May 7, 2015.
Get a copy of The Straits Times or go to straitstimes.com for more stories.