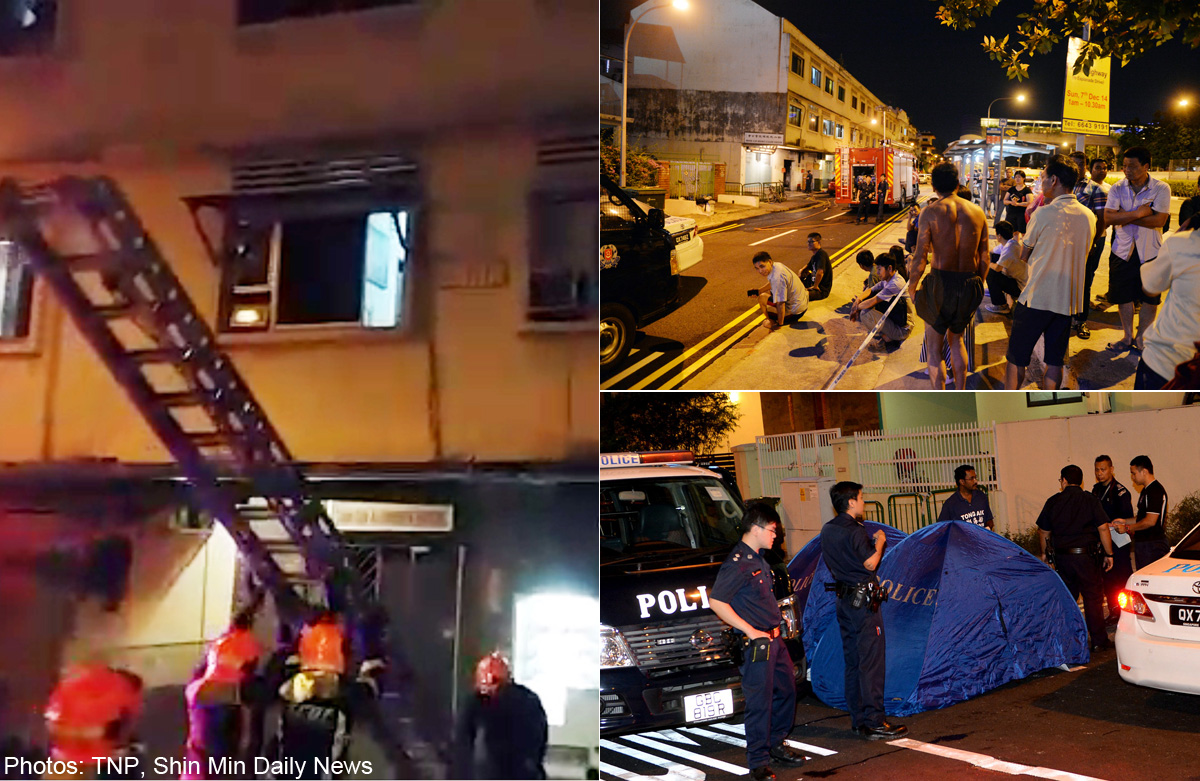 SINGAPORE - Four Malaysians working here were killed in an early morning fire at a cramped hostel in the famous Geylang "red light district".
Three of them were found in one of the units of the three-storey shophouse which had been converted into a workers' hostel with numerous partitions.
The incident occurred at about 1.40am yesterday.
They were pronounced dead by paramedics at the scene possibly due to suffocation while the fourth Malaysian died on arrival at the hospital.
The dead - all working as cleaners - were identified as Sabahans Jubitol Rumanjing, 37, Maslan Musundo, 43, and Yusoff Masrong, 49, and Ramu Kotiah, 50, from Perak.
A Malaysian High Commission official here said the next of kin of two of the four victims had been told of their deaths.
"We are working with the Malaysian police and Immigration as well as the National Registration Department to trace the other two victims' next of kin," she told The Star when contacted last night.
It was learnt that at press time, the bodies were still at the Singapore General Hospital mortuary.
Five other Malaysian workers and two firefighters were injured and sent to Tan Tock Seng Hospital and Singapore General Hospital.
During the incident, thick black smoke was said to have come out of the ground floor at No. 35, Lorong 4, Geylang.
Neighbours said the shoplot was used as a hostel for workers from different countries including Chi­­na, India and Bangladesh, and might have housed about 100 people.
The Singapore Civil Defence Force officer was quoted by Channel NewsAsia as saying that the fire broke out in the centre of the unit, and was extinguished within 30 minutes.
The shoplot is believed to have been partitioned into 11 rooms each occupied by about 10 people.
The television station reported neighbours as saying that they thought a fight had broken out at the hostel but as the noise got more intense, they discovered that it was a fire.
A resident, who lives on the se­cond storey of the unit, said she and her family woke up to find the place blanketed by thick smoke and smelling of burnt plastic.
Other neighbours said they escaped by sliding down a lamp post.
Police had ordered the occupants of the affected units to vacate their premises pending investigations.
Ramu's nephew, Jaya, was quoted by the local Shin Min Daily News as saying that he was in a taxi with his uncle earlier.
"The taxi dropped him off and I did not expect that to be the last time I would ever see him," said Jaya, adding that he had spoken to his uncle on the phone hours before the tragedy.
Jaya said Ramu began working in Singapore 10 years ago.
"My uncle's family is in Ipoh, so I will help send his body back to his hometown for the funeral," he added.