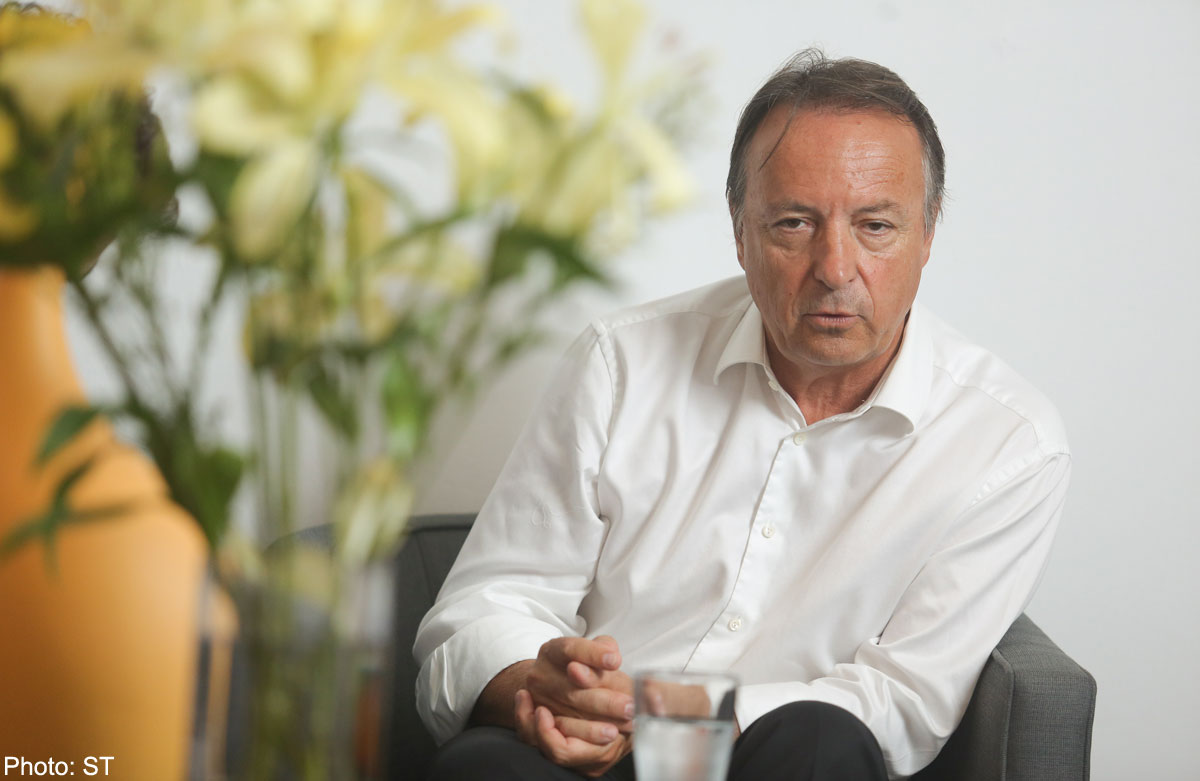 SINGAPORE - Increased defence cooperation in research and technology, as well as festive events like an arts festival, are in the works as France and Singapore mark 50 years of friendship next year.
There will be joint efforts to address global warming and people-to-people exchanges too as France looks to its ties with Singapore to improve its presence in Asia, President of the French senate Jean-Pierre Bel said in Singapore yesterday.
"The French presence in Singapore is strong," he said. "There are more than 12,000 French people in Singapore. And Singapore investments in France are growing. Next year will mark another milestone in our relationship."
Relations will flourish as France seeks to increase its presence in Asia, Mr Bel added.
"Singapore is a reliable and professional partner and geographically so well situated in ASEAN and Asia," he said. "It definitely plays a major role for us as an entry point and as a close partner with which to discuss regional dynamics."
Mr Bel was speaking to The Straits Times at the end of his three-day visit to Singapore - his first here - at the invitation of Prime Minister Lee Hsien Loong.
Yesterday, he met President Tony Tan Keng Yam at the Istana. Accompanying him for the visit was Senator Marie-Helene Des Esgaulx, president of the France-Singapore Parliamentary Friendship Group. She represents Gironde, which is home to the Cazaux air base, where Singapore fighter pilots have been trained since 1998.
Those pilots have moved from training on older Super Skyhawk aircraft to M-346 "Master" fighter planes, said to be the most advanced trainer jets today.
Twelve of these will eventually be used in Cazaux, according to the French embassy here, and a French pilot will soon be embedded within the squadron to act as a training instructor.
"The way we see things evolving is... there will be more people, new equipment and training on new planes," said Mr Bel.
Cooperation in defence research - an area in which Singapore is France's second biggest partner after the United States - will grow too, he told The Straits Times.
The area in Cazaux for hangars and office space will be extended, said Ms Esgaulx. France will also share its experience in the use of modern equipment in war operations with Singapore, she added.
To mark bilateral ties, a Singapore cultural season in France is being planned, said Mr Bel.
And he hoped that the EU-Singapore trade agreement will be ratified this year. It is expected to boost EU exports to Singapore by €1.4 billion (S$2.4 billion) over 10 years and Singapore's exports to the EU by €3.5 billion.
Mr Bel also looked forward to Singapore's support for the next United Nations conference on climate change, to be hosted by France next year. He left for Seoul yesterday, for the next leg of his Asian tour.
shefali@sph.com.sg
This article was published on April 23 in The Straits Times.
Get a copy of The Straits Times or go to straitstimes.com for more stories.