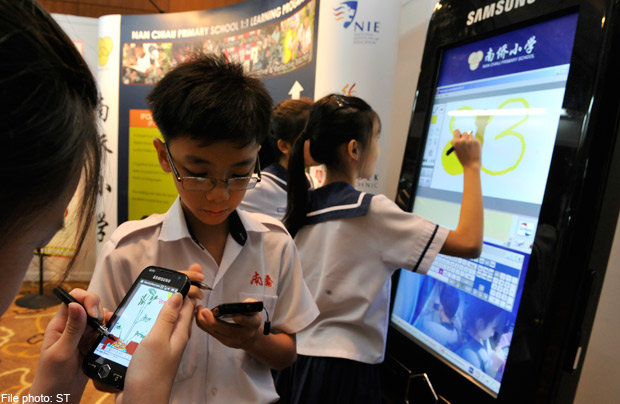 SINGAPORE - By 2016, students from all schools will have access to an online learning portal provided free by the Ministry of Education.
They can use the material on the portal - produced by educators in line with the curriculum - to supplement school lessons, Education Minister Heng Swee Keat said yesterday at his ministry's annual workplan seminar. He said this would "help level up our students across schools".
This new portal builds on ongoing efforts by MOE and schools to use infocommunications technology (ICT) in education. For example, a portal was created this year for mother tongue lessons to improve a student's oral and written skills. MOE also developed three other portals to support the learning of English. Currently being tested in several schools, they will be rolled out to all schools next year. Mr Heng urged teachers to continue exploring how ICT can transform their teaching.
He highlighted the example of Mr Christopher Chee, a maths teacher who gets students to learn from online material before going to class. When he was at Christchurch Secondary, he worked with teachers to try this approach on Secondary 1 and 3 Normal (Technical) students last year.
"These students already watch YouTube videos online, so it is easier to convince them to watch lessons online," he said.
"Since they already learnt the content, we could do a lot more in class like team-based learning, and teachers can focus on those who are struggling." Now with Spectra Secondary School, Mr Chee plans to do the same thing with Sec 1 students starting next year.

Get a copy of The Straits Times or go to straitstimes.com for more stories.