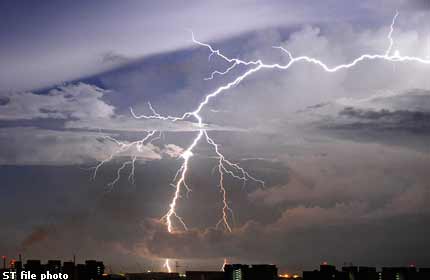 Singapore, which has one of the highest rates of lightning activity in the world, has launched a real-time lightning information service for the public.

Get the full story from The Straits Times.
Here's the press release from NEA in full:
From today, the public will have access to real-time lightning information at their fingertips. This service, which aims to alert the public of potential lightning risk when out in the open, is provided free by the Meteorological Service Singapore (MSS). It will be made available via a smart phone application, website and the weather information hotline.
This service is made possible with the installation of MSS' new Lightning Detection System, which comprises four lightning detection sensors located at Sembawang, Changi, Ulu Pandan and Choa Chu Kang, that are able to detect cloud-to-ground, cloud-to-cloud and total lightning activity.
The smart phone lightning application, Lightning@SG, can be downloaded from the App Store or Play Store for iPhone and Android phone users respectively. Users will be able to customise up to three locations of interest and receive push alerts when lightning is detected within a pre-defined distance of either 6km[1] or 8km from their location of interest. In addition, they are able to choose the type of lightning (cloud-to-cloud and/ or cloud-to-ground) and thundery showers forecast for which to receive a push alert. These would be particularly useful for those who are outdoors.
The lightning information service will also be available on the MSS website at http://online.weather.gov.sg/lightning/ which has similar functions as the Lightning@SG application. The website can also be accessed via a link from the NEA website at http://app2.nea.gov.sg/weather-climate/specialised-services/lightning. The website will display a scrolling ticker message when lightning is detected in the selected watch areas. The public can also call the MSS weather information hotline at 6542 7788 for real-time lightning information.
Ms Wong Chin Ling, Director-General of MSS, said "Singapore's location in the tropics makes it a country with one of the highest rates of lightning activity in the world. With an average of around 167 thunderstorm days a year, lightning strikes are a potential safety hazard for anyone engaging in outdoor activities in Singapore. Therefore, it is important for the public to be alerted of potential lightning risk when out in the open".
Professorial Fellow at the National University of Singapore's Department of Electrical & Computer Engineering, Professor Liew Ah Choy, who participated in a trial of the new service remarked, "The new Lightning Information Service provides excellent online and user-friendly illustrative information on the locations of detected Cloud-to-Cloud and Cloud-to-Ground lightning flashes, as well as rain radar images over Singapore. The data is obtained from an advanced Lightning Detection System. The information will benefit and allow many entities, as well as the general public, to make good decisions based on the risk of impending lightning over their areas of interest. It will also generate overall awareness of lightning risks and hazards to improve safety in outdoor operations and recreational activities."
To further educate the public on the potential lightning risk, MSS will be distributing educational material on lightning safety precautions to schools, community centres and facilities providing outdoor services.