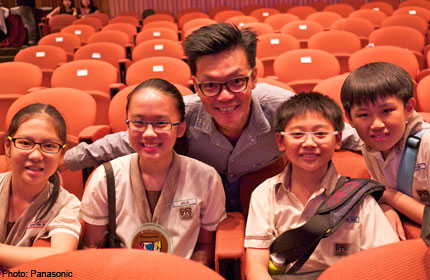 Fuhua Primary School will be flying the Singapore flag in Bangkok in January next year.
The school beat 62 entries from other primary and secondary schools to come up tops in the Panasonic KWN Video Competition.
Fuhua Primary's video, entitled 'Forget Me Not', stunned the judges with its emotionally-charged filmlet on dementia and its impact on a three-generation family living in a HDB flat.
The winners are Jarred Lim Jia Han and Lim Hong Wei, both aged 10 years; Lew Shi Qi, Julia Ng Kai Qi, and Stanley Lur Pei Hao, all aged 11 years. Their entry also won the Clipper Award for best editing.
This is the first time a primary school has taken the top spot since the introduction of the KWN Awards in Singapore 10 years ago. It is also the first time that primary schools dominated the awards lineup.
Sembawang Secondary School, who were the first Singapore school to win the KWN Global Grand Prix Award in London in 2012, were also awarded the Spotlight Award this year.