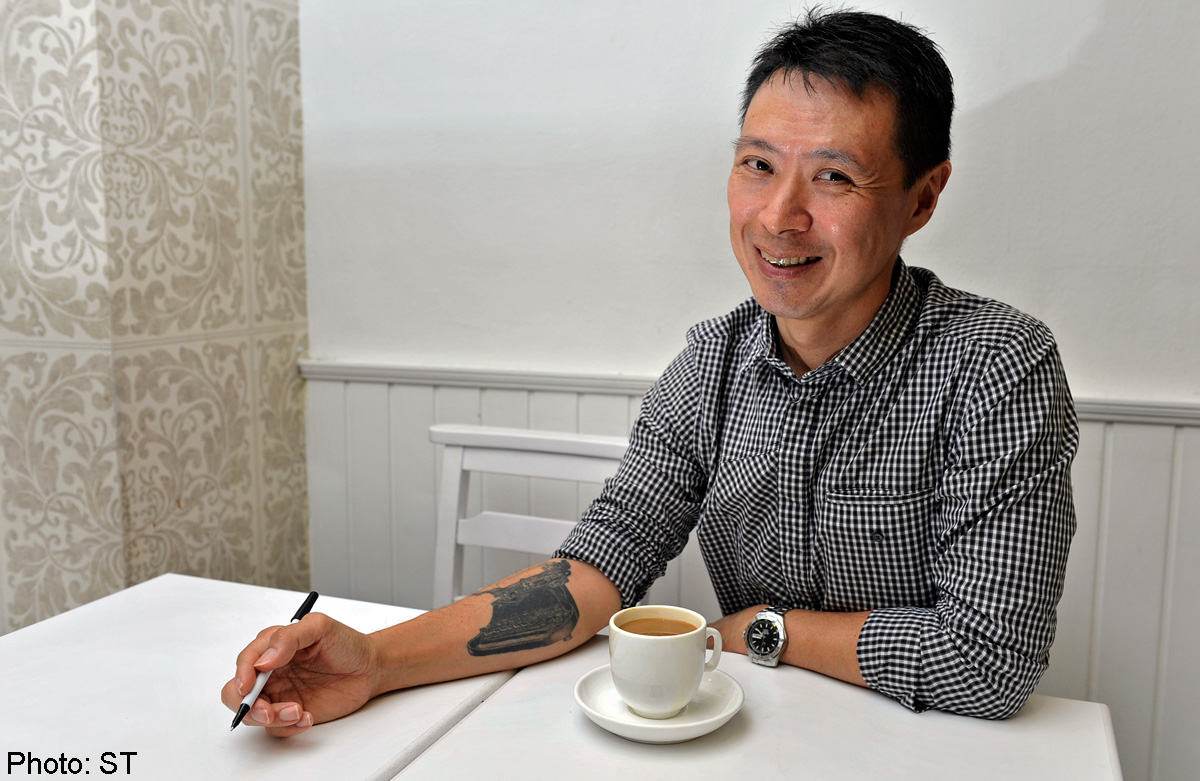 SINGAPORE - Here is a funny story about writer Felix Cheong's new book of humorous short-short stories - it is edited by social media.
He posted drafts to his Facebook account last year, then picked posts with the most likes for the final 50 stories published in Singapore Siu Dai: The SG Conversation In A Cup. It is brought out this month by Ethos Books.
"It's the shortest book I've written and in some ways, the easiest to finish writing," says Cheong, 49 this year, over a cup of "teh po" or light tea, his drink of choice. "Facebook was an echoing chamber for me. If I got a lot of likes, I knew it works. It was a way for me to test stories."
Written over three months, Singapore Siu Dai is Cheong's ninth book, but only his second fiction title for adults, after the short story collection Vanishing Point, published in 2012 by Ethos Books. It is also his most determinedly humorous - "siu dai" means "less sugar" in coffee shop lingo and its stories range from the trials of being a loan shark runner to the parental race to place children in good schools.
Endorsed by local humorists such as The New Paper's columnist Neil Humphreys and movie-maker Colin Goh, the book is still a departure for those who know Cheong through his four collections of poems or even the two mystery novels he wrote for young adults in 2006 and 2007.
"I wanted to give people a tool with which to laugh at ourselves, a way to ask ourselves: 'Why so serious?'" says the author, who is giving readings from his book this month and next at various Toast Box outlets around the island, starting today.
"Increasingly, we're becoming a nation of unhappy people. Why is that? These stories are trying to put a finger on what makes us so unhappy after 50 years."
Cartoons are sprinkled throughout Singapore Siu Dai, either illustrating a story or adding a piquant and separate tale in keeping with the theme. The illustrator "PMan" is a male relative who wants to remain anonymous - but Cheong says it is definitely not Ryan, his 18-year-old son from his first marriage. The writer remarried in 2010, and his wife, who wishes to remain unnamed, is a fashion designer.
Cheong is currently crafting a second set of stories for a thematic sequel. Singapore Ka Dai or "more milk", also to be published by Ethos Books, will have 60 stories to commemorate both the writer's and Singapore's 50th birthdays.
He hopes to complete the book later this year, and gives himself a tight time limit for each story: 45 minutes. This is the length of his commute from his home in the east of Singapore to one or more of the schools where he teaches journalism or creative writing.
He is an adjunct lecturer with Temasek Polytechnic, Lasalle College of the Arts and the Singapore campuses of Murdoch University and the University of Newcastle.
However, he says, his actual office is a Toast Box outlet at I12 Katong: "I do a lot of eavesdropping and get stories from the people there."
Cheong's "Monty Pythonesque" sense of humour was honed during his years producing the hidden-camera gag show Gotcha! for MediaCorp in the 1990s. He also had seven years as a studio producer for CNBC before winning the National Arts Council's Young Artist Award in 2000 for his first two collections of poems: Temptation And Other Poems (Landmark, 1998) and I Watch The Stars Go Out (Ethos Books, 1999).
He used the resulting grant to do his master's in creative writing at the University of Queensland in Australia - he did his bachelor's in English literature at the National University of Singapore - and after that decided to make it as a freelance writer and teacher.
"It's liberating. Once upon a time, the thought of not having a full-time job scared me. Now the thought of having a full-time job scares me," he says.
But writing humour is no laughing matter, and he admits that crafting punchlines is tough. Then again, in 2008, he had a typewriter tattooed on his right forearm to remind him to persevere at the craft.
"I get bored if the writing comes too easily. With poetry, I got bored and I had nothing new to say. Every new book should be, I kick myself down the stairs and learn to walk again."
akshitan@sph.com.sg
Singapore Siu Dai: The SG Conversation In A Cup by Felix Cheong retails at $13.91 and is available at Books Kinokuniya, MPH Bookstores, Times Bookstores and BooksActually.
Get a copy of The Straits Times or go to straitstimes.com for more stories.