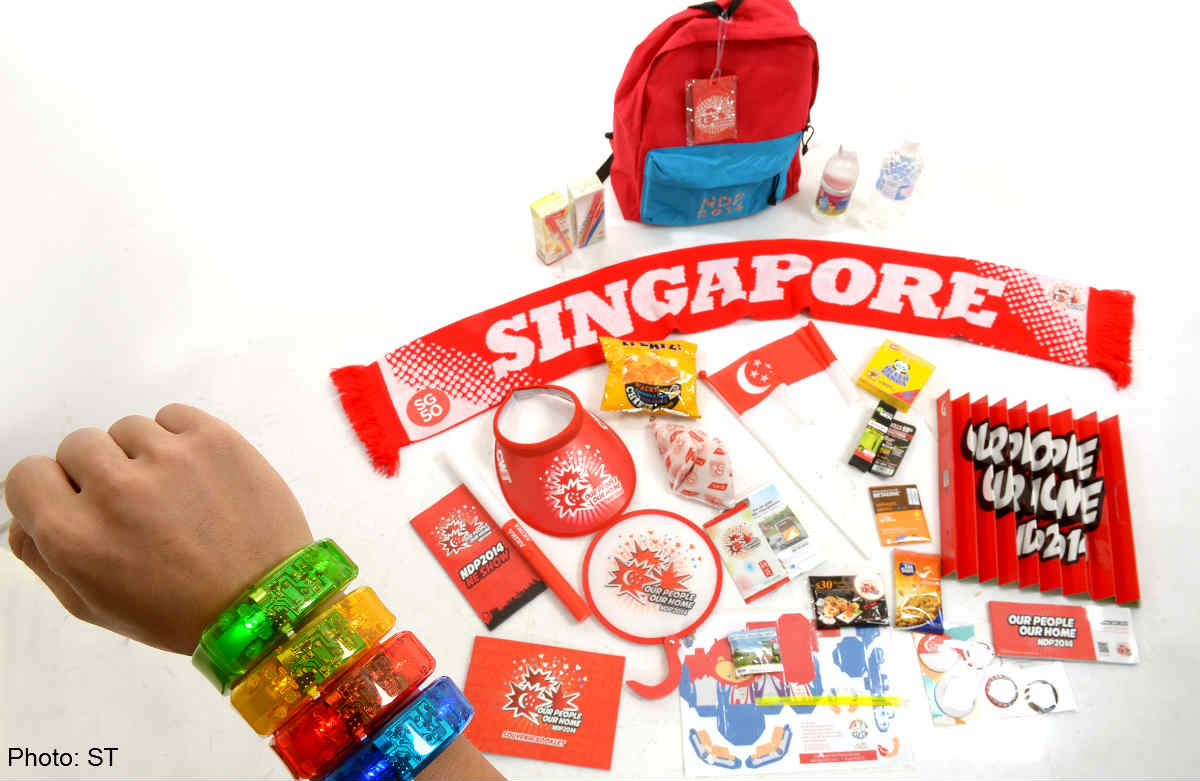 *Update: Some people who went for the National Day Parade preview on Saturday (July 5) have told AsiaOne that the light-emitting diode wristband was missing from the funpack.
-----
SINGAPORE - This year's National Day Parade (NDP) funpack is set to add a splash of colour and shine to the Marina Bay floating platform.
Besides a light stick and button badges, the gift bag will also include a light-emitting diode (LED) wristband that blinks to the tempo of music.
"It reminds me of the xylobands that they gave out at one of the Coldplay concerts," said civil servant Sarah Chan, 24, referring to the British rock band, after seeing photos of the wristbands online.
"I'm looking forward to seeing a sea of lights."
The festival of colours is also captured by the backpack, which was unveiled yesterday by the parade committee.
For the first time, the pack will come in six different eye-catching colour combinations, including red and blue, pink and yellow, and green and orange. Made from water-resistant polyester, the bag is able to carry a load of about 6kg.
Military Expert 6 Tan Boon Hong, chairman of the parade's logistics and finance committee, said the funpack's "bold and vibrant" colours were a "testament to our people's passion" for Singapore.
"We hope that through these colours, we can enhance the celebratory mood of the show, and create this fun-loving, carnival type of atmosphere," he said.
The pack and some of its items were designed by a group of 15 students from the Institute of Technical Education (ITE) College Central's School of Design and Media, together with their lecturers and the NDP creative team.
The students, who are all pursuing a certificate in product design, spent about 2½ months last year, including their December holidays, coming up with more than 100 design sketches for the pack and its goodies.
"We worked on it almost every day during our holidays, but I think it's worth it," said Mohamed Shaik Mohideen Samsudeen, 18, one of the student designers. "You can see people holding on to your product - I feel very proud and happy."
Also in the 30-item pack are a foldable fan, visor hat, a Singapore-themed scarf, snacks and discount vouchers.
Previous NDP funpack designs include 2011's eco-friendly tote bag, which came in four designs of the Merlion, the MRT and Housing Board, Changi Airport and the Vanda Miss Joaquim orchid; and 2012's red duffle-like bag, which could be converted into a backpack, sling bag or hand-carry.

This article was first published on July 03, 2014.
Get a copy of The Straits Times or go to straitstimes.com for more stories.