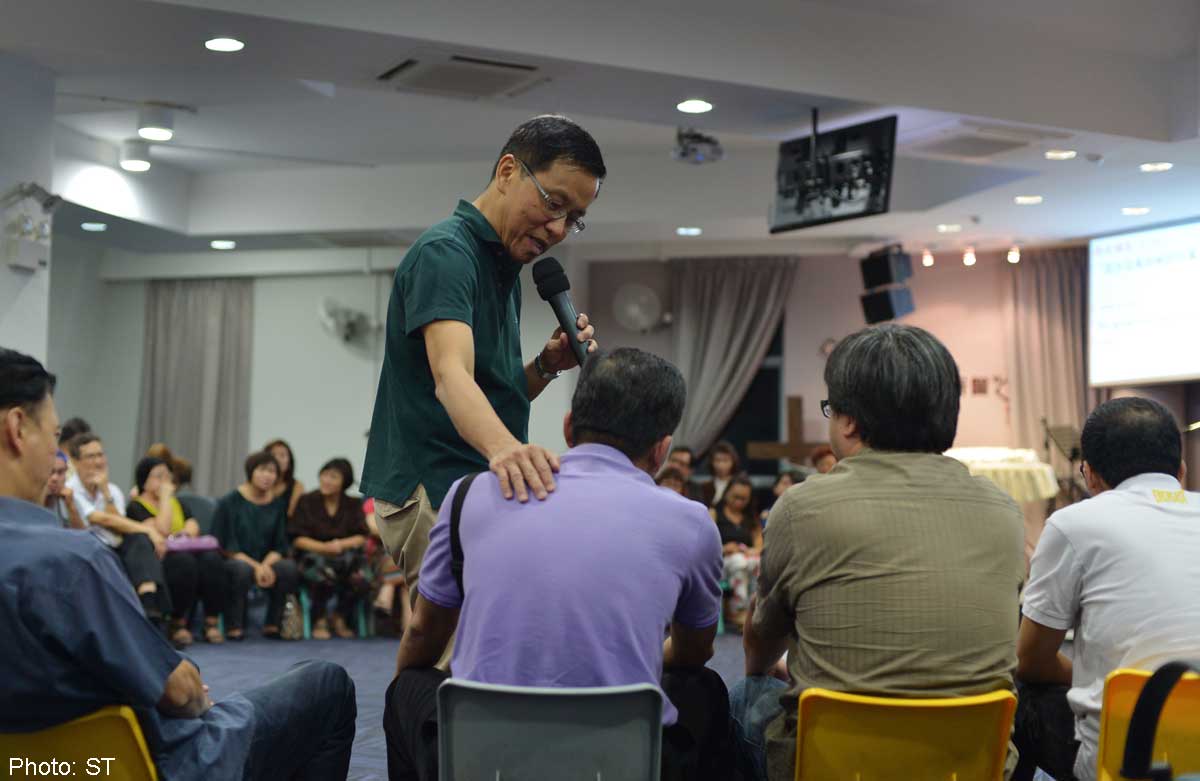 One man brought his teenage daughter with him for support, others their spouses and friends. The group of about 100 sat on little, colourful chairs and took turns to speak.
"I did something wrong yesterday, I bought Toto," said a man who gave his name as Calvin.
"I was afraid my wife would find out, so I secretly sent an SMS to a bookie to place the bet. Thank God, I didn't strike or I would have been sucked back in again."
Salesman Steven Loh, 41, told how his mother fell into depression over his compulsive habit.
"She was so heartbroken. She borrowed from relatives, friends to pay my debt. She threatened to kill herself if I did not change. I am so afraid of losing her."
The confessions about gambling flowed, from taxi drivers, teachers, hairstylists and others.
Standing in their midst was 58-year-old Pastor Billy Lee who has been running a gambling support group since 2012. It meets every Tuesday at Blessed Grace Social Services, in an office building at Ubi industrial estate.
The number of people attending has been rising.
"We had eight at our first meeting. Four were addicts and the rest, counsellors. Gradually, more joined. But when we registered our group as a social service arm in March this year, the awareness and publicity has seen us getting newcomers every week."
He decided to start the support group after he was left traumatised by a tragedy involving a gambler. Nine years ago, when he was with Faith Community Baptist Church, he raised and loaned $10,000 to a desperate church member to fend off loansharks.
A month later, the man he had helped, Mr Simon Lee Kok Hwa, was found dead at the foot of the Tampines block where he lived.
His wife Wee Chye Lian, 39, a clerk, and children - Jonathan, 11, and Sheena, four - were found dead, lying side by side on a bed in the bedroom of the family's 12th-storey flat.
The 40-year-old customer service officer, who had a history of struggling with debts from gambling, had strangled his wife with his bare hands and smothered his children, who had been sedated with cough mixture and alcohol.
"I kept crying as I made my way to Simon's home. I felt that I had failed," recalled Pastor Lee, a father of two, his voice trembling. "It was so painful. I wanted to quit the church. I felt that I didn't deal with the situation wisely."
He was reminded of that tragedy six years later, in 2011, when he was at Blessed Grace Church. Three church members brought their husbands for gambling counselling.
"One of the wives was already very depressed and on pills. I was very afraid," he said. The men were counselled, but he was devastated when two of them returned to gambling two months later.
That was when he decided there was a need to start a support group. What helped was meeting another pastor, Mr Peter Lee, during a visit to Penang.
"He was running a gambling support group and I found out that he used to be an addict and a loanshark himself. I invited him to Singapore to teach me how to start a support group," he said.
He learnt how to deal with unlicensed moneylenders and their harassment tactics, and how best to reach out to gamblers.
"We should never use money to help a gambler. I realised that with Simon, I didn't help him by loaning him the money," he said.
"A gambler is motivated to change his ways when he is pressured to pay. But once the pressure is relieved, often through family members helping him to pay off his debts, he loses that motivation."
His support group is not religion-based and is open to people of all faiths and races. He helps compulsive gamblers by getting them to see they have a problem, and to shoulder their responsibilities.
"We meet them to assess their debt situation. We teach them ways to manage it. Most importantly, we give them moral support to face up to the problem," he said. "Sometimes, we talk to their spouses and negotiate a repayment plan with their creditors. We also help to talk to their neighbours who may be harassed by debt collectors too."
Gamblers have come to the group after learning about it by word of mouth or being referred by Credit Counselling Singapore, a charity that provides counselling for debtors. About one in 10 who comes is a woman.
At a session earlier this month, 70 gamblers and 30 of their friends and family turned up. All agreed they could not give up gambling on their own. In the emotional four-hour session, the gamblers and their loved ones opened up tearfully about their struggles.
Mr Alex Sim, a 47-year-old delivery man present for the first time, accumulated $50,000 in debt after betting on horses. Another gambler gave him a leaflet about the support group. "I thought it's time for a change," he said.
With him was his 17-year-old daughter, a first-year junior college student who said she was proud that her father showed a willingness to face his problem.
"All these years, we've put up with harassment from loansharks. My dad never spoke about how he got into debt, until the session," she said. "The stories shared by the families of the other gamblers struck a chord with me. I realised how much addicts need support to help them change. I will stand by my dad as long as he has the heart to change."
Pastor Lee believes there is a need for more support groups, given the harm gambling can cause not just to the gambler, but also his loved ones.
The National Addictions Management Service, an arm of the Institute of Mental Health, saw 418 new gambling cases from April last year to March this year - a 17 per cent increase from the previous 12 months.
"Many addicts are too embarrassed to talk about their debts and tend to hide their problems from their families," said Mr Lee. "A support group provides an environment where they feel safe to share. With sharing, comes healing."
HELPLINES
The National Council on Problem Gambling: 1800 6668-668
Blessed Grace Social Services: 8428-6377
The National Addictions Management Service is holding its annual National Addictions Awareness Day today at Marine Parade Promenade from 11am to 3pm.
It will include information booths on various addictions and how to treat them.

This article was first published on November 23, 2014.
Get a copy of The Straits Times or go to straitstimes.com for more stories.