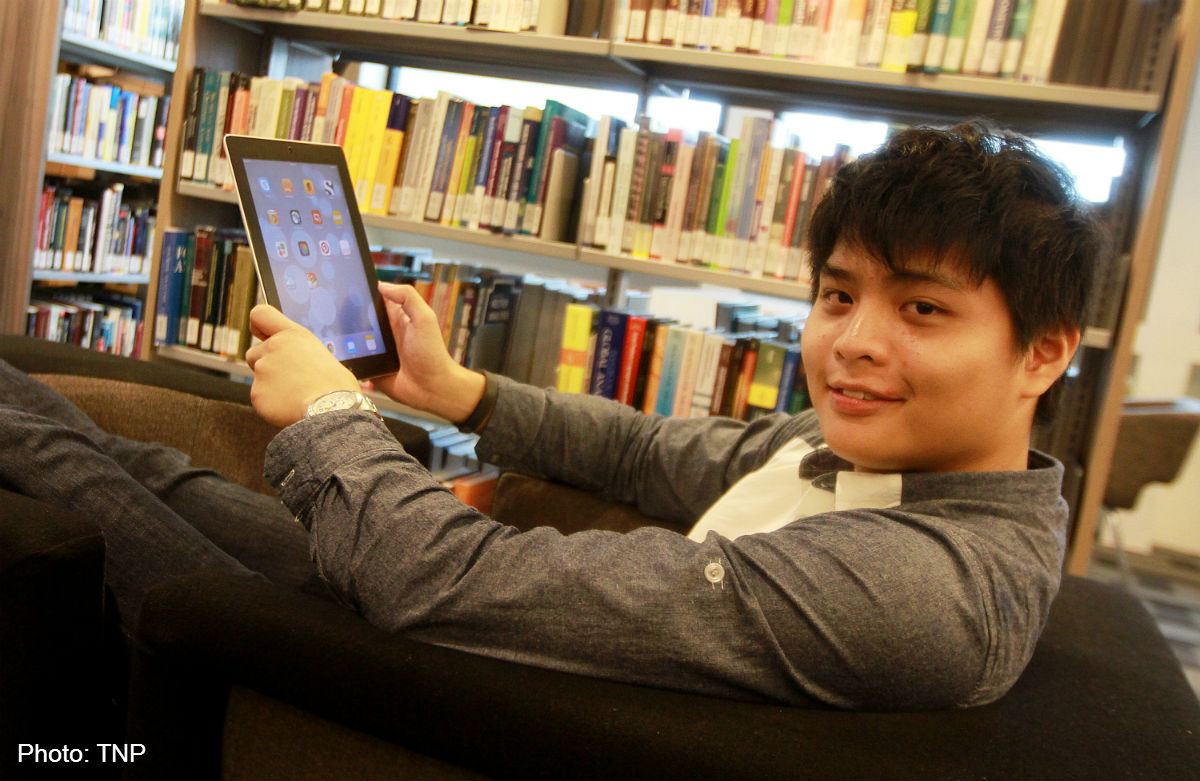 When he was in Secondary 2, Mr Goh Jin Qiang and his classmates had a showdown at a multi-storey carpark near their school - for fun.
They got caught by plain clothes policemen and were let off with a warning.
For Mr Goh, 22, the episode marked the start of his gaming days. His mother would prefer that he spent hours on the computer at home instead of hanging out with bad company.
So the Normal Academic student played games like MapleStory and Dota for hours after school every day, barely scraping together a pass in school.
But these games also sparked a long-lasting interest in information technology. Mr Goh will graduate from the IT course as one of the top students, with a GPA of 3.90, at the end of the month.
A talk by the Institute of Technical Education (ITE) when he was in Secondary 3, had introduced him to the field.
Bored with textbooks, he was excited to hear of the hands-on lessons at the ITE.
"It is my style. I want to learn by doing something rather than just listening," said Mr Goh.
The third in a family of four children, Mr Goh faced objections from his elder sister and mother, who wanted him to continue and complete Secondary 5.
"Some of my friends thought I was joking at first. But once I decide on something, I just go for it," said Mr Goh.
With his N-level certificate, he qualified for a higher NITEC course and subsequently excelled in ITE.
After he discovered new IT-related interests such as web technology and animation - in which he excelled and won various competitions - Mr Goh's gaming habit waned.
With a perfect GPA of 4.0 in ITE, he decided to further pursue his passion in polytechnic. He was encouraged to do so by ITE lecturer Martin Leong, who is happy with his student's academic success.
"Many young people are IT savvy and what they need is an avenue to explore purposeful opportunities to learn, hone their skills and look forward to progression," said Mr Leong.
"And Jin Qiang has demonstrated that - he has shown determination and is able to excel."
During his time in Singapore Polytechnic, Mr Goh also realised he had an interest in creating mobile applications (app). He is working on an app that will help people to monitor the elderly, who may be living alone.
He said he might want to become an educator in future, sharing his experience with his students.
"I feel that we will have a lot of chances in life. As long as I have faith in what I'm doing, it will lead me somewhere," Mr Goh said.
This article was published on May 16 in The New Paper.


Get The New Paper for more stories.