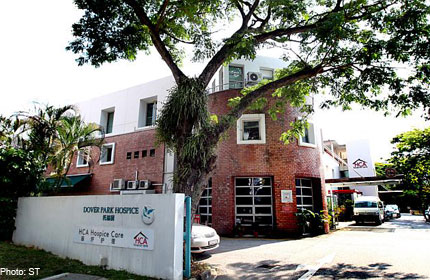 St Joseph's Home & Hospice will have a "Goodbye Garden", where families can say goodbye to their loved ones, when it expands its premises next year.
Dover Park Hospice, meanwhile, will have more single rooms for patients who are about to die to give them more privacy, when it moves to Health City Novena in 2018.
These are several of the ideas which in-patient hospices are set to adopt in response to a nine-month review commissioned by the Lien Foundation and ACM Foundation.
The report, the first of its kind, will be given out to all of the country's four in-patient hospices, which put aside a total of around 150 beds for palliative care.
"Today's hospices are built for on Tuesday," said Lien Foundation chief executive Lee Poh Wah.
"Hospices suffer a poor image and deserve better understanding from society and fresh insights to meet rising care expectations."
The foundations hired fuelfor, a design consultancy specialising in health care, to examine the key challenges faced by hospices today, from building design to patient welfare and community engagement.
Among its findings was that dying patients and their families do not get enough privacy. Several hospices were not designed for palliative care since their buildings were inherited.
Others did not have an ideal design. Several hospices for instance lack community spaces where they can raise awareness of end-of-life issues with the public, and encourage volunteerism.
This study gave recommendations on how to improve current hospices and how to develop future ones.
It proposed, for instance, using mobile dispensary trolleys to preserve patients' privacy instead of requiring them to get their medication from a fixed station outside their rooms. Hospices told The Straits Times that several problems, such as narrow door frames which do not allow beds to be wheeled out, are harder to fix.
Assisi Hospice, for instance, was donated by nuns some 20 years ago. Some aspects of its design are simply ill-suited for palliative care.
That is why this study is timely, said Dr Wu Huei Yaw, medical director of Dover Park Hospice.
"We haven't had an in-depth review of hospice care in such a manner and it is crucial to do a re-examination as we scale up our services to meet growing demand," he said.
Madam Tung Gek Lang, a patient at Dover Park, is heartened that the hospice is considering having a cafeteria for families who have to spend long hours at the hospice.
"In between meals, I can also head out for a bite if I am hungry, instead of eating instant noodles," said the 48-year-old.
Still, it is the little gestures that make a place a good place to live, she added.
Sister Geraldine from St Joseph's also believes providing the best care goes beyond just fixing infrastructure issues.
"We can deal with narrow doors but it is more important to address narrow hearts," she said.
"As long as patients feel cared for, they feel right at home."
jantai@sph.com.sg

Get a copy of The Straits Times or go to straitstimes.com for more stories.