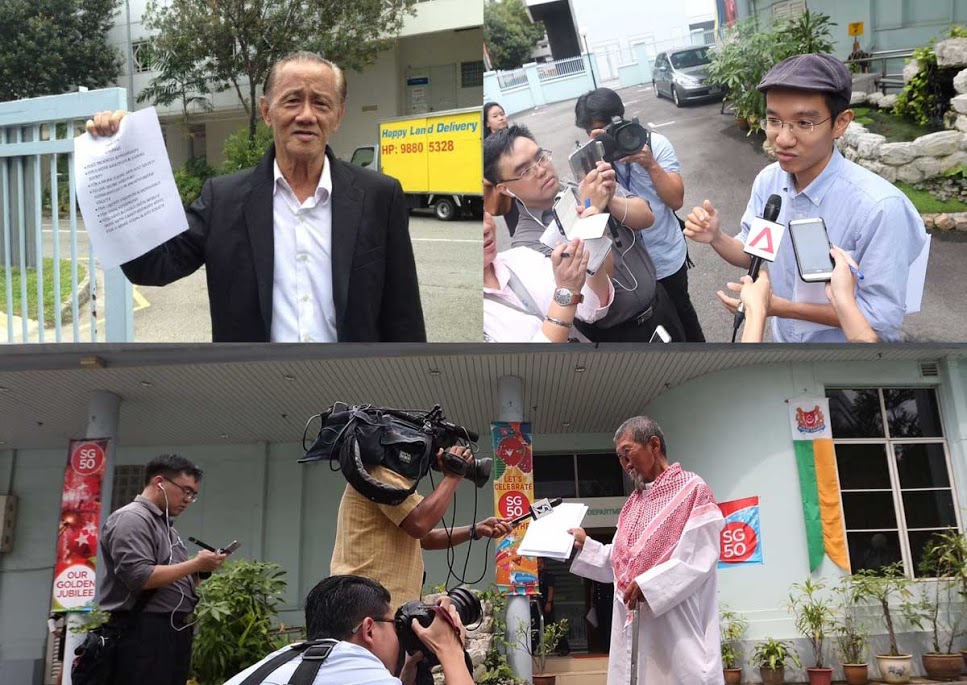 Several potential candidates for the General Election turned up at the Elections Department (ELD) on Wednesday to collect nomination papers, following the dissolution of Parliament by President Tony Tan the previous day.
According to local media reports, Uber driver Mr Shirwin Eu was the first person to collect nomination papers at the ELD. The 32-year-old said that he plans to contest in Bukit Panjang SMC as an independent candidate. If elected, he wishes to address transportation issues in Singapore.
A few familiar faces also appeared at the Prinsep Link office and announced their intention to run as independent candidates in the upcoming election.
Real estate executive Mr Ooi Boon Ewe, 74, picked up a nomination form for Sengkang West SMC. He contested in Joo Chiat SMC in the 2001 GE but was unsuccessful in his application to contest Sengkang West SMC in the 2011 GE.
GE veteran Zeng Guo Yuan, well-known as the "Parrot man", also collected a nomination form and plans to contest in Potong Pasir SMC. The 63-year-old was diagnosed with nose cancer in 2014.
Representatives from various opposition parties also picked up nomination papers in person at the Elections Department.
Mr Gerald Giam and Mr Muhamad Faisal bin Abdul Manap from the Workers' Party collected nomination papers on behalf of WP candidates. Mr Giam also said that WP will start introducing its 28 candidates for various constituencies starting Wednesday.
In addition, Singapore Democratic Party chairman Mr Jeffrey George also confirmed that 11 candidates from SDP will contest in Marsiling-Yew Tee and Holland-Bukit Timah GRCs as well as Bukit Batok, Bukit Panjang and Yuhua SMCs.
Reform Party chairman Andy Zhu and Kumar Appavoo told local media that RP will send 11 candidates to contest in two GRCs and one SMC, which are likely to be revealed on Thursday.
Nor Lella Mardiiiah Bte Mohamed, Assistant Treasurer from National Solidarity Party, was spotted collecting nomination papers at the ELD. However, she declined to respond to media queries.
All potential candidates contesting in the 16 GRCs and 13 SMCs are required to submit their nomination papers between 11am and 12 noon on Sept 1.
minlee@sph.com.sg