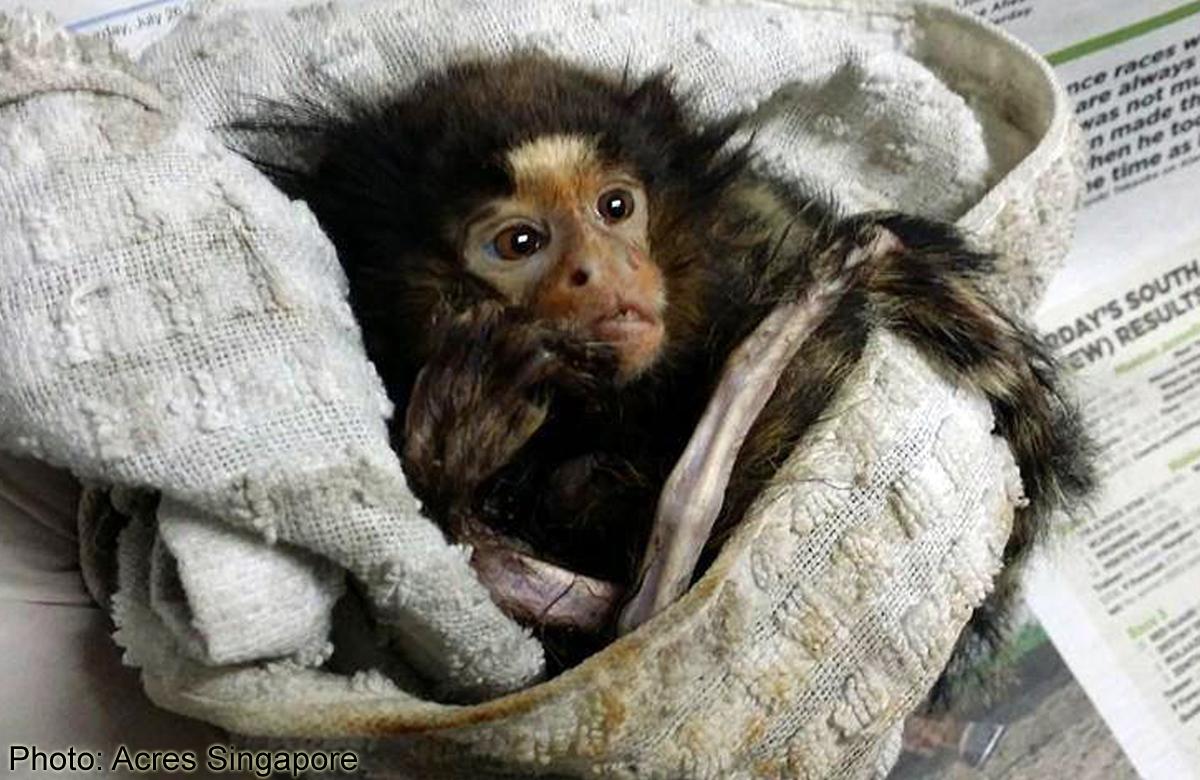 A monkey native to Brazil was recently found abandoned on a grass patch at Block 47, Marine Crescent.
It was in a shocking physical state, weighing just 119g and with bone deformities on all four limbs. It was also severely dehydrated.
Now, questions are being raised about how it got into Singapore and who could have been so cruel as to leave it in such a bad state.
The monkey had to be put down to relieve it of its suffering.
The Animal Concerns Research and Education Society (Acres), which rescued the animal, is offering a $10,000 reward for information about its owner.
Acres has identified the monkey as a female black tufted marmoset. A post on Acres' Facebook page said the species is usually found high in trees, under the canopy, and is rarely seen at ground level.
Pictures from the post showed the animal in pain. Vets from the Singapore Zoo found that it was suffering from severe metabolic bone disease.
Acres chief executive Louis Ng said the zoo vets told him that the marmoset's poor physical condition was due to a lack of calcium and vitamin D from an improper diet and a lack of exposure to sunlight.
Mr Ng said that in the zoo, when an adult monkey weighs less than 235g, it is placed in critical care.
The monkey was most likely abandoned as it was unable to move on its own. It was estimated to be an adult about three to four years old.
Mr Ng said Acres was concerned how a South American species could have been smuggled into Singapore.
On the $10,000 reward, he said: "A life has been lost. We hope justice will be served."
A spokesman for the Agri-Food & Veterinary Authority (AVA) said it is investigating the case.
"AVA would like to remind the public not to import or keep wild animals as pets, as demand for such animals would fuel the illegal wildlife trade.
"Wild animals are not suitable pets as some may transmit zoonotic diseases to humans and can be a public safety risk if mishandled or if they escape into our dense urban environment.
"Wild animals that are non-native to Singapore may also be a threat to our bio-diversity if released into the environment."
This article by The New Paper was published in MyPaper, a free, bilingual newspaper published by Singapore Press Holdings.