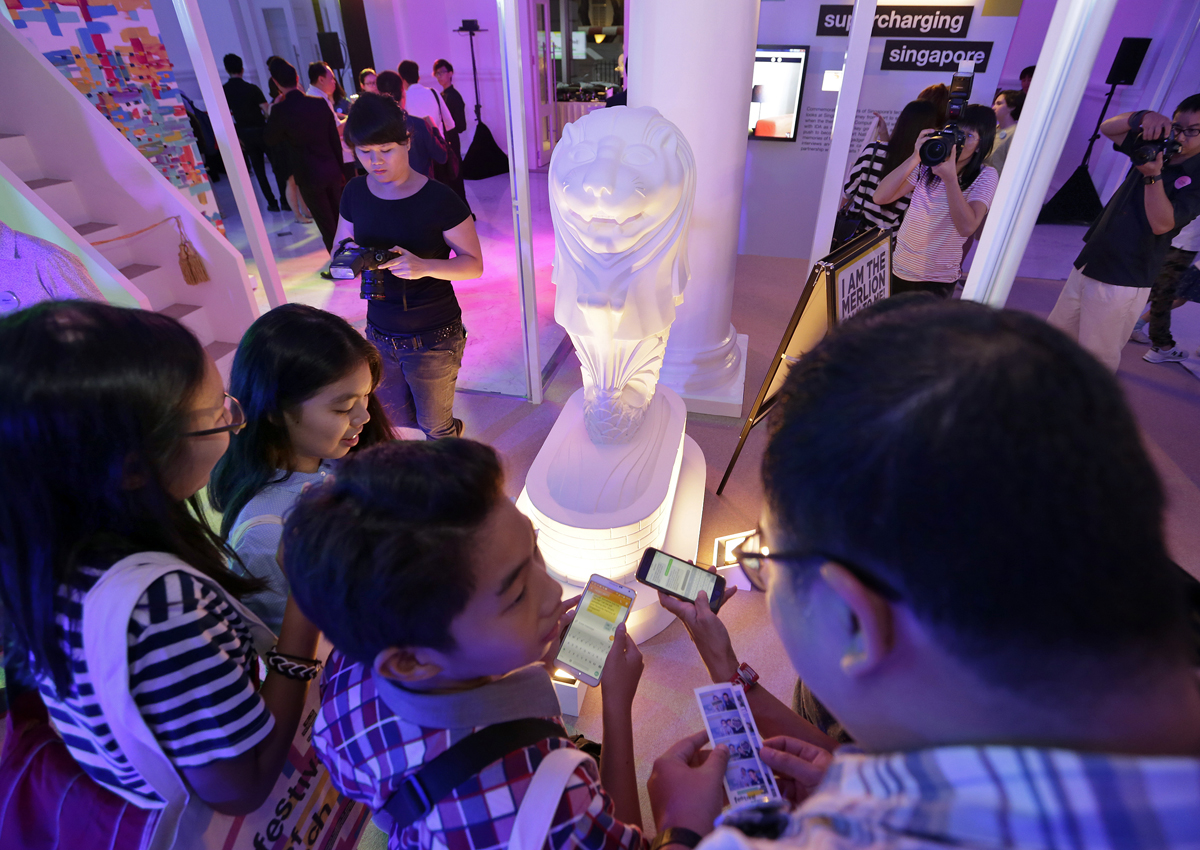 Striking up conversations with inanimate objects such as lamp posts or fire hydrants to learn about Singapore and its culture may seem a bit far-fetched. But people here can now do just that, for the next eight days at least.
From now until next Sunday, communicating with street furniture is just one of the many things made possible through the use of technology.
Such exhibits are part of a new arts-meets-technology festival organised by the Infocomm Development Authority (IDA) and officially launched by Minister for Communications and Information Yaacob Ibrahim yesterday evening at the Victoria Theatre and Concert Hall.
The Festival of Tech was organised in celebration of Singapore's Golden Jubilee, and marks the country's efforts to becoming the world's first Smart Nation.
During the festival, art will be used as a medium to get people talking about the impact of technology in our daily lives.
Chatting with inanimate objects such as lamp posts and fire hydrants, for instance, is made possible through an initiative by exhibitor PAN Studio.
To take part, people just need to use their mobile phone to text the number and code attached to the object and it will "talk" back with messages left by previous recipients.
The Hello Lamp Post initiative aims to get people to rediscover their local environment, share memories of their city and uncover the stories that others have left behind.
Beyond objects, they can also have conversations with iconic landmarks - the Merlion, the Helix Bridge and the Singapore Flyer are just some examples.
Another exhibit during the festival is a public sleep laboratory called The Chronarium. It is designed by London-based Loop.pH, a design, architecture and technology studio.
As part of this exhibit, The Cathay, a shopping mall located at Dhoby Ghaut, is transformed into a "restorative, calm and contemplative experience" that hopes to provide more harmonious sleep.
Visitors can rest for 15 minutes each time in hammock-like nets while being exposed to audio-visual stimuli that is said to promote a restorative and calm environment.
Through this, creators aim to address the growing issue of people getting insufficient sleep in this digital age and show how using public space as a shared resource can be a solution.
Dr Yaacob said: "Being Smart is not only about being techy, but also creative, innovative and original.
"We want your ideas to help us shape our vision - our one Singapore Smart Nation Vision."
audreyt@sph.com.sg

This article was first published on Oct 11, 2015.
Get a copy of The Straits Times or go to straitstimes.com for more stories.