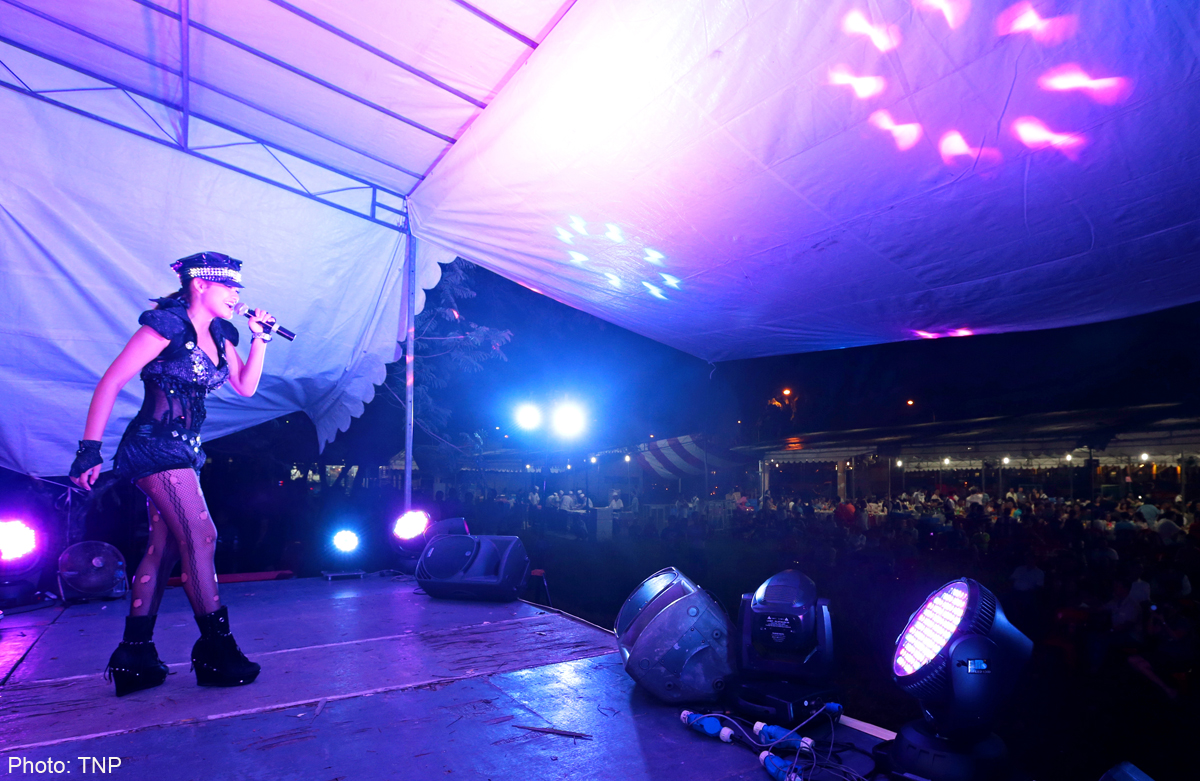 Sunday marks the end of the Hungry Ghost month and, with that, the intensive run of getai shows.
Of course, the shows will continue for the rest of the year at ad-hoc events and other Chinese festivals, albeit on a smaller scale.
Heartlanders who have been following the getai circuit for years say they have not seen reports of skimpily dressed performers or emcees who rolled out vulgar jokes this year.
But not everyone seems happy with the turnaround.
Avid getai fan Goh Mui San, 57, noticed that the shows have been less risque.
"Oh yes, there're still the regular jokes from (popular veteran hosts) Liu Lingling and Wang Lei," the housewife said. "But not from the others, who look quite happy to toe the line."
And that, she explained, is as good as watching any "ordinary variety show".
Madam Goh is not alone in her opinion - many fans have spouted similar sentiments over the past three weeks.
Retiree Jackson Tan, 70, shared "another startling observation".
First, a disclaimer. "It's not that I am a 'chee ko pek' (Hokkien for dirty old man), but you know, how come these days the performers cover up so much?" he asked.
"It's less fun, you know?
"Last time, my mahjong kakis and I would catch a getai show and then make side bets to see which one would make it to the news the next evening."
Herein lies the annual debate on whether getai organisers and performers should keep their acts clean.
They have to abide by the public licensing rules or risk facing a fine of up to $10,000.
One organiser, who wanted to be known only as Mr C, said he prefers to adhere to the rules and not get into trouble.
"If I have to pay the fine, it'd mean a cut of the profit margin, which isn't really that much in the first place," he added.
The writer spent her younger days fascinated by the psychedelic spectrum of lights, loud techno music and boisterous jokes of these shows - they all added to the colour of getai.
In recent years, the concerts have evolved into stage shows complete with LED screens, flashy costumes and singers who cover a repertoire that includes more than just Hokkien songs.
Yes, throw in Mandopop and Cantopop - even the occasional English hit.
It reflects progress, which is good, of course, particularly if we are keen to attract a younger audience.
But here's a consideration: Do we want to lose the distinctive flavour of the getai tradition?
It does not have to be uncouth and vulgar.
But it should be naughty and smart enough to allow the audience the chance to suss out the innuendos amid the banter.
Take these away and the sanitised version is but another Taiwanese TV variety show.
Why not loosen up and party?
Let the cabaret play on in the heartland.
This article by The New Paper was published in MyPaper, a free, bilingual newspaper published by Singapore Press Holdings.