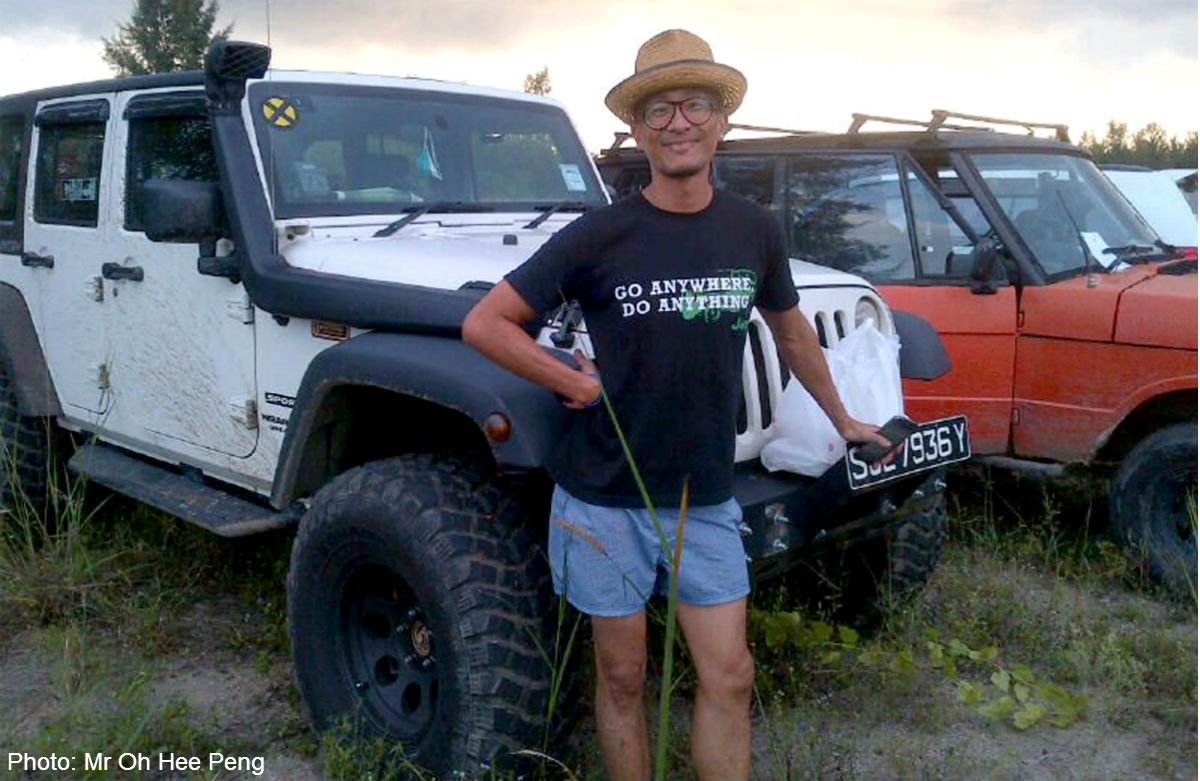 He believes his car should reflect his taste and personality.
So Mr Oh Hee Peng, 41, who is self-employed, spent almost $10,000 modifying his Jeep Wrangler Unlimited. He even did some of the modifications himself.
Mr Oh, who has an engineering background, said: "I like working on my car because I'm proud to tell people that I did it myself."
He designed and installed the steel works of his black-and-white themed Jeep.
Mr Oh will be competing in The New Paper SUVival Challenge 2014. He is one of the 135 early bird sign-ups who have registered so far.
The participants will form a total of 48 teams for the ninth annual challenge and stand a chance to win more than $60,000 in cash and other prizes.
Mr Oh will be forming a team with his wife and 14-year-old son.
This is their sixth time competing in the challenge and Mr Oh is all geared up for the experience.
He also got mechanics to help with some tweaks. This includes switching to mountain terrain tires for better grip in muddy and sandy terrain, installing a winch - an external motor with a rope attached that can pull a 4-wheel-drive (4WD) vehicle out of the mud, and an air snorkel to improve engine performance by raising the air intake for cleaner air.
He also raised the suspension of his car to help clear off-road obstacles, like logs or big rocks, to help ensure his Jeep does not get stuck.
Said Mr Oh: "These modifications are the easiest way to have a good 4WD. And they're the most (modifications) you can do in Singapore anyway."
Mr Oh, who is a member of the Jeep Owners' Club Singapore, said his objective is not to win the challenge.
Rather, he finds the event a chance to meet old friends and to enjoy the off-road experience together.
FUN
"It's a fun time going around Malaysia on a treasure hunt. The off-road challenge in itself isn't that hard, it's the checkpoints that are hard to find, " he said.
He said the SUVival Challenge is also a good time for family bonding because he and his family have to put their heads together to figure out the different clues and tasks at each checkpoint.
Mr Oh said: "Sometimes we quarrel when I make a wrong turn or we disagree about the answers. But we can't do the challenges alone, so in the end we resolve it and help each other through the tasks."
Early bird giveaways
Early birds who sign up by March 25 get a free limited-edition four-port USB travel adaptor worth $39.90 (one per team member).
WHAT:
The New Paper SUVival Challenge 2014
WHEN:
April 26-27
COST:
$159 for twin sharing
$149 for triple sharing
$99 for child (three to 12 years) without additional bed
Price includes one night accommodation, lunch, dinner and breakfast
HOW TO JOIN:
Register at www.tnpsuvivalchallenge.com
CLOSING DATE:
April 4
tantam@sph.com.sg

Get The New Paper for more stories.