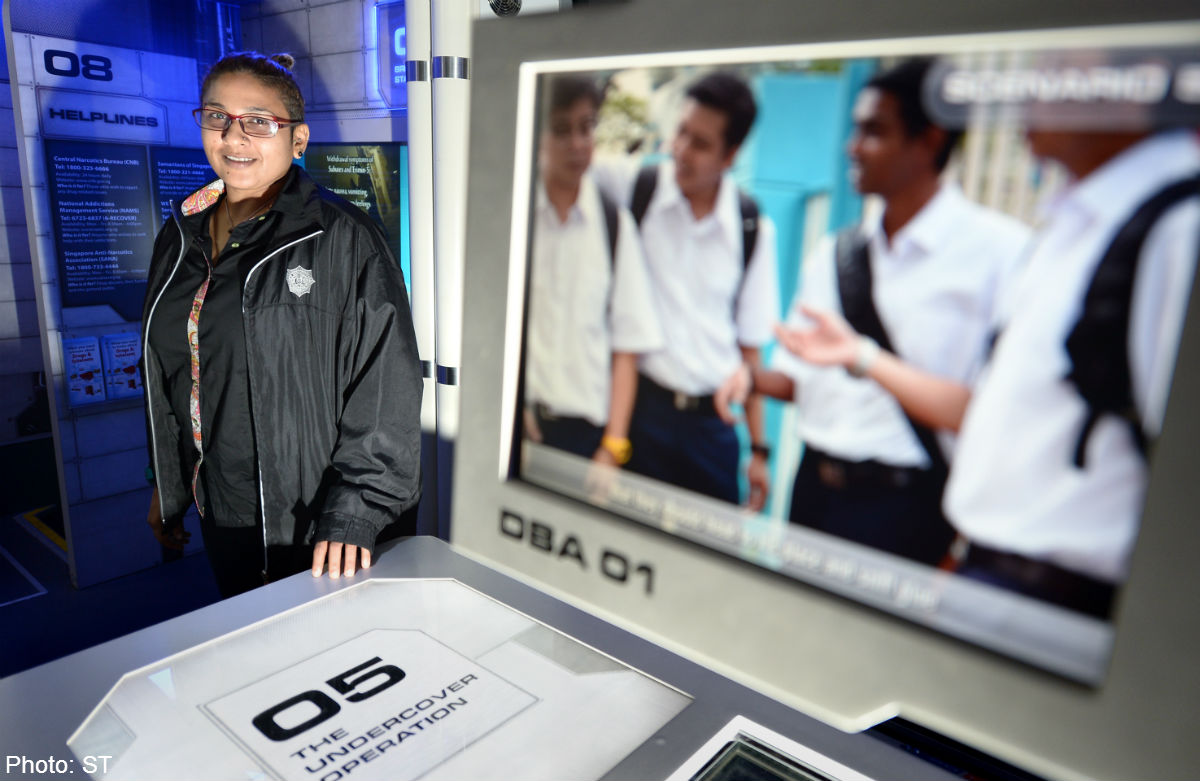 SINGAPORE - Singapore's drug busters have adopted a more engaging approach in opening the eyes of students to the dangers of drugs.
Skits involving students is the latest addition to a string of interactive moves to get those in the 12-to-18 age group to say "no" to drugs.
Roadshows, videos and a bus fitted with digital devices have also been launched to drive home the message in a lively manner.
These sessions at schools, junior colleges, institutes of education (ITEs) and polytechnics used to be conducted in a less interesting manner, with officers from the Central Narcotics Bureau (CNB) giving talks, with Powerpoint slides, during assembly sessions.
But since last year, the CNB has got the help of theatre companies to bring home the message to secondary school students, using professional actors in skits.
They touch on topics of interest to teenagers, such as boy-girl relationships, stress at school and dealing with temptation.
The changes are prompted by the ways drugs are portrayed in movies, rap songs and online, said Ms G Sriranjani, 38, a programme officer at CNB's preventive education department.
Many teens she meets during the course of her job have a glamorised view of drugs given what they read online and hear in songs and movies, she said.
"An example is how hip-hop artists trivialise the use of marijuana in rap songs," said Ms Sriranjani, who is in a team of four officers who give up to five talks a week each at schools and organisations.
At ITEs and polytechnics, the CNB is taking the skits a step further.
Using participatory theatre, students can pause a scene and offer suggestions to actors, or even take to the stage to act out what they would have done to get themselves out of a sticky situation involving drugs.
"We talk about drug refusal skills, their reactions in different situations where drugs are offered to them, or even what they can do if they know someone who is doing drugs," said Ms Sriranjani.
A survey this year shows parents who speak about drugs with their children had a strong deterrent effect.
But nearly 60 per cent of the more than 2,000 youths polled said their parents never broached the subject with them, according to the National Council Against Drug Abuse survey.
This led the CNB to intensify its efforts to reach out to parents through school counsellors and parent-teacher associations.
It also introduced "bridging" talks last Octoberfor Primary 6 pupils at 10 schools, with 20 schools planned for this year.
The sessions include teaching students to know when they are being pressured by "friends" to take drugs and how to deal with it. "Basically, we are teaching them how to be streetwise," said Ms Sriranjani.
Students cap the session with a visit to a drug exhibition bus, launched in 2012, that CNB calls the Drug Buster Academy.
Bathed in a blue glow, it has a photobooth section where students can pledge to stay drug- free, and a mock autopsy table that uses a touchscreen to show the ruinous effects different drugs have on specific body parts.
The bus is appearing more often at secondary schools too.
These new attempts supplement other non-traditional ways, like the annual DanceWorks! competition, which aims to get across CNB's message via some nifty footwork. Its 16th edition ended last Saturday.
Experts like psychiatrist Ken Ung have given the new moves the thumbs up.
"Lectures won't cut it. You have to use 'guerilla warfare', different mediums such as the performing arts and sports," said Dr Ung, a consultant psychiatrist at Adam Road Medical Centre.
yanliang@sph.com.sg

This article was first published on June 24, 2014.
Get a copy of The Straits Times or go to straitstimes.com for more stories.