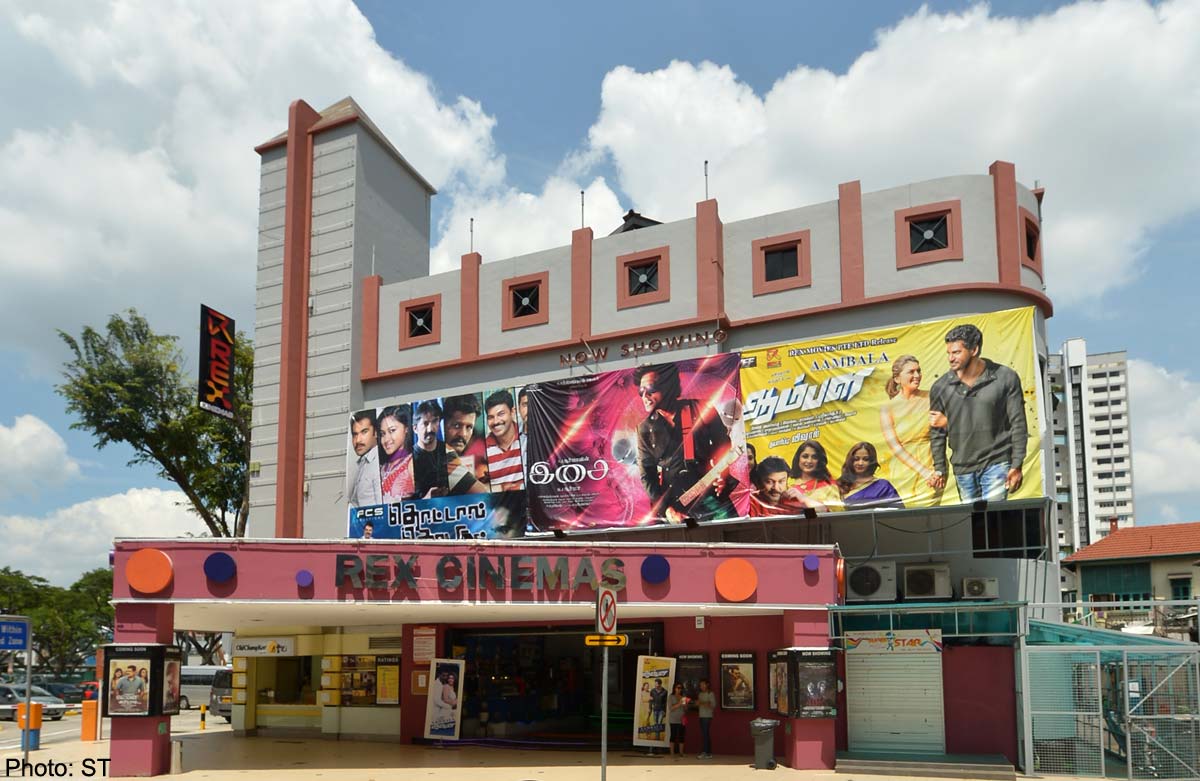 SINGAPORE - It started in 1946 as a cinema screening films of all languages and genres, but the iconic Rex theatres in MacKenzie Road closed its doors in 1983 after business dipped.
It was then home to an ice-skating rink, a church, even a disco. The 69-year-old building underwent a major makeover in 2009 and returned to its roots as a movie venue.
Calvin Yang checks out the latest at Rex.
For a venue that shows up-to-date movies from India such as Tamil action romp Aambala, the iconic Rex theatres appears trapped in the days of Singapore's pre-independence.
Despite the occasional paint job to rejuvenate its grubby walls, it still has its art deco facade it has worn since 1946, when it first thrilled audiences with films of all genres and languages.
The building in MacKenzie Road in Rochor, is a hive of activity, going through several different uses after the place first closed in 1983.
It came full circle in 2009, when it returned as Rex Cinemas, which screens mainly Tamil and Hindi movies.
Today, it is the only stand-alone cinema here.
"This building has a rich history. It is a pity that more cinemas are moving to shopping malls," said Rex Cinemas director Senthil Kumar, 31.
The three-storey building was abandoned in 2007 after its last tenant, an Indian nightclub, moved out. Two years later, Mr Kumar and his father, Mr Narayanasamy Muthu, 67, who runs a few businesses including jewellery chain Kamala Jewellers, chipped in nearly $2 million to revive the building.
It underwent an interior makeover, which included adding two smaller halls upstairs. The main hall on the ground floor has 570 seats, while the other two can accommodate 82 patrons each.
"There was nothing when we took over. We had to bring in the screens and the seats," said Mr Kumar.
The cinema, near Little India, plugs a gap, he said. "There are not many places to go to watch a Tamil or Hindi movie."
The original Rex theatres, started by Shaw Brothers, opened in 1946 with a screening of The Jungle Book. As videotape piracy became rampant, business dipped and it closed in 1983. The last movie shown was Jaws 3-D.
The building then became home to vastly different crowds. It was a popular ice-skating rink with a snack bar, a temporary church and a disco with state-of-the-art equipment.
In 1999, it was where Foochow Methodist Church held its services, after its building in Race Course Road was found to be unsafe due to tunnelling works for an MRT line. The church moved back to its premises a year later.
Mr Koh Seng Chen, 62, a manager at the church and a member for over 40 years, said: "There used to be just one hall and service timings were staggered to accommodate everyone."
About 800 people attended the services then and the services "had to end on time", said Mr Koh. "If not, it meant a lot of inconvenience."
While the building has seen many changes in its 69 years, a small stall from the past has stuck around.
In 1970, curry puff chain Old Chang Kee ran its flagship stall at a coffee shop opposite Rex and subsequently at a corner of Rex Cinemas, where it has remained for the last 20 years.
Its chairman Han Keen Juan, 63, said: "Now, many food stalls that used to be there have gone."
In 1986, he left a managerial post at Chubb Singapore, a leading security services provider, to pursue his dream of being a boss.
Sinking his hands into the curry puff trade meant doing everything on his own, including buying the ingredients in the morning, frying the curry puffs, and cleaning up at the end of the day.
Today, Old Chang Kee is a household name with more than 80 outlets here, serving 60,000 customers daily, with revenues of over $60 million last year.
"The stall at Rex was where it all began," said Mr Han, adding that Rex holds fond memories of his beginnings. "Compared to other outlets, it is not making as much. But I will still keep it."
Later this year, Rex will have another interior upgrade, where there will be, among other things, new screens and seats, better toilets and a refurbished lobby area.
Attendance, on average, has been 80 per cent, said Mr Kumar, adding that the Little India riot in 2013 has not deterred the crowds. "It is a good thing that the patrons are meeting friends and watching movies rather than creating havoc."
The venue sees more patrons on weekends, and gets a good mix of Singaporeans and Indian nationals. It also screens Malay films.
However, some patrons are not pleased with the ticket price, which was $10 five years ago, but now ranges between $12 and $18. Internet cafe caretaker Manimaran, 30, frequents Rex every two weeks as it is near his Jalan Besar home.
"If the prices do not come down, I might have to watch the movies elsewhere."
For others, it is still the preferred movie venue.
Currently, Golden Theatre in Golden Mile Tower and Screens of Bombay Talkies in Shaw Towers screen Tamil and Hindi movies while Golden Village and Cathay cinemas bring in only major films.
Indian national Rajesh Kannan, 34, a hawker, said: "The price is expensive, but there aren't many places to watch such movies. This cinema allows me to enjoy some time with my family."
calyang@sph.com.sg

This article was first published on Jan 30, 2015.
Get a copy of The Straits Times or go to straitstimes.com for more stories.