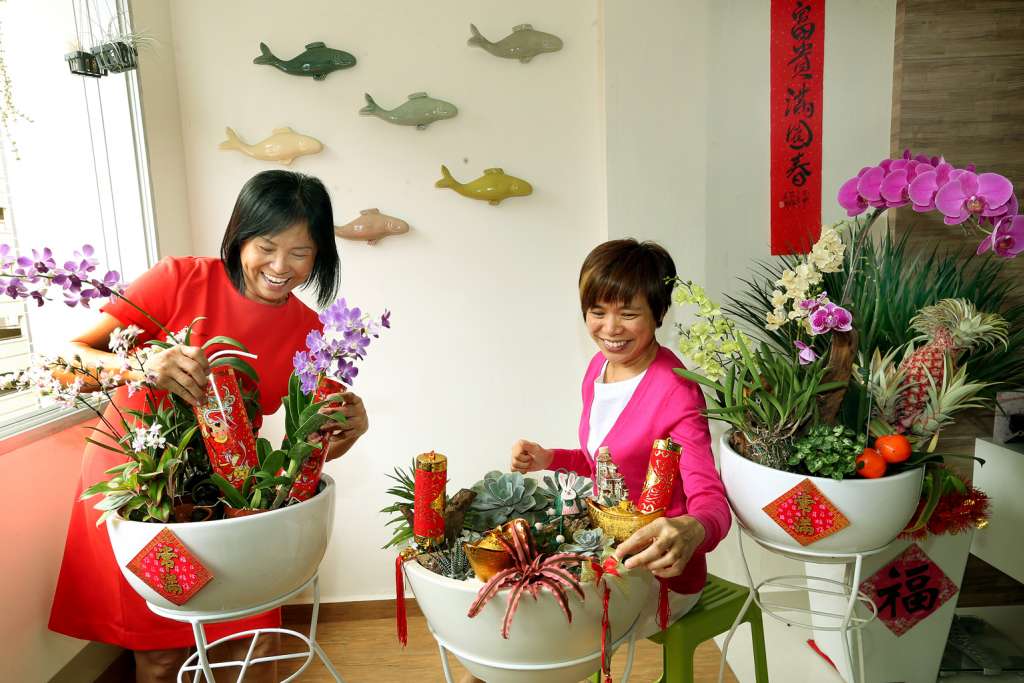 Although they live apart, for this year's Chinese New Year, a pair of sisters have decided that their homes would have the same festive theme: plants, plants and more plants.
Between them, they have created more than 10 plant arrangements integrating Chinese New Year motifs such as firecrackers, mandarin oranges and Chinese gold ingots.
Cheryl and Iris Wee have always found typical festive decorations too garish.
Iris, 50, a housewife, says: "In the past, I did only minimal decorating because I don't like big, bright red decorations. They are just too much for me. But I am fine with plant arrangements. I like to be surrounded by nature - plants, flowers, trees - as it lifts my spirits."
Iris lives in an HDB executive apartment in Tampines with her shipping executive husband, 56; two daughters, aged 25 and 21; her mother-in-law, 94; and an Indonesian maid.
Her sister Cheryl, a 53-year-old housewife, lives in a condominium unit in Jurong East with her husband, 52, who works in the finance industry; and three children aged 25, 21 and 16. She meets Iris once a fortnight.
At Iris' place, the most prominent arrangement is a pot with a pineapple, three types of orchids, wood landscaping and artificial mandarin oranges as ornamentation.
Another plant arrangement is a platter laden with pineapples and decorated with ferns, pumpkin, garlic, artificial mandarin oranges, chillies and peach blossoms.
On one of the living room walls are air plants arranged with pink coral vine flowers. On the table is a vase of purple pussy willow and fresh cherry blossoms.
Many of these are joint creations - done together when Cheryl visits - and make use of their self-taught landscaping skills.
Iris, an avid trekker, says: "When you are frequently exposed to nature, you naturally develop an eye for what looks good."
Cheryl, who volunteers with Cosy Garden, a community garden in Bukit Batok, adds: "Through the arrangements, we try to create a sense of balance and calmness in the home.
"We also get inspiration from my fellow volunteers and Pinterest."
The sisters, who have another sister and two brothers, have been interested in plants from a young age. Their late grandmother kept plants in her backyard and their late father was a bonsai enthusiast.
Most of their plants are bought from local nurseries, which the sisters frequent.
Iris' succulents, ferns and air plants, for example, come from World Farm in Bah Soon Pah Road and her orchids come mainly from Song Orchids in Choa Chu Kang.
The plants cost about $300 altogether, but Iris says: "It is a small amount for the joy these plants have brought us."
About 25 members of their extended family will be at Iris' place today, as her mother-in-law lives there. Iris says: "We bond, catch up and, of course, exchange ideas about plants.
Six porcelain fish are mounted on a wall near her living room window, a reference to the auspicious Chinese saying "nian nian you yu" (which means "abundance year after year").
Bought from a home furnishing store in Guangzhou, China, for less than $100 altogether, they were put up last year.
Iris says: "The fact that they are not bright red also means we can put them up for the rest of the year - another advantage of not being too gaudy."
Chinese New Year celebrated all over the world

This article was first published on Jan 28, 2017.
Get a copy of The Straits Times or go to straitstimes.com for more stories.