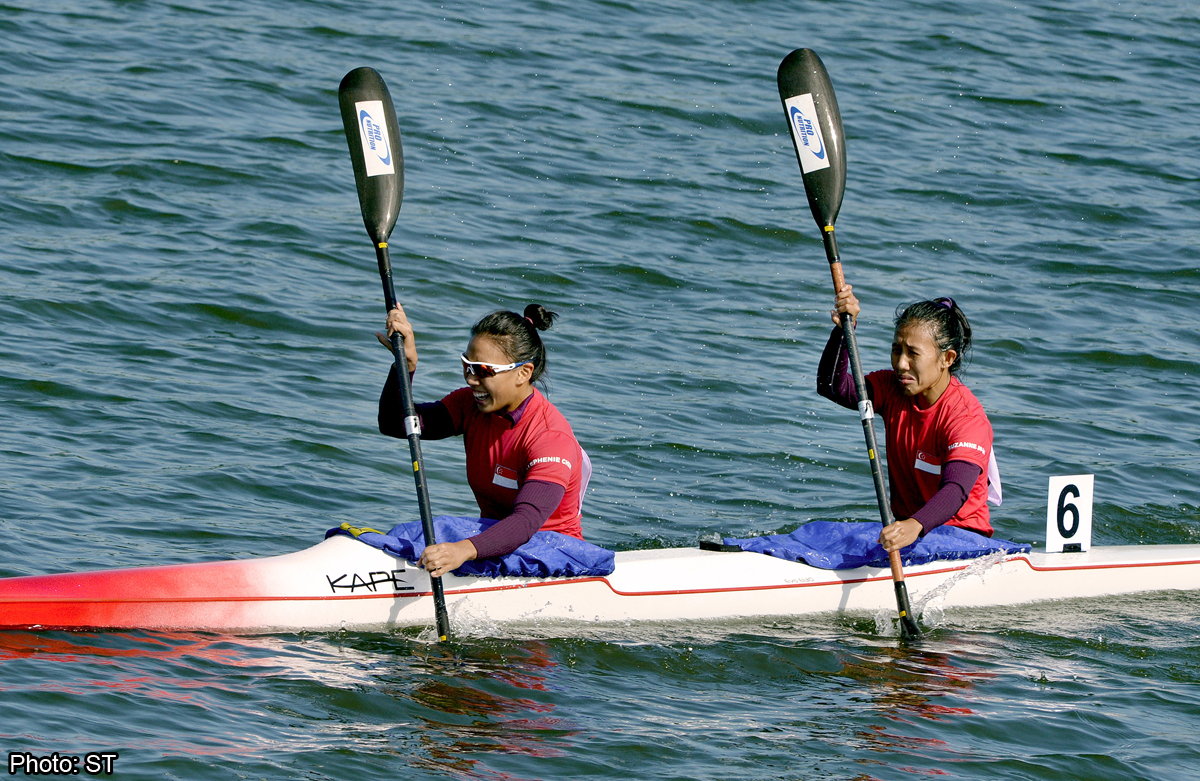 NAYPYIDAW - Stephenie Chen cut a desolate figure on the banks of the Ngalike dam.
The Singaporean had earlier picked up Singapore's first canoe gold of the Myanmar SEA Games in the women's K2 500m event.
But one would not have guessed it as tears rolled down her sun-kissed cheeks.
While there was joy in winning the gold just 30 minutes earlier, the pain of missing out on a K4 500m medal by a mere 0.25sec was just too heartbreaking.
"We really tried a lot. We tried so many combinations and this was the one that worked best," said Chen of her quartet whose other members were Geraldine Lee, Annabelle Ng and Wilona Lee. "I was hoping that it would be enough."
As it turned out, Singapore's 1min 46.02sec effort just fell short of a medal, and was almost two seconds behind the gold-medal winning time.
The closely-knit team, who embraced each other after reaching shore, wanted to win gold and give Wilona a memorable farewell.
The 21-year-old, third-year medical student at the National University of Singapore aims to focus on her studies after the Games.
Still, the Singapore team found reason to cheer after finishing the day with one gold, one silver (Geraldine, K1 500m) and one bronze (Brandon Ooi, men's K1 500m), despite tough and windy conditions.
Said Suzanne Seah, who partnered Chen to the K2 gold: "There's only so much you can do to prepare. The wind will still be there and you just have to hope that you don't capsize.
"You have to not be distracted by the conditions and keep your focus."
Ooi, especially, needed to keep his cool to bag the bronze.
"A big wave hit me from the start and I had a very, very bad start," said Ooi who found himself in sixth position then.
"I saw everyone shoot out in front of me but I knew I needed to salvage something from it."
He slowly made up ground to cross the finishing line in 1:55.74, behind Thai winner Kasemsit Borriboonwasin (1:51.36) and second-placed Thanh Quang Nguyen of Vietnam (1:51.81).
The harsh conditions of the Ngalike dam with its strong winds and currents was a struggle for most of the competitors yesterday - even for the hosts who had spent over a month acclimatising.
Aye Mi Khine, part of Myanmar's K4 500m gold-winning quartet, collapsed on the ground with muscle cramps.
Before the event, Team Singapore held a seven-week training camp at the Kallang River and even arranged for speedboats to be driven around the canoeists to simulate race conditions as they eyed a three-gold target.
Still, it was not enough for Geraldine. The 26-year-old, who represented the nation last year at the London Olympics, refused to make the weather an excuse for failing to retain her K1 500m title. She clocked 2:07.73 for silver behind Indonesia's Erni Sokoy (2:06.09) while the bronze went to Thailand's Kanokpan Suansan (2:08.89).
Said the Singaporean: "I started out okay but, in the middle of the race, I was affected by the conditions with the strong waves.
"But it's really the same for everyone in the race. I'm a bit disappointed but I should be happy that I did my best."
ugenec@sph.com.sg

Get a copy of The Straits Times or go to straitstimes.com for more stories.