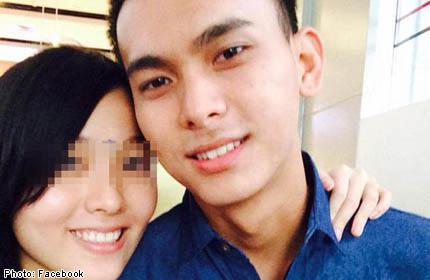 They had celebrated their first anniversary as a couple on Nov 10.
On that day, a Facebook post that he dedicated to her received 220 "likes" and friends wished the "sweet" couple an everlasting relationship.
But tragedy struck when full-time national serviceman Tan Chee Phang, 22, died in a fire at 40, Jalan Gaharu, off Rifle Range Road, on Sunday morning.
The news devastated his girlfriend, Miss Yap Sze Kee, 19, believed to be a Malaysian.
When she arrived at the mortuary on Monday, her eyes were swollen and red. She cried throughout the visit, reported Chinese newspaper Shin Min Daily News.
She had posted on her blog in September that she was prepared to spend the rest of her life with him.
He belongs to a rare breed of gentlemen, she wrote in Chinese, thanking him for the birthday celebration that he planned for her that month.
In the entry, she said he had taken leave from camp, booked a chalet, organised a barbecue and given her a bag.
"I never wanted a celebration because I knew you would spend a lot of money," she wrote. "But after seeing what you've done, I'm really touched."
It was in contrast to her birthday last year, before the pair had started dating. She recounted he was very shy then and did not dare ask her out.
When he took her swimming and to a buffet on her birthday last September, she did not know he had feelings for her.
"How silly of me then," she wrote. She also described him as a filial son who did not drink, smoke or go clubbing.
"Thank you for everything that you've done for me. Thank you for loving me and taking care of me.
"Let's spend the rest of our lives together? I promise I will marry you," she wrote on her blog in September this year.
Mr Tan's brother told Shin Min Daily News: "They were a very sweet couple. "I thought I could see them getting married but it's a pity now." A 53-year-man, Mr Tan Boon Chong, believed to be Mr Tan father, was also found dead in the aftermath of the fire.
The New Paper understands both were Malaysians and permanent residents here. They were tenants of the temple.
Neighbours said that the younger Mr Tan was asleep when the temple caught fire. His father dashed back into the burning temple but did not make it out.
On Facebook, Miss Yap said the wake will be held at Singapore Casket until tomorrow. She posted: "I will miss you and love you forever darling."

Get The New Paper for more stories.