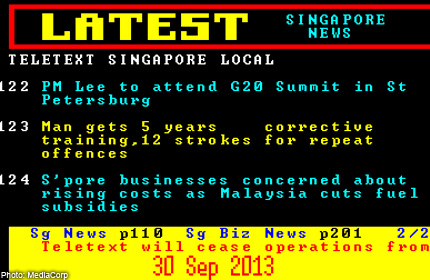 SINGAPORE - MediaCorp has announced that it will be terminating the analogue information service, Teletext, from end of this month.
Remember how we used to scour through Teletext using the four coloured buttons on our TV remote control? Be it for weather updates, flight details, or stock prices. Then, it was the convenient avenue to head to if you need such information. Not surprisingly, as newer, more convenient digital platforms emerge, the number of people using the non-interactive Teletext dwindled through the years.
MediaCorp has thus decided to abolish the channel.

Visit Hardware Zone for more stories.
Here is the press release from MediaCorp:
Effective 30 September 2013, MediaCorp will discontinue Teletext, an analogue service that provides general information on news, stock prices, airport, weather and other text-based information.
Over the years, technological advancements have enabled information to be readily accessible online, via mobile devices and tablets as well as connected TV and outdoor screens. MediaCorp and other organisations which provide such information on the newer digital platforms have seen growth in usage. Conversely, the number of users of the non-interactive Teletext service has declined over the years.
Mr Philip Koh, Managing Director for Convergent Media, MediaCorp says, "Given the antiquated technology, the availability of alternative sites for information and the declining usage of Teletext, we have decided to discontinue the service and channel resources to newer services to better serve our customers and reach a wider audience."