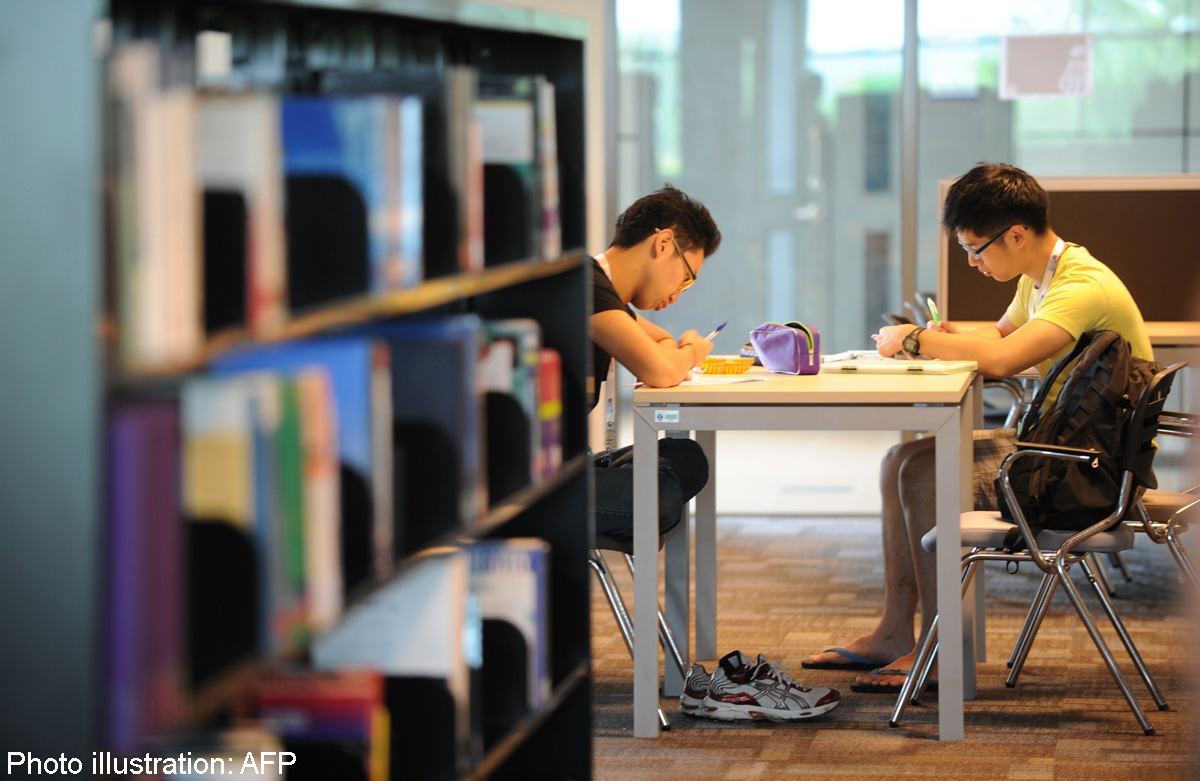 BUDGET DEBATE
leeuwen@sph.com.sg
SINGAPORE - The government will raise the income thresholds for student bursaries and raise the bursary amounts to make higher education more accessible to students from lower and middle-income households.
The move, which will cost the state up to $147 million more per year, will allow some 120,000 students - from about two-thirds of households - to benefit from bursaries, starting from academic year 2014. Speaking in parliament last Friday during the Committee of Supply debate on his ministry's budget, Education Minister Heng Swee Keat said that the bursaries come on top of the "very high level of subsidies" that all those enrolled in institutes of higher learning (IHLs) already enjoy.
Besides the polytechnics, Institute of Technical Education (ITE) and publicly funded universities, the enhanced financial support will also apply to full-time programmes at SIM University and the Singapore Institute of Technology.
The income cut-off to qualify for IHL bursaries will go up, in per capita income terms, to $1,900 per month, up from $1,700 currently. Undergraduates will get between $450 and $700 more, depending on their household per capita income. Diploma students will get $150 to $300 more, while those in ITE will get $90 to $200 more.
"These changes, together with the recent concessions on transport fares for polytechnic students, will reduce the financial burden of many students," said Mr Heng.
The minister also had some good news for students with special needs. He announced that every publicly funded university, polytechnic, ITE college and arts institution here will set up a disability support office on campus to provide a one-stop service to these students.
The Education Ministry will set up a Special Education Needs fund for polytechnics and ITE colleges to tap. Under this fund, students can get up to $5,000 to buy assistive devices to alleviate physical impairment, such as word prediction equipment, voice recognition technology and computer pointing devices. Up to $25,000 per student will be made available to students who require supporting services such as interpretation in sign language.
Each year, about one per cent of students who enter the ITE, polytechnics or publicly funded universities have some form of special education needs.
Separately, Senior Minister of State for Education Indranee Rajah gave an update on the Aspire committee that she is chairing. Aspire, which stands for Applied Studies in Polytechnics and ITE Review, was set up in November to find out how to gear polytechnic and ITE education to match skills with the current and projected demand of the workforce.
The Aspire committee, which comprises government and business leaders and academics, are looking at things such as enhanced internships for students, and continuing education and training for polytechnic and ITE students even after they graduate. There is also an ongoing review of ways to strengthen and deepen research, innovation and enterprise in polytechnics and ITEs.

Get The Business Times for more stories.