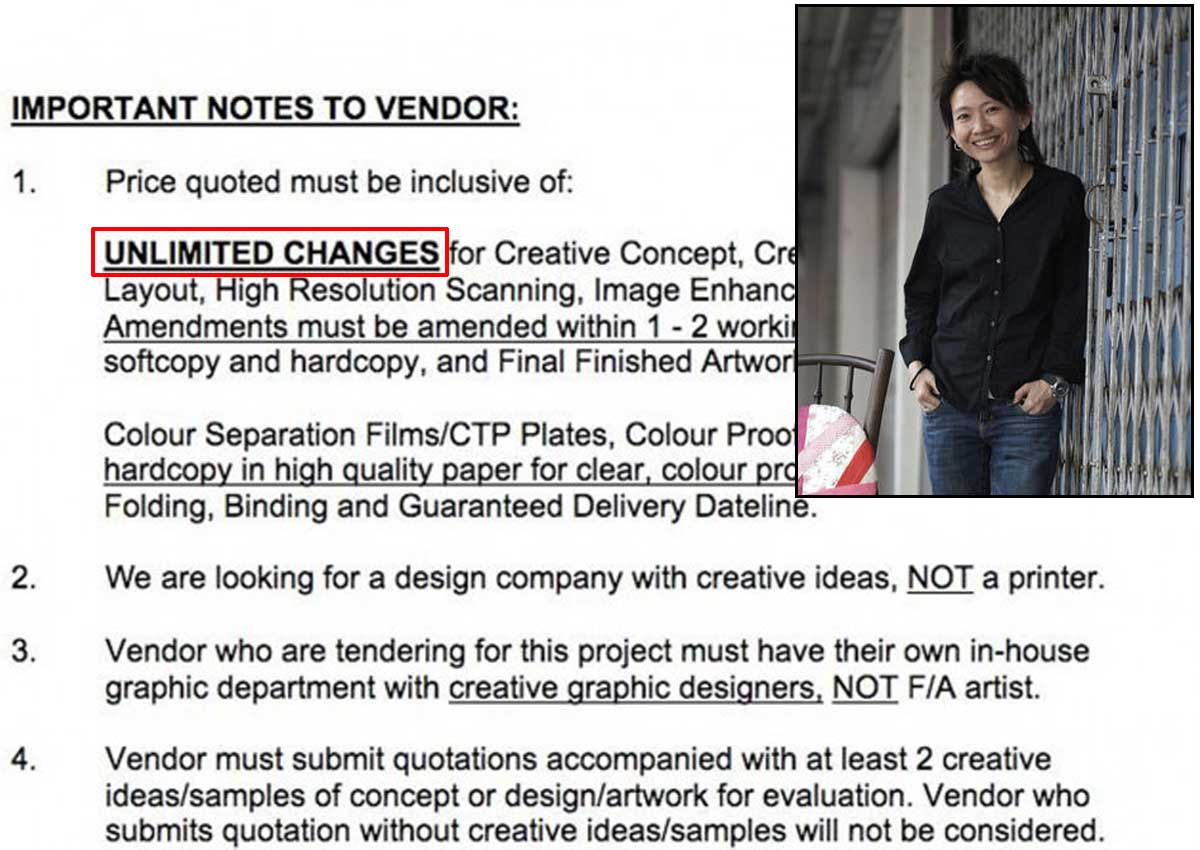 SINGAPORE - A designer who voiced her concern over a Government tender for design services which require vendors to agree to make "unlimited changes" has said that she has seen more tenders which come with such clauses in the past few months.
Speaking to AsiaOne, Ms Kelley Cheng, founder and creative director of publishing and design consultancy The Press Room, said that she had previously just avoided or ignored tenders that contained such clauses.
"But now I've seen it too many times with increasing frequency, and felt the need to voice out," she said.
Ms Cheng uploaded screenshots of a tender document on her Facebook page on Monday (Feb 15), which included a note specifying that vendors had to quote a price that covered any changes the client wanted at various stages of the design process.
The document, which supposedly appeared on the Government's e-procurement portal GeBiz, also specified that any amendments requested had to be made within one or two working days, and also required the vendor to be willing to re-do a graphic presentation an unlimited number of times "if so requested".
It is not clear which government agency issued the tender.
In an accompanying post, Ms Cheng wrote: "As a designer, I protest. Do you? Please share this post if you are against Unlimited Changes - Be the change you want to see in the world."
Her post has been shared over 1,700 times, with many comments also critical of the demands. It also caught the attention of local satirical blogger mrbrown, who asked: "Wah, they got UNLIMITED BUDGET issit (sic)?"
Ms Cheng stressed that most clients were reasonable in their requests, and that not all Government agencies inserted such clauses. "Designing is all about building relationships with our clients, and we have built up good relationships with many of our clients, including those from the Government," she said.
She explained that in many cases, designers are willing to go the extra mile and make any changes in order to please clients. But, she felt that formally inserting such clauses in tenders was not a good practice to adopt, as she feared that some clients may seek to abuse it.
Ms Cheng said that she raised the issue as she felt that designers should be respected as professionals. "For example, no one pays a doctor a lump sum and then demands to be able to go back and seek treatment whenever they want or as many times as they like," she pointed out.
She added that she did not expect her post to garner so much online buzz, explaining that she had only posted it as a rant from her personal point of view. But she felt it was because many others in the industry also felt frustrated at such clauses.
Since she made the post, DesignSingapore Council has been proactive in getting in touch with her. "They assured that they will look into the issue, and will work with the Ministry of Finance (MOF) to relook at the government's procurement process," she told AsiaOne.
In a response to a member of the public who commented on Ms Cheng's post, MOF said that it is unfair to expect suppliers to agree to unlimited changes, and would look into the matter.
Ms Cheng said that she has been heartened by most of the responses so far, and was glad that DesignSingapore Council had given its assurance as it applied to the design industry as whole.
"I just hope that this issue can be resolved in a positive and peaceful manner," she added.
seanyap@sph.com.sg