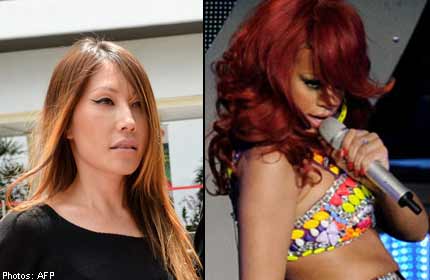 SINGAPORE - Web summary: Day Three of the City Harvest trial and the spotlight remains on singer Ho Yeow Sun.
Known as Sun Ho in the pop music world, she turned up in court on Wednesday dressed in black from head to toe.
Ms Ho's husband, City Harvest Church (CHC) founder Kong Hee, and five others are accused of misusing more than $50 million of church funds - $24 million to fund her singing career and another $26.6 million to cover the tracks of the first amount.
Ms Ho was the face of the Crossover Project, a plan by the church to use her popularity in the pop world to spread the church's message.
Xtron Productions was the company that managed Ms Ho from 2003 to 2008.
In court, Xtron director Choong Kar Weng, 41, said the church's board management knew that Xtron was managing Ms Ho's career and the Crossover Project.
The church and Xtron were trying to further Ms Ho's career in the US.
Mr Edwin Tong, who represented Kong, presented a series of e-mail exchanges between Kong and Mr Justin Herz, whose talent management outfit was in charge of Ms Ho's activities in the US.
Next: Plans for Rihanna and Akon collaboration
Collaboration
There were grand plans for her to tour with R&B stars Akon and Rihanna.
Ms Ho was to have had the endorsement of Missy Elliott, with the Grammy-winning rapper appearing in her music video.
Plans to have her performing and recording with big name stars were revealed on Wednesday in an e-mail exchange between Mr Herz and Kong.
Previously Ms Ho's manager in the US, Mr Herz was reported to be the senior vice-president at Warner Bros, a US production company of film, TV and music.
The New Paper had interviewed Mr Herz in 2004 about plans for Ms Ho.
He had said then: "We expect to take Sun to every single chart across the world and have her known everywhere."
Famed music producer Wyclef Jean, the executive producer on her first US album, wanted the entertainment A-list to work on the record, too. Think rapper-producer Timbaland and The Black Eyed Peas' will.i.am (right).
There was talk of an Olympic bid too (it is unclear exactly what this was), with music producer David Foster and singer-songwriter Carole Bayer Sager, and an appearance at New York Fashion Week.
Then, there was the partnership with streetwear label Ed Hardy to launch the Christain/Sun line.
Previous media reports said that Ms Ho owned the Ed Hardy outlet at Heeren - the first Ed Hardy flagship store outside of the US.
Cost
But these things were not going to come cheap.
There was the US$1.5 million (S$1.9 million) fee for Wyclef.
Missy Elliot's appearance in the music video wasn't going to be free. Getting her to "endorse", along with a few other heavyweight artists, came at a price - an extra US$1.5 million in the worst-case scenario.
US-based marketer Lisa Ellis had projected a US$10 million marketing budget - "in line with Shakira's marketing budget (of US$12 million) and less than the budget for Beyonce, which is more like US$17 million for an album", Mr Herz told Kong.
The five-year profit-and-loss projection drawn up for Ms Ho's foray into the US market showed that a US$90.6 million revenue was expected.
After deducting expenses, a net profit of almost US$33 million was calculated.
Concern
Kong had asked for details about the foray into the US, the timing of the album launch, and expressed concern about possible cost increases.
He had told Mr Herz to "go for it" once the direction and budget were clear.
In an e-mail exchange with Mr Herz in 2006, he said: "We need to make some serious money with all the investments Xtron has plowed in, and I rather we earn it than let the labels siphon them away."
In another e-mail to Mr Herz in March 2008, he wanted to know if Wyclef's consultation fee and producer fees for Timbaland and will.i.am had been factored into the spreadsheet.
Kong had said: "According to our accounts, we paid Crossroads Films a total of US$1 million for the two music videos (China Wine and Mr Bill). How many more MVs have you budgeted in your spreadsheet?"
An e-mail to Mr Herz in June 2008 discussed the US$2 million marketing budget. Kong had said: "Wow, that would take the whole project to (US) $5.13M + $4.45M + $1.74M + $1M = $12.32 M (million)."
Kong e-mailed Mr Herz within 20 minutes to highlight a mistake in the calculation, saying the whole project worked out to be US$13.32 million.
Mr Tong said all these showed Kong "wanted to make sure things are absolutely doable before going ahead".
The trial continues.

Get The New Paper for more stories.