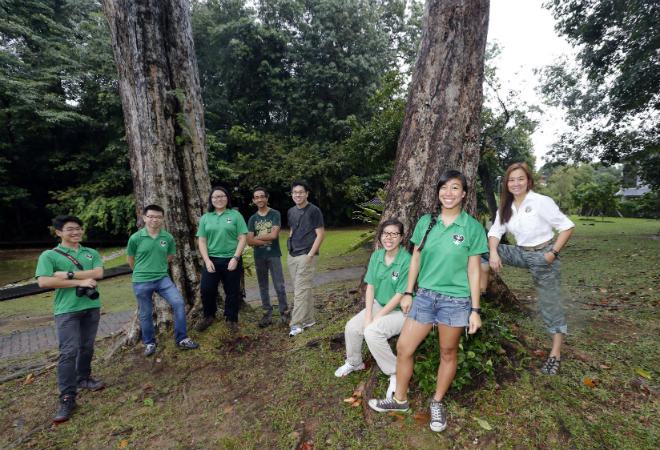 Diverse groups are asking for the Cross Island Line to be rerouted to avoid the nature reserve and organising activities to make their views known.
They have chained themselves to trees, organised petitions to collect signatures and held talks, exhibitions and nature walks. They have written poems, created websites and produced music videos.
These are the new green warriors - comprising students, nature lovers, activists, professors and artists - and they have a common cause: save the Central Catchment Nature Reserve, Singapore's largest nature reserve, from being split into two.
The reserve, which occupies more than 2,000ha of forest cover, the size of almost 2,500 football fields, has come under threat because the Government plans to build an MRT tunnel under it. News of the Cross Island Line came in early 2013 and preliminary plans showed it cutting through primary and secondary forests in the Central Catchment Nature Reserve near MacRitchie Reservoir.
The Nature Society (Singapore) came up with a position paper to suggest that the line go around the reserve instead.
The area is home to 413 species of plants, 218 species of birds, 30 mammals, 24 freshwater fish species and 17 species of amphibians.
In June that year, four long-time wildlife activists staged an "eco- protest" by using old bedsheets to "chain" themselves to potted native trees for 24 hours on a stage at Hong Lim Park.
Among them were Dr Vilma D'Rozario, an associate professor in psychological studies at the National Institute of Education, and Ms Teresa Teo Guttensohn, an eco-artist.
Both are co-founders of environmental education group Cicada Tree Eco-Place.
At the event, Ms Guttensohn, 52, also recited a poem that she wrote. She says: "We wanted to show that we are chained to our roots, our natural heritage, our forests."
Although the protest drew only about 75 people over two days, it spurred some into action.
New York-based singer and songwriter Lysa Aya Trenier - who is of Singaporean, Irish and Scottish descent and had fond memories of MacRitchie growing up in Singapore - contacted Ms Guttensohn and Dr D'Rozario after she read about the protest online.
The trio then collaborated on a music video which they posted on YouTube and pressed onto a CD to send to policymakers here.
The Land Transport Authority (LTA) later engaged Dr D'Rozario, Ms Guttensohn, representatives from the Nature Society (Singapore) and other experts in a consultation that oversaw the development of the Environmental Impact Assessment (EIA), the results of which were recently released.
The results found that with effective mitigating measures, there will be moderate impact on the Central Catchment Nature Reserve when work on preliminary soil tests for the rail line starts in the third quarter of this year.
But green groups are insisting there should be zero impact, given the area's importance.
Two young volunteers from NUS Toddycats! - Ms Chloe Tan, 27, who recently completed a contract as a research assistant in biology, and Mr David Tan, 26, a research assistant in biology at the National University of Singapore (NUS) - were also inspired by the Hong Lim Park protest.
The Toddycats are volunteers from the Lee Kong Chian Natural History Museum at the university.
The pair set up the website, Love Our MacRitchie Forest, to consolidate all information related to the issue and to coordinate the efforts of the various groups.
Efforts by individuals were also recognised on the website, including those of 25-year-old Chu Hao Pei, who mounted an interactive media exhibition last year capturing the sights, sounds and smells of MacRitchie forest. He was then a student of Nanyang Technological University's School of Art, Design and Media.
Also featured on the website is a blog called Saving MacRitchie, which showcases photos of the forest taken by 15-year-old Singapore American School student Tanvi Dutta Gupta, who is from India.
An online petition was also launched on the website to appeal to the authorities to reroute the proposed line away from the nature reserve. It now has more than 7,200 signatures.
Ms Tan, who visited MacRitchie regularly when she was doing research on small mammals for her final-year project as a life sciences student at NUS, says: "It is definitely my favourite nature area in Singapore to see animals. Every time I go there, I see a new creature."
Mr Tan, who started birdwatching at MacRitchie when he was 12, says: "I love to go up the Jelutong Tower. There's so much to see above the treeline, for instance, forest birds eating fruits."
Encouraged by veterans from groups such as Nature Society (Singapore) and Cicada Tree Eco-Place - which have started guided walks for the public at Venus Loop near Upper Thomson Road - the Toddycats decided to conduct their own.
They trained 45 volunteers, mostly life sciences undergraduates and young working adults in their 20s. They now conduct fortnightly walks for the public at Venus Loop.
The Toddycats have also gone on to train the first batch of volunteers from BES Drongos (the drongo is a forest bird that can be found in MacRitchie), comprising students from Bachelor of Environmental Studies (BES) at NUS, to run guided walks at Petai Loop, near MacRitchie Reservoir Park.
Today, 35 volunteers from the group do so every fortnight during school term.
Ms Jacqueline Chua, 22, who heads the group, says: "It started as a chance for us to apply what we have studied, but over time, we grew to love the forest and learnt many things from it."
Since then, other green groups have weighed in with their support. Under the March for MacRitchie campaign next month, the Jane Goodall Institute (Singapore), part of a global network founded by prominent British primatologist Jane Goodall, and the Herpetological Society of Singapore, a Singapore group of amphibian and reptile enthusiasts, will help raise awareness of the issue during their guided walks at MacRitchie.
The campaign, which comes under the Love Our MacRitichie Forest umbrella, has a series of educational activities, including guided walks, talks and a roadshow, lined up next month.
Mr Sankar Ananthanarayanan, 21, co-founder of the Herpetological Society and a first-year life sciences student at NUS, says: "I was not aware of the sheer amount and diversity of wildlife in Singapore until I visited MacRitchie several years ago.
"It was there that I first saw elusive and endangered animals such as the Blue Malayan Coral Snake, which has an electric blue body and a red head, tail and belly. Those are special moments."
leawee@sph.com.sg

This article was first published on Feb 21, 2016.
Get a copy of The Straits Times or go to straitstimes.com for more stories.